A revamped bathroom can do wonders for the resale value of your home and revolutionise relaxation time. Here's some inspiration for your bathroom renovation
1. Part of a lavish home in Rose Square, London, by Roselind Wilson Design, this master ensuite features a relaxation area. Here, multi-changing, coloured fibreoptics are embedded in the ceiling, offering a soothing focal point when relaxing on the lounge that has been upholstered in pistachio-coloured waxed linen.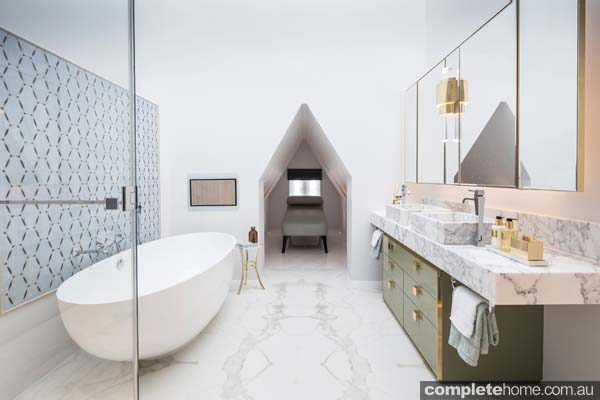 roselindwilsondesign.com
Photography by Richard Waite
2. Designed in Florence by Simone Speciale Luchinat of S&L Architects, this bathroom is made entirely of black slate, black-painted wood and stainless steel, resulting in a moody and masculine space — perfect for the client's young son. The standout feature in this bathroom is the stainless-steel bath.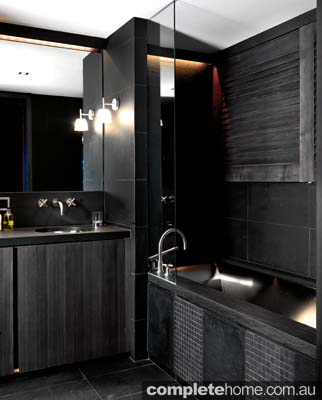 3. Located in a new extension to an old coach house, this bathroom by interior designer Clare Pascoe has high ceilings and magnificent views of the countryside. The double-vanity unit provides character as well as storage. Texture was
created by layering and stepping the door fronts with oak-veneered material.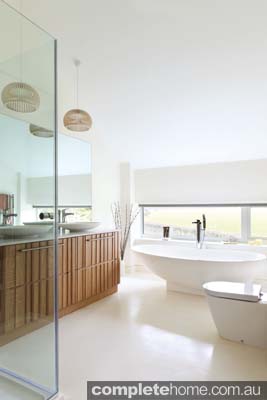 4. This master bathroom by Halo Design Interiors was completely re-configured to provide a large walk-through shower clad in bronze tiles. Continuing the theme, bronze frames are used as a feature around recessed light boxes and mirror cabinets.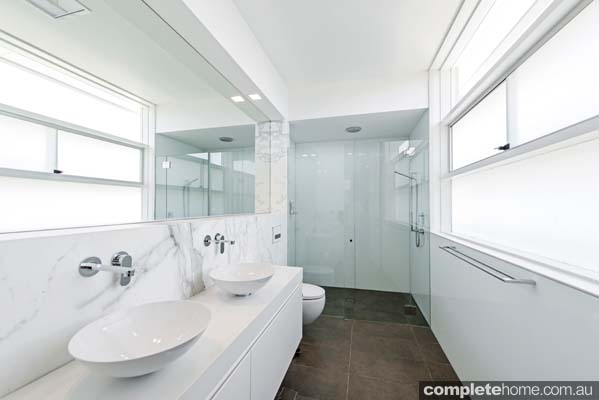 5. This unique bathroom by Roselind Wilson Design fuses traditional and modern finishes. The Fornasetti tiles add a graphic feature and subtle colour, complemented by a classic Bisazza diamante freestanding vanity. Champagne-textured tiles on the floor and wall offset these finishes perfectly.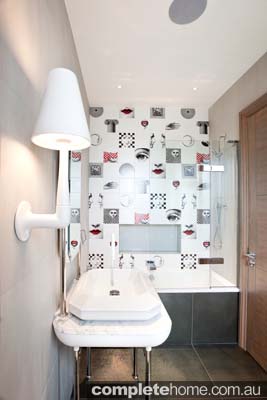 6. Part of a house in the Nevada desert, this bathroom by DESIGNLUSH is reminiscent of a Balinese retreat with its loose pebbles and deep freestanding bath. It offers the perfect place to relax and unwind — you can even watch TV from
a seat in the shower.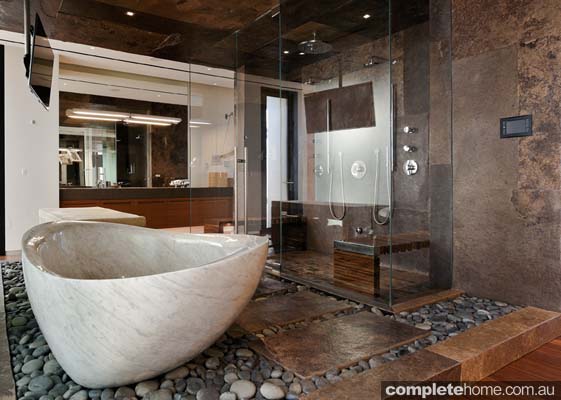 designlush.com
Photography by Bill Timmerman and Zack Hussain
7. This feminine ensuite bathroom by SHH features a stylish freestanding bath in stone and slabs of Calacatta Oro marble for the walls and floor. A Danish-designed shell chandelier and beautifully framed mirror are the finishing touches to this deluxe space.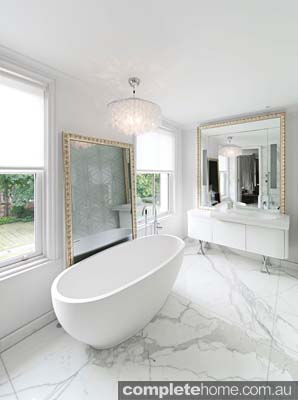 shh.co.uk 
Photography by Alastair Lever and Gareth Gardner
8. Connecting indoors and outdoors seamlessly, this outdoor bathroom was designed by Dean Herald of Rolling Stone Landscapes. The space is designed to be an extension of the existing ensuite, enabling the owners to bathe outside under the stars.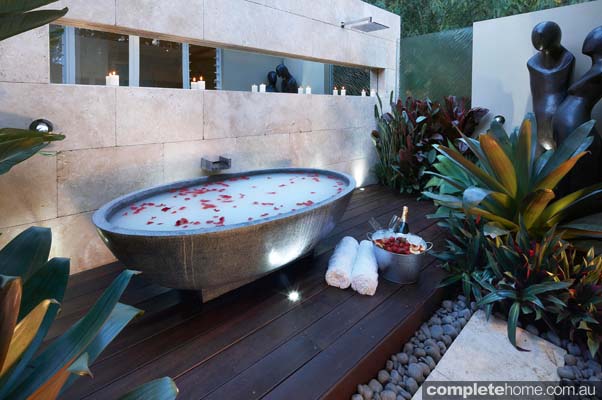 rollingstonelandscapes.com
Photography by Danny Kildare
9. Designed by Roselind Wilson Design, this master ensuite features a generous walk-in shower and freestanding bath. The floating vanity forms a feature for this luxurious space, complete with a beautifully veined marble splashback and floors along with tessellated tiles. These beautiful finishes form the backdrop for the bronze and glass wall lights and glass taps.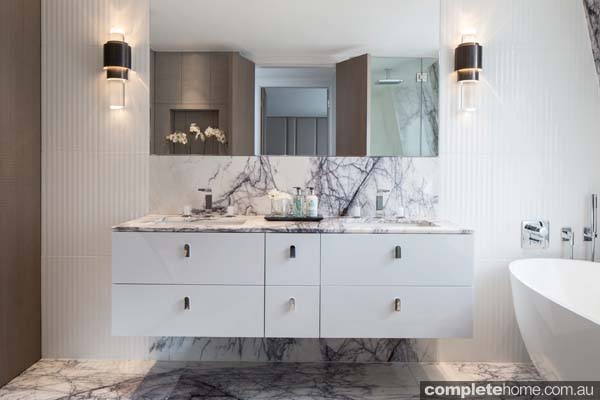 10. Created by Halo Design Interiors, this master bathroom opens out to a composite stone bath sitting on an under-lit mosaic plinth which makes it look as if it is floating off the floor. A bespoke, curved vanity unit with icicle Porta Romana wall lights overlooks the bath and adds another focal point to the room.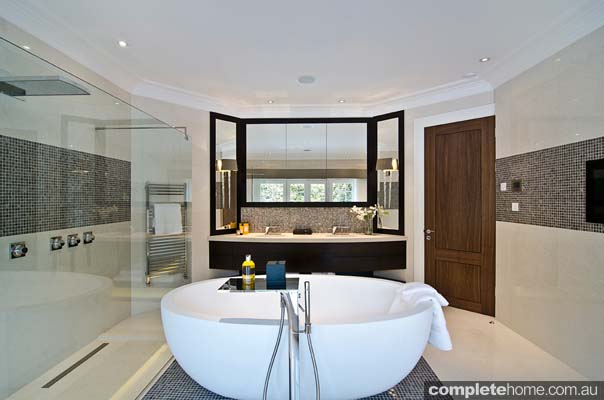 11. Part of an expansive home in Blairgowrie, Victoria, by FGR Architects, this bathroom offers a stark contrast to the rest of the interiors where white is used in abundance. While dark tiles and tinted glass could have made this space appear small and dim, the white ceiling and fixtures work together to brighten it.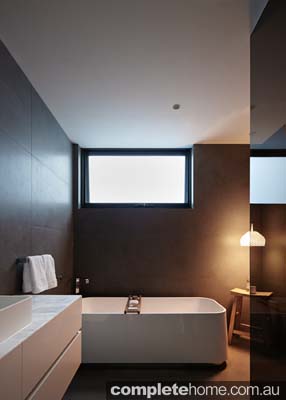 12. This bathroom showcases the new Nano collection from luxury French fitting designer THG. The modern and elegant series includes taps and accessories for washbasins, bidets, showers and bathtubs. The Nano collection completes THG's contemporary movement with its latest cross and lever handles.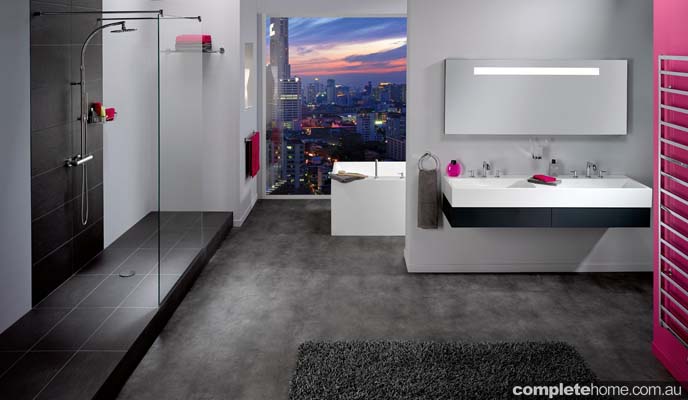 13. Designed by Arkhefield, an earthy yet modern bathroom finished in stone and timber is a peaceful retreat.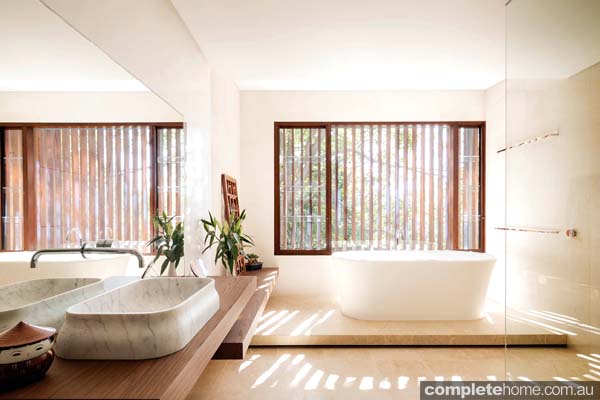 arkhefield.com.au
Photography by Nick Wilson
14. This home by Rachcoff Vella Architecture in regional Victoria pays homage to its bush surrounds with an abundance of timber. In the bathroom, this contributes to a warm and luxurious space.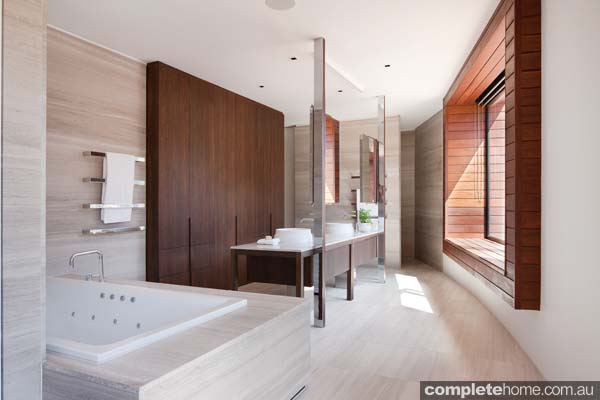 rachcoffvella.com.au 
Photography by Shannon McGrath
15. From Andrew Waller Design, this home on Sydney's lower North Shore showcases breathtaking views of the Harbour Bridge and Opera House. The bathroom features large mirrors that extend the view and make the bathroom
seem more spacious.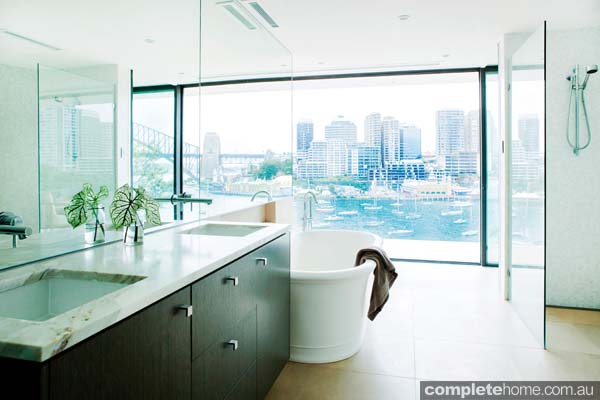 mrwaller.com
Photography by Maree Homer
16. Designed by Halo Design Interiors, this home in the south of London received nothing but the best when it comes to luxe finishes and materials. The master bathroom is dramatic and contemporary with its coloured perimeter lighting,
quality finishes and limestone slab flooring.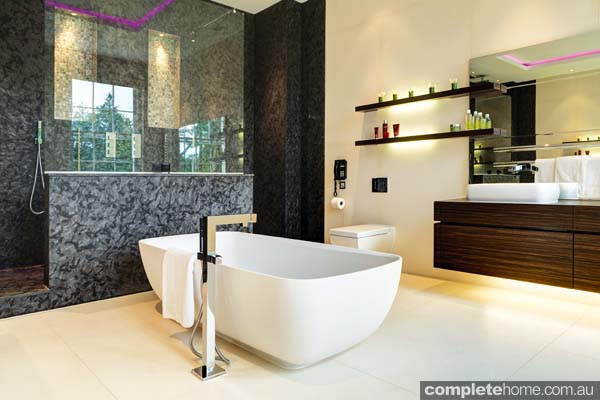 halodesigninteriors.com 
Photography by Richard Gooding
17. A space fit for a princess, this bathroom by Designlush was designed for the client's young daughter. Minimal and contemporary with a touch of glam, the design plays with textures and reflective materials. The luminous space features an accent wall in pearlised white Venetian plaster and white tiles with mirror-polished accents. The floors boast an organic random relief pattern tile that mimics a stone pathway.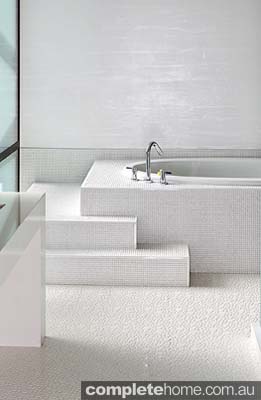 designlush.com
Photography by Bill Timmerman
18. Designed by Chris Knierim of Designer Constructions, this bathroom features a monochrome palette that creates a modern and dramatic effect. In keeping with the eco brief for this home, these mosaic tiles were partly made using post-consumer recycled glass.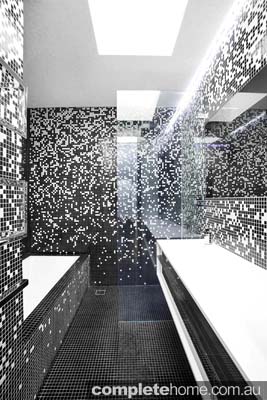 designerconstructions.com
Photography by Nick Wilson
19. Part of a 19th century townhouse in Paris redesigned by Stephanie Coutas the Her Bathroom features Calacatta Oro marble by Marbrerie de la Seine and Damasco Bianco tiles by Bisazza, creating a feminine and incandescent space.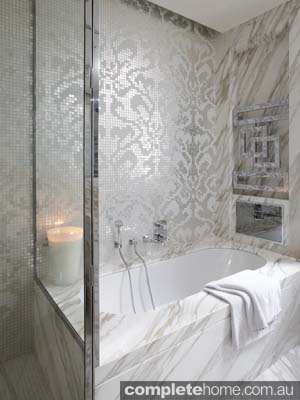 20. Part of an expansive Sunshine Coast home by Ultraspace, this bathroom gives a nod to '70s style with a fretwork-patterned privacy panel and mosaic shower wall in apple green. Beige plank tiles were used in the shower to ensure the feature wall steals the spotlight.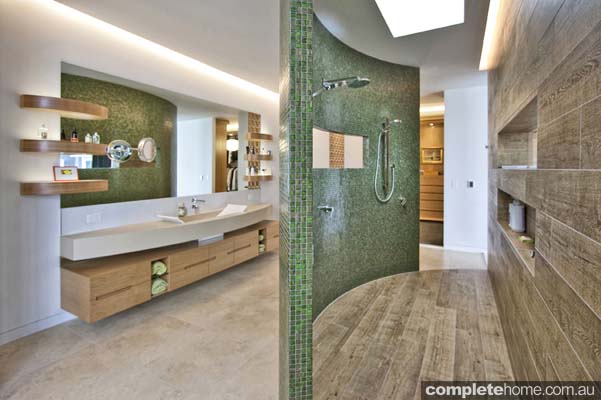 Edited by April Ossington
Originally from Home Renovate magazine, Volume 10 Issue 4