From Italy to Indonesia, take a look inside the world's most luxurious hotel bathrooms.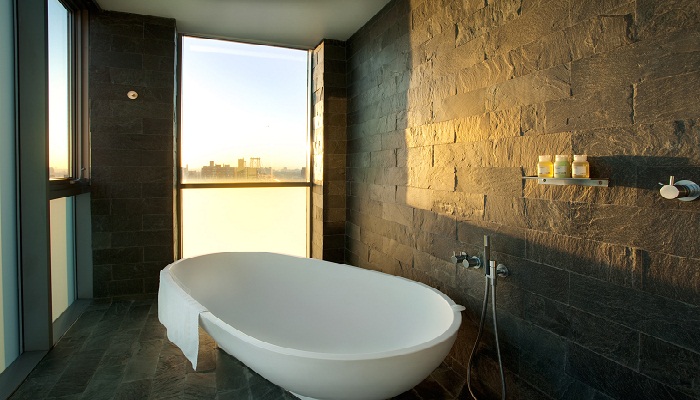 1. Where: Hotel on Rivington, New York
Style:
Modern, minimalist-chic
Floor-to-ceiling glass windows have been cleverly positioned in this bathroom to take full advantage of Manhattan's cityscape. The interior was designed by Paris-based architect and designer, India Mahdavi, who is known for her exotic, feminine and dramatic style. Overall, this bathroom is all about the view and its placement high over the city. Big, bold features live in the space, such as the contemporary freestanding bath that sits in the centre of the room at an angle to the dark tiles that line the floor and walls.
2. Where: Hotel de Russie, Rome, Italy
Style: 
Classic yet contemporary
The Classic Suite is home to this spacious bathroom that is finished in marble with mosaic detail. It features classic yet contemporary bathroom products sourced only from Italy. The mosaic tiles run horizontally across the bathroom to add class, sophistication and a sleek look. The neutral colour palette was chosen for its warm qualities.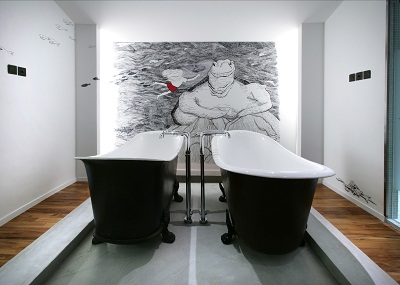 3

. Where: New Majestic Hotel, Singapore
Style: 

Heritage chic, imaginative, exhibitionist

A marriage of old and new is explored in this hotel bathroom that blends imagination with intrigue. Pictured here, this room features in the Attic Suites with freestanding twin tubs taking centre stage. The bathtub sits in front of a very imaginative hand-drawn mural that is the central element here.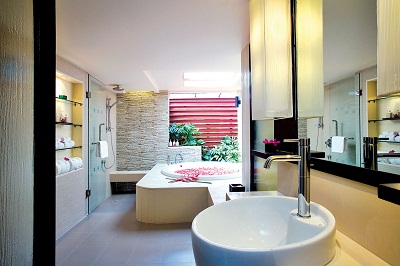 4. Where: Chaweng Regent Beach Resort, Koh Samui, Thailand
Style: Tropical, contemporary, spacious
This bathroom is located in the Premier Room of a stunning beach-front resort. Surrounded by tropical gardens outside, it combines with natural elements while boasting clean lines. Every feature has been designed to make a statement, with the oversized bath and basin drawing your attention almost immediately. Plenty of natural light adds a fresh approach and the neutral colour palette represents a tropical feel.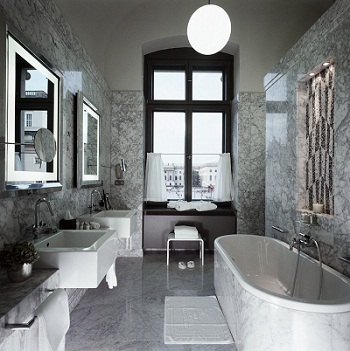 5. Where: Hotel de Rome, Berlin
Style: Grand scale, classic-contemporary setting
The star of this Opera Suite bathroom is the mosaic marble detailing. The walls and floors set a strong tone for this Berlin-based hotel. To compete with the high ceilings, all the features had to be quite dynamic on their own. Strong shapes from the "his and hers" rectangular basins and standalone oval bath add an extra dimension to the space. The large glass window takes in views of the city and welcomes in plenty of natural light. A pendant light hangs low in the room to pare back the space and creates an intimate feel in an otherwise spacious room. It's this eclectic mix of materials that fits with Berlin's dynamic blend of architecture and culture.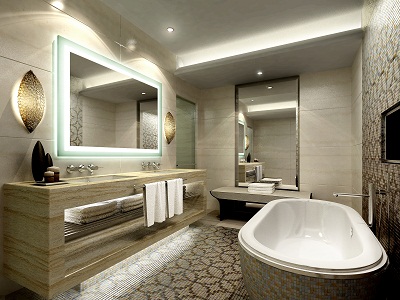 6. Where: Rocco Forte Hotel, Abu Dhabi, United Arab Emirates
Style: A harmonious blend of European and Middle Eastern, sophisticated, modern
The bathroom, set in the Presidential Suite of this landmark hotel, boasts a stylish European design with a sophisticated contemporary feel. The bathroom is entirely tiled in polished limestone and marble and includes a "his and hers" sink, two rectangular-shaped mirrors and a freestanding bath that is also finished in mosaic detail. In this space, it's all about the finer details.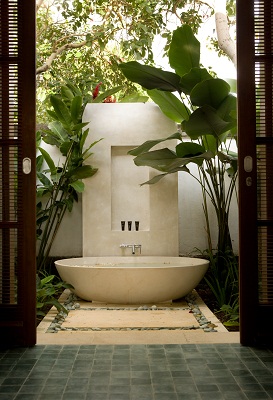 7. Where: Karma Jimbaran, Bali, Indonesia
Style: A tropical and contemporary design inspired by classic Balinese style
The freestanding oval bath is situated outside in a lush tropical setting. In selecting neutral tones for the bath, floor and wall, this outdoor sanctuary not only promotes a tranquil environment, but forms a striking contrast to the greenery that surrounds it. Following on from the Balinese style found inside the villa, this private courtyard with outdoor bath is a place welcoming you to relax and unwind.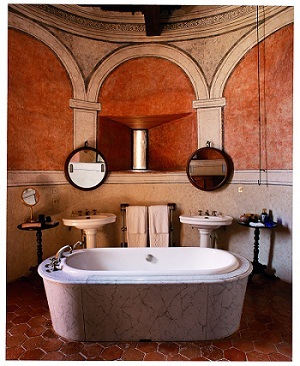 8. Where: Château de Bagnols, Beaujolais, France
Style: Historic, period style, five-star luxury
Set in a restored 13th-century castle in France, this bathroom features high ceilings and period-style finishes that add drama and definition. The antique marble bathtub sits in the centre of the room, standing as the focal point here. The colour palette is very reminiscent of old-world charm, with different textures and patterns combining to create a warm atmosphere. Not to take away from the freestanding bath and wall art, the two basins and wall mirrors, follow a minimal look.
By Belinda Crestani
From Bathroom Yearbook magazine 16