Far from your average suburban brick home, the steel-dominated Paynesville Industrial house is a perfect complement to the stark, industrial environment of its surrounds.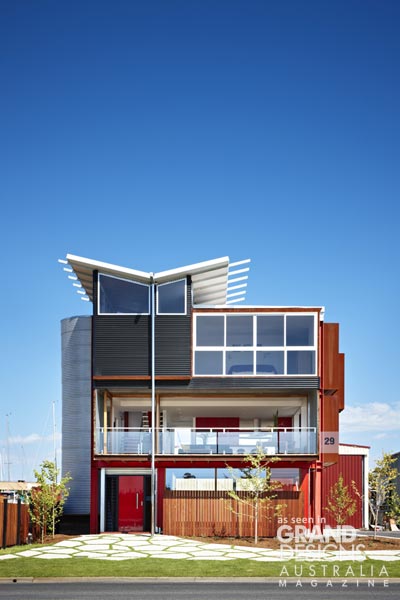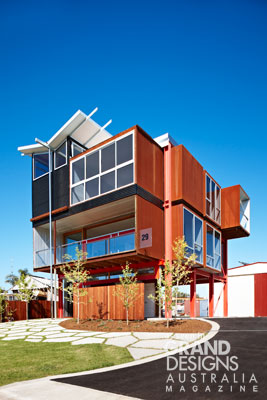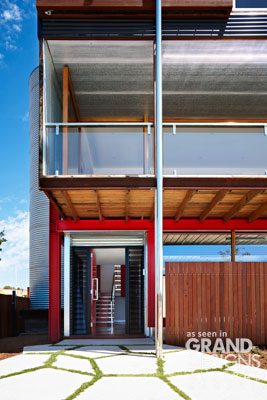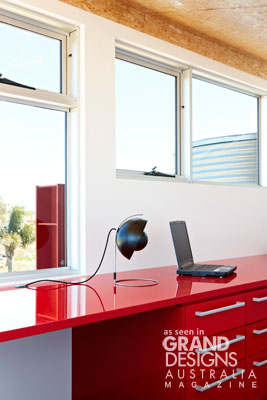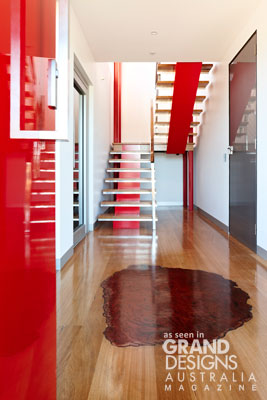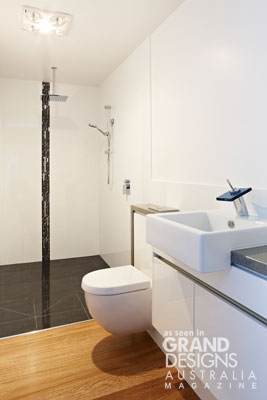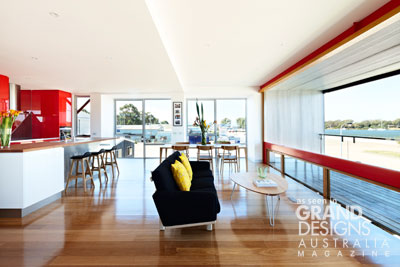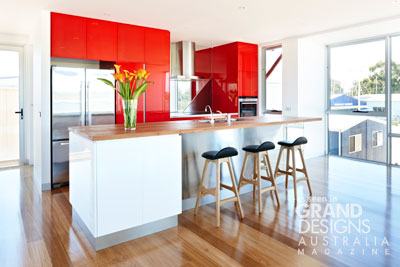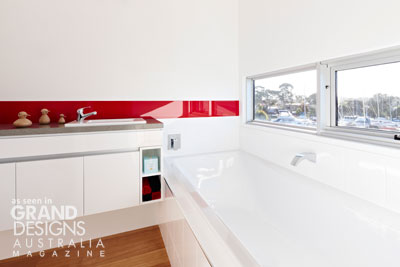 GRAND DESIGNS AUSTRALIA
Episode 2 Series 2
HOUSE
Paynesville Industrial house
LOCATION
Paynesville Industrial Estate, VIC
COST
$470,000
DATE COMPLETED
November 2011
Choosing to build your home on what might seem to be an inhospitable industrial environment might seem ludicrous, but that's exactly what Bernie and Ruth Ryan decided to do. They moved to Paynesville, a seaside town in Victoria's Gippsland Lake region, around 12 years ago. They started their life there in an old 1960s, weatherboard, two-bedroom home, which was already on the land.
The problem was that after a while it was just too small for a family of six, if you include Trixie their dog. "When we moved to Paynesville, we bought a house because it was cheap in the industrial area," says Bernie. "We lived in it for a few years and then I started thinking that we should build something different."
About seven years after moving in, they decided to construct a home, one they would all fit in comfortably and that suited the industrial nature of the land they were living on.
For some, building a home in an industrial area might seem like an odd choice, or even an unappealing one, but for Bernie and Ruth, a couple who tend to find opportunity in any given situation, the area only gave them inspiration. "Being in the industrial district gives you a much better chance of putting a bit of flair into an architectural building," says Bernie. "If you build a house in a suburb, you have to conform. Build something different – be outlandish. That's what I want to do anyway. You have to be different. Everybody builds houses the same, they do everything the same — they're like sheep." And what better way to avoid conforming than building a two-and-a-half-storey house with a butterfly roof in an industrial park?
This building is very special. "It's not a normal bricks-and-mortar house, and it fits in beautifully with its environment," says Ruth of what she considers to be the most important aspect of the Paynesville Industrial House. "I couldn't imagine building this in a city suburb — it just wouldn't look right. We love it like this."
The plan was simple: a 20-tonne steel skeleton with rusted steel box inserts and a butterfly roof perched on top. Once inside, you can choose between using the stairs or taking the lift up to the first floor where you encounter an open-plan kitchen, dining area and lounge, front balcony, powder room and laundry. Moving upwards again to the second floor, you find the main bedroom with ensuite bathroom and separate shower room as well as a second and third bedroom and a utility room. Ruth's study is nestled underneath the butterfly roof on a mezzanine level above the master bedroom.
The build, however, was less simple. During the process, Bernie revealed that "if I were running this like it was a job, I wouldn't be doing it like I am now. I'd have a crane driver, dogman, rigger, foreman and I would be looking around, causing hassle."
The reality of the help was somewhat thinner on the ground. "We did a lot of work ourselves and had a carpenter on-hand for the last two months," Ruth explains.
It seems that this was how Bernie and Ruth wanted it, though. They didn't want involvement from a variety of outsiders because they really hoped to make it their own home — from start to finish. Although they had an architect at the beginning, they chose to incorporate fewer hands on-site during the build, which meant fewer changes to their own original design of the Paynesville Industrial House. "If we'd gone with the original plans I don't think we'd have the home we have now. They would have had so much input," Ruth says.
The initial structural design remained as per the original plan, although the outside cladding of recycled timber ended up being changed to Colorbond steel and the lift shaft was made to look like a corrugated water tank. Bernie and Ruth also decided they needed to reduce the size of their ensuite. "The architect designed the walk-in-robe far too big and we don't have an over-abundance of clothes," jokes Ruth.
As with any build, special considerations had to be made in some areas, such as the living room window, which proved challenging to install. Ruth wanted stackable windows but the price was far too high for Bernie who liked to keep a good eye on the budget. Bernie was heard uttering the words, "I'm not paying for that. I will design a window." And he did. The drop-down window is one of the most innovative creations in the Paynesville Industrial House or, in fact, in any house.
The elevator also required special consideration, especially as the lift shaft was initially constructed too small. Regardless, Bernie and Ruth are particularly pleased with their result. "We have made provisions here for our more mature years," she says. "Yes, we do intend to live here until whenever, really. Who knows what tomorrow's going to bring?"
"If you're building a house today that is two-and-a-half storeys or so, you'd be silly, I think, not to put a lift in," says Bernie. "They're not that expensive — they're getting cheaper and cheaper all the time — and if you have elderly friends and they need to come upstairs, they won't come and visit you if you don't have one."
The lift, which was of great concern to Peter Maddison, the presenter of Grand Designs Australia, also proved to be a great source of amusement for Bernie and Ruth. They set up the wheelchair-accessible lift with "Straunie" the mannequin sitting in it, and presented it to Peter to prove their point. "It was very satisfying," says Ruth. "Peter had given Bernie such a hard time over the lift shaft not being big enough for wheelchair access that we made sure the scene was filmed by the camera crew. Sweet revenge," she says.
Bernie's building skills proved to be up to scratch, as did his design skills, but his attitude to the build process of the Paynesville Industrial House was what was particularly special. On the project, he was known for his casual she'll-be-right attitude. "The best things in life are free, you know," he says. "And time is free when you're doing something you love. At the end of the day, it's the finished product that you need; it doesn't matter how you go about it."
The whole experience for these two seems to have been positive. They work brilliantly as a team and have done for the past 20 years. "Living on-site and doing [the build] together was a great challenge for us, but also very exciting and great fun," Ruth shares. "I was excited about all the possibilities and challenges that came up."
Bernie also points out that collaborating with Grand Designs Australia brought something extra to the table. "Having Grand Designs be part of the experience has been really good," he says. "We could have built the house and have everybody say, 'oh, it looks great' and that would have been the end of it," he explains. "It has given us a different perspective on the build of this house," Ruth adds. It's been one big family, having everyone down here. It's just been great."
Almost exactly one year after the first hole was dug on-site, Bernie and Ruth moved in. It seems to have exceeded their expectations and they are exceptionally proud of their creation. "It's better than I thought it would be," says Ruth. "I love the whole house — it's really good. Everything about it is just great. This has been Bernie's whole creation and together we've created it and it's just wonderful."
Now, months after moving in, Ruth cannot get enough of her office under the magnificent butterfly roof. "It's a great space to work from," Ruth says. And for Bernie who built the Paynesville Industrial House with absolutely "no setbacks, only opportunities", it's no surprise he still loves driving down the road to look up at that opportunity in its entirety.
This home was built by…
PROJECT TEAM
Architect Slap Architects (slaparchitects.com.au) Building Surveyor Coast to Coast Building Service Pty Ltd (03 5182 6477) Kitchen, Bathroom & Laundry Design Paynesville Joinery (03 5156 6065) Structural Engineer Gamcorp (gamcorp.com.au)

STRUCTURE
Building Supplies Dahlsens Bairnsdale (03 5152 5434) Concrete Paynesville Concrete (03 5156 6073) Framing Russell Morris (0412 615 779) and Steve Burnett (0423 366 533) Plaster Council Brothers (0416 059 996) Steel Fabrication Bairnsdale Engineering (03 5152 2321) Trees Blerick Country Retreat and Tree Farm (dialatree.com.au)
FIXTURES AND FITTINGS
Lift The Lift Shop (liftshop.com.au) Sustainable & Recycled Building Materials Pumphouse Design and Building Works (pumphousedesign.com.au) Timber Flooring Snowy River Eco Timber (snowyrivertimbers.com) Windows Lakes Entrance Glass and Glazing (03 5155 3477)
FURNITURE AND FURNISHINGS
Furniture Hire Great Dane (greatdanefurniture.com) Workshop Drawings David Gaskin Design (03 5674 2045)

SERVICES
Carpenter Stuart Hughes (0411 429 256) Concreters Geoff Bills (0419 385 104) Electrician Gippsland Energy Alternative (03 5156 0808) Floor Sander Chris Weir (03 5152 2868) Hire Equipment East Gippsland Hire Pty Ltd (03 5153 0330) Painting Mark Kellow (0412 178 572) Plumbing Barry McCartney (03 5156 8562) Tiler Mick Saunders (03 5156 7494)
By Alexandra Longstaff
Photography by Rhiannon Slatter
From Grand Designs Australia magazine Vol. 1 No. 2
Enjoyed reading about the Paynesville Industrial House? Explore more in our Grand Designs Australia archive.