"Style is an expression of individualism mixed with charisma. Fashion is something that comes after style." John Fairchild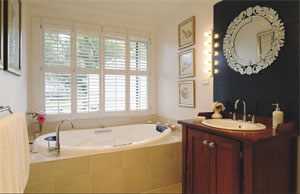 Bathrooms really are a unique proposition when it comes to decorating. While we don't want a sterile, characterless room, the cost involved in redecorating a bathroom means we simply cannot remodel constantly to stay up-to-date with fashions either. Convention, and indeed real estate agents, tell us we should choose timeless, white standard inclusions — and anyone saddled with a '70s avocado-green bathroom suite would agree. But surely the vast majority of modern bathroom fixtures and fittings border on fad or fashion — so how does one decorate a bathroom without being seduced by the latest craze? Perhaps developing your own style is the answer.
No matter where on the scale your tastes lie, it is possible to develop a personalised approach to decorating. Whether you are delighted by Victorian influences, the French look, traditional country, American style or any other variation, these looks will be enhanced by the inclusion of personal finds and much-loved treasures.
Of course, in developing your own look you still need to take into account the serviceability of the materials you choose and whether you are creating a bathroom with widespread appeal, should you wish to sell your home in the future. It is probably a good idea to opt for classically styled expensive fittings and neutral tiling or wall treatments and to infuse your personal taste via more transient items such as light fittings, mirrors, linens and ornamentation.
By choosing classic tubs, tabs and the like in a neutral white or cream, and teaming them with high-quality neutral white or cream tiles, or pressed metal, you can set the scene for any look you desire. Include a large oversized Venetian glass mirror, some expensive or luxurious towels, pewter or venetian glass containers for necessities such as cotton balls or tissues and you are well on the way to creating a bathroom with European luxury. Take the same bathroom and offset it with mini-orb wainscoting, a rustic pot rack or doctor's cabinet for storing towels, a vintage jug for flowers and you will have given the room a colonial or retro feel.
Think about making unique window coverings or a one-off shower curtain to further define your look. Purpose-made versions will not only give your room a personal appeal, they can impact greatly on the mood you are trying to create. You could impart a retro feel to an all-white bathroom just through the inclusion of a bold geometric print shower curtain and coordinating bathmats and towels. And a shower curtain in black and white toile, stripes or Eifel Tower print will instantly transport you to France should that be your choice. Romantics could enlist big rose prints, and rich opulent prints will work for fans of Victoriana. The simple addition of a clear plastic companion shower curtain is all that is needed to make your creation practical as well as beautiful.
Think too, about the addition of a simple chair to add character. A French reproduction perhaps, a rustic farm stool, a '60s retro icon — all will add to the specific scene you are creating.
Light fittings are relatively inexpensive and can add oodles of character to your bathroom, but be practical and consider the safety implications of your choices. A fully wired, low-slung chandelier is never going to be a safe option over a bath filled with water!
When it comes to ornamentation, you can really let your head go. By sourcing one-off treasures to suit your room's mood you can impart a little of yourself into the room. Tall hand-carved candlesticks and vases of blooms would be perfect for romantic bathrooms, vintage mercury glass bottles and a collection of perfume bottles for Francophiles, and vintage doctor's scales and chromed mirrors are the perfect accent for fans of the retro look.
If modern bathrooms with their clean lines are more to your taste, be sure to add one or two personal items to the look; after all, as much as you like sleek lines, you don't want your bathroom to look as sterile as a hotel bathroom or the bathroom in a display home. One great plant, a vase of luxurious blooms, a wall plaque or some luscious lotions and potions could add your signature to the finished look.
Of course, you could go for a much more eclectic feel and borrow elements you love from many styles. The secret to pulling off this look is a strong dose of confidence and perhaps a shot of colour via wallpaper or fabric.
Basically, the key to creating a bathroom that ticks all the boxes when it comes to longevity and style is to buy the best you can afford when it comes to the longstanding ingredients, then bring them to life with ingredients you love.
Key ingredients to get each look:
French glamour: Big showy mirrors, perfume bottles, elegant curtains, luxurious towels, French Rococo or a Louis Chair and a chandelier to complete the look.
Rustic: Team a classic white bath suite with mini-orb tin, a time-worn bench seat, free-standing, time-worn shaving mirror, rustic depression make-do cabinetry, rough-sewn seat and stripped timber-panelled door.
Romantic: Roses in any form, perfume bottles, large showy prints for window treatments and shower curtains, candlesticks, feminine upholstered chair or vanity stool teamed with a big vanity or dressing table and a full-length Chevron mirror.
Timeless country: Classic white bath suite, cream stone or painted wood flooring, wainscoting or pressed metal for walls, time-worn shaving cabinet, nostalgic chrome light fittings and wash jugs filled with wild flowers.
Eclectic: Interesting cabinet for towels, bench for dressing, bold print curtains or covered seat, collection of mismatched mirrors and curios all pulled together with boldly coloured paint.
Retro: Striking fabric treatments for windows, any pre-loved industrial-type storage, funky accessories such as wastepaper bins and baskets, bold towels and even plastic shower curtains.