Renovation expert Cherie Barber shares her advice for injecting that elusive 'wow factor' into your home.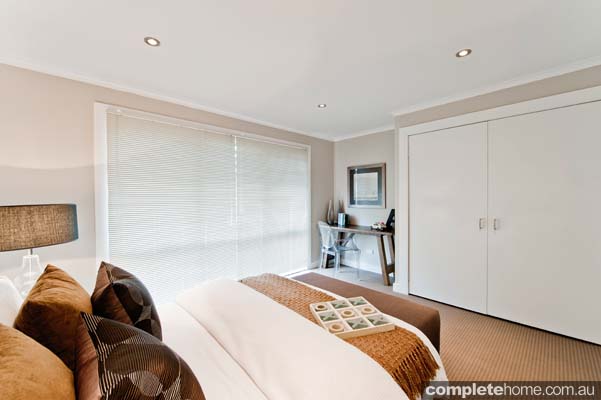 Above: Melbourne renovation project by Renovating For Profit. See more of this project here.
If there's one thing every seller wants, it's the emotional buyer, the one who walks in, falls instantly in love with your property and magically develops an elastic budget; the one frantically bidding at auction long after the cool-headed buyers have walked away. But how do you create those powerful emotional triggers that lure in the passionate buyer? Well, one of the sure-fire ways is the "wow factor". Yes, you need to create a cleverly designed home that appeals to your target demographic, but it's often the personal touches that energise a place and press the emotional buttons of your buyer.
1. Create 'wow factor' drama with feature lighting
Nothing creates mood and drama like an eye-catching feature light or two. It can make a bedroom feel seductive or turn heads in a living room. And you don't have to fork out a fortune for spectacular feature lights these days. Shops such as Freedom and IKEA have plenty of great ones to choose from for under $50. In a bedroom, I'll often hang a pendant light either side of the bedhead so it becomes a focal point and replaces the need for table lights. If the bedroom's big enough, I'll add a gorgeous central feature light as well. Drum lights hovering over an island bench in the kitchen can be a real showstopper, and a tasteful, modern chandelier can set off a living room, too. Just be careful, if you're renovating to sell, that you don't go over the top. The bulbous shock of lights that took your fancy in the light shop may not be the most subtle choice for your hallway.
2. Roll out the wallpaper
It's been back in vogue for a while and is a guaranteed way to add "wow factor" when used cleverly. Wallpaper used to be hideously expensive — and some still are pretty pricey — but you can pick up decent wallpaper these days for as little as $60 a roll. I sometimes use it to add texture to a wall, as there are plenty of paintable wallpapers now available. It just adds a touch of glamour to an otherwise plain painted wall. If you're tempted by one of the flamboyant wallpapers around, do keep that sensible motto in mind: less is more. You can overpower a room with great swathes of pattern and colour, which is why most people limit wallpaper to a feature wall here and there. Remember when you're selling, you need to appeal to the majority of the people not the minority, so play it safe with a subtle, elegant design that fits with the rest of the colour scheme. You don't want to inadvertently create the "wow" factor.
3. Make everything sparkle
One thing I've learnt from my years of renovating – sparkle does sell! Painters will tell you to avoid high-gloss paint because it shows up every flaw, but I reckon you just can't beat the glistening sheen of full-gloss paint. I use it for all the timber trims, such as architraves and skirting boards, and it lightens and lifts the whole place. I also do my timber floors in full gloss for the same reason. How many times have you heard potential buyers talk about the importance of light, bright interiors? Well, all that additional reflected light you've created with highly polished surfaces is going to radiate that sense of a lovely, bright, welcoming home.
4. Add a touch of glass
In a neutral kitchen, a splashback can be a saucy expression of personality. It's like the dashing artwork in a whitewashed gallery. Tiles are definitely your cheapest option, especially with all the big tile warehouses competing on price and fantastic bargains from online auction houses, but a gleaming glass splashback says "class". You can keep it neutral or be a little daring and pick a striking colour that really adds zing. Just make sure it doesn't clash with the surrounding décor, especially if your kitchen is the centrepiece of an open-plan living area. You could even choose funky-design wallpaper and install glass over the top of it. The possibilities are endless, but don't let your imagination run wild if you're aiming for a broad crowd pleaser.
5. When in doubt, use property styling for the resale
How many times have you walked into an open for inspection that was completely let down by a lack of design flair and an excess of clutter? Zero wow factor. Not everyone has the ability to see beyond empty rooms, so if you've spent a tidy sum renovating, don't scrimp on the final presentation when it's time to sell. A nice bunch of flowers and the waft of fresh coffee are not going to cut it. I always bring in a professional stylist to create the perfect setting that buyers can imagine themselves in. They're trained in the art of colour, lighting, and tricky ways to make spaces look bigger and niggling flaws disappear. Their job is to create an illusion, and lure prospective buyers with a compelling look and feel. You don't want to go overboard but a few clever highlights that turn heads and emotionally connect with buyers could reward you handsomely on sale day.
Cherie Barber is Australia's top renovator and the director of Renovating for Profit, a workshop training provider that teaches everyday Australians how to successfully renovate for a profit, renovatingforprofit.com.au
By Cherie Barber
From Renovate magazine Vol. 9 No. 2