If you're short on space at ground level, a roof garden may provide the solution. Here's everything you need to know.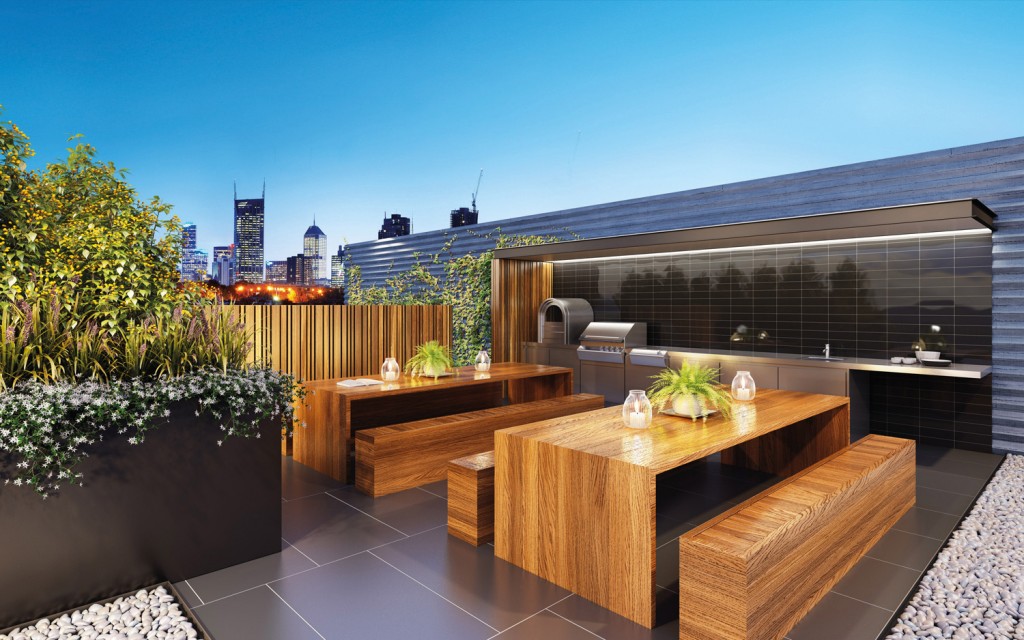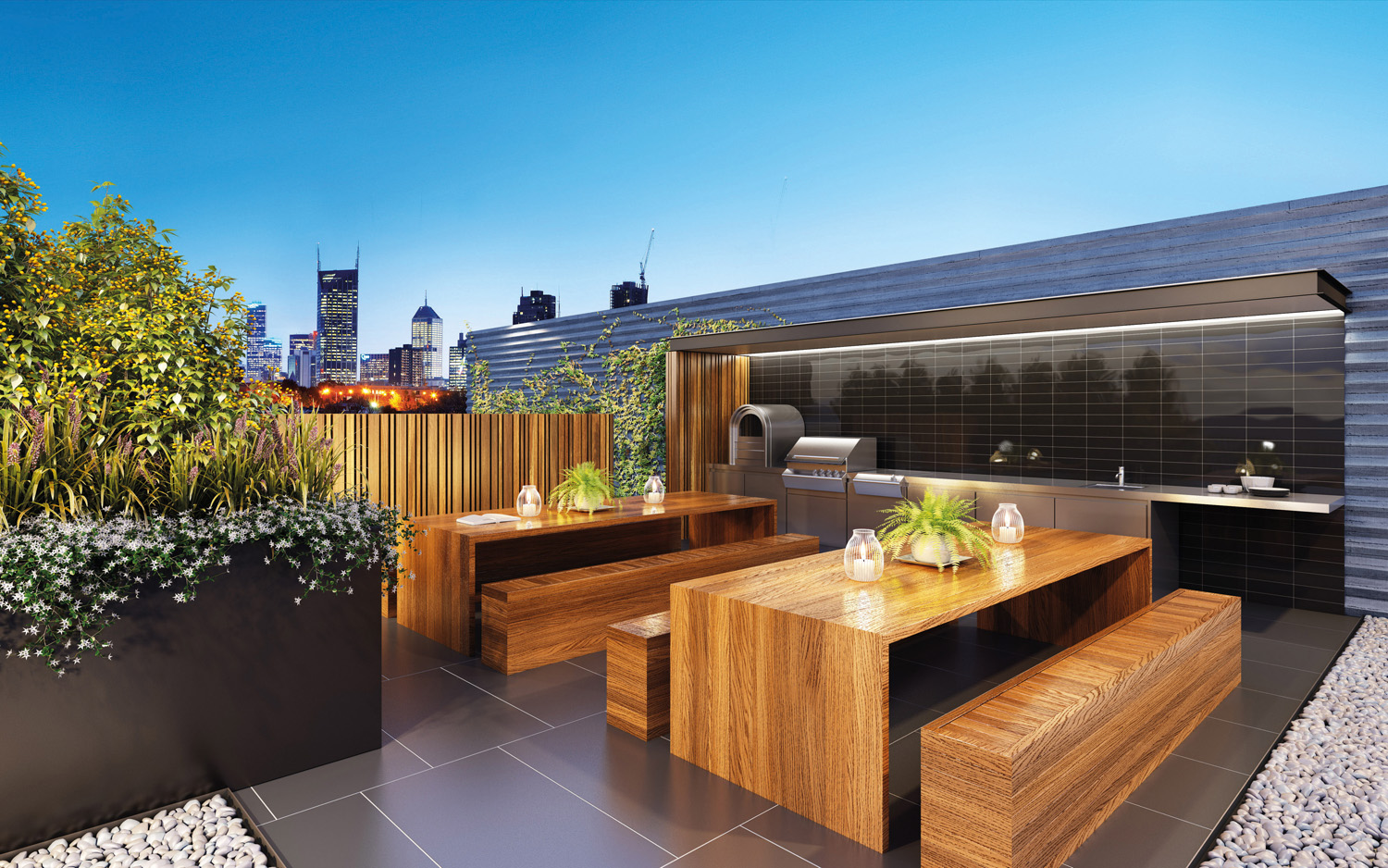 This Sydney rooftop terrace captures glorious skyline and harbour views. Photo courtesy of Secret Gardens of Sydney.
People often perceive their rooftops to be relatively small areas, when in fact they can represent a significant portion of the property's space. And it's not only the roofs of houses and apartments; some garage roofs are full of potential too. With this in mind, it's important to consider these spaces and think about how we could gain the maximum benefit from them. Even if it's just a few extra square metres of space, this can give you a valuable additional area for day-to-day use, entertaining or gardening.
Design considerations
Roof terraces are especially difficult to get right; there are dozens of elements to consider that you wouldn't think about in the average garden. These include:
Impact of aspect: Elevated spaces are generally windier, hotter and less protected than other types of garden, so careful consideration needs to be given to plant types that will best thrive in these situations, as well as furniture and structures that may be impacted.
Access: Access is often an issue: how will plants, pots, materials and features reach the space? Is there easy access?
Permanent or portable: If you rent, a portable garden is for you. If you own, you may wish to consider something more permanent. If you're part of an Owners' Corporation or Body Corporate, you may need permission depending on by-laws.
Engineering: If you're thinking about something permanent, structural, or even substantial pots, you may need professional advice. Many balconies and most rooftops are not designed to hold structures which are excessively heavy.
Planning: Roof terraces in particular need planning. In conjunction with an engineer, safe weight limits need to be determined and this may impact your design.
The main benefit here is that in many cases, these gardens are designed to be portable so you will be able to take your investment with you.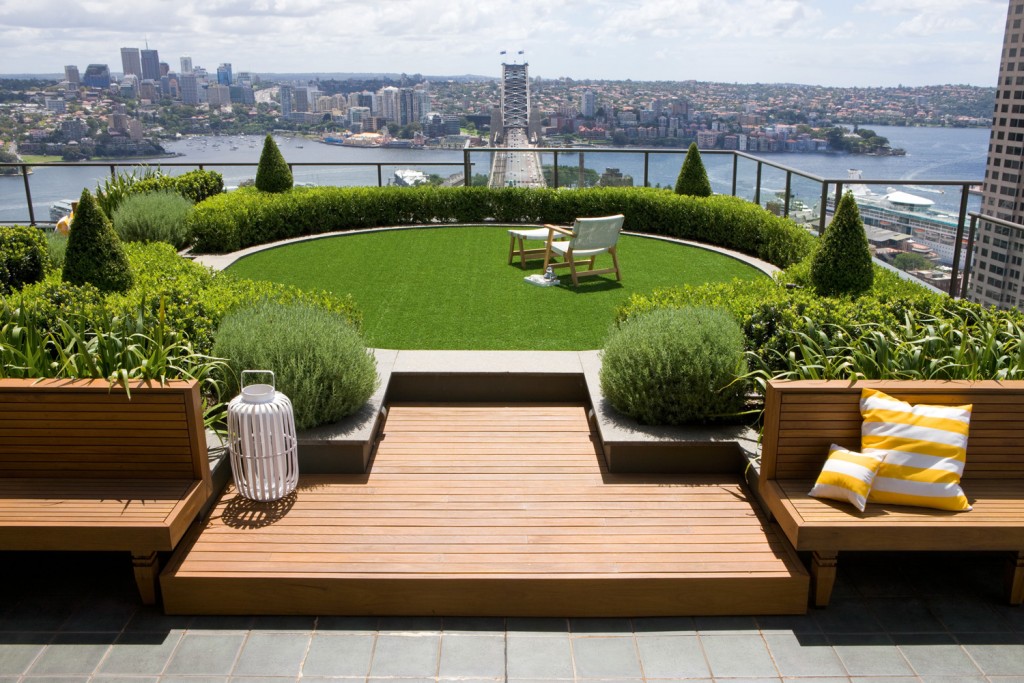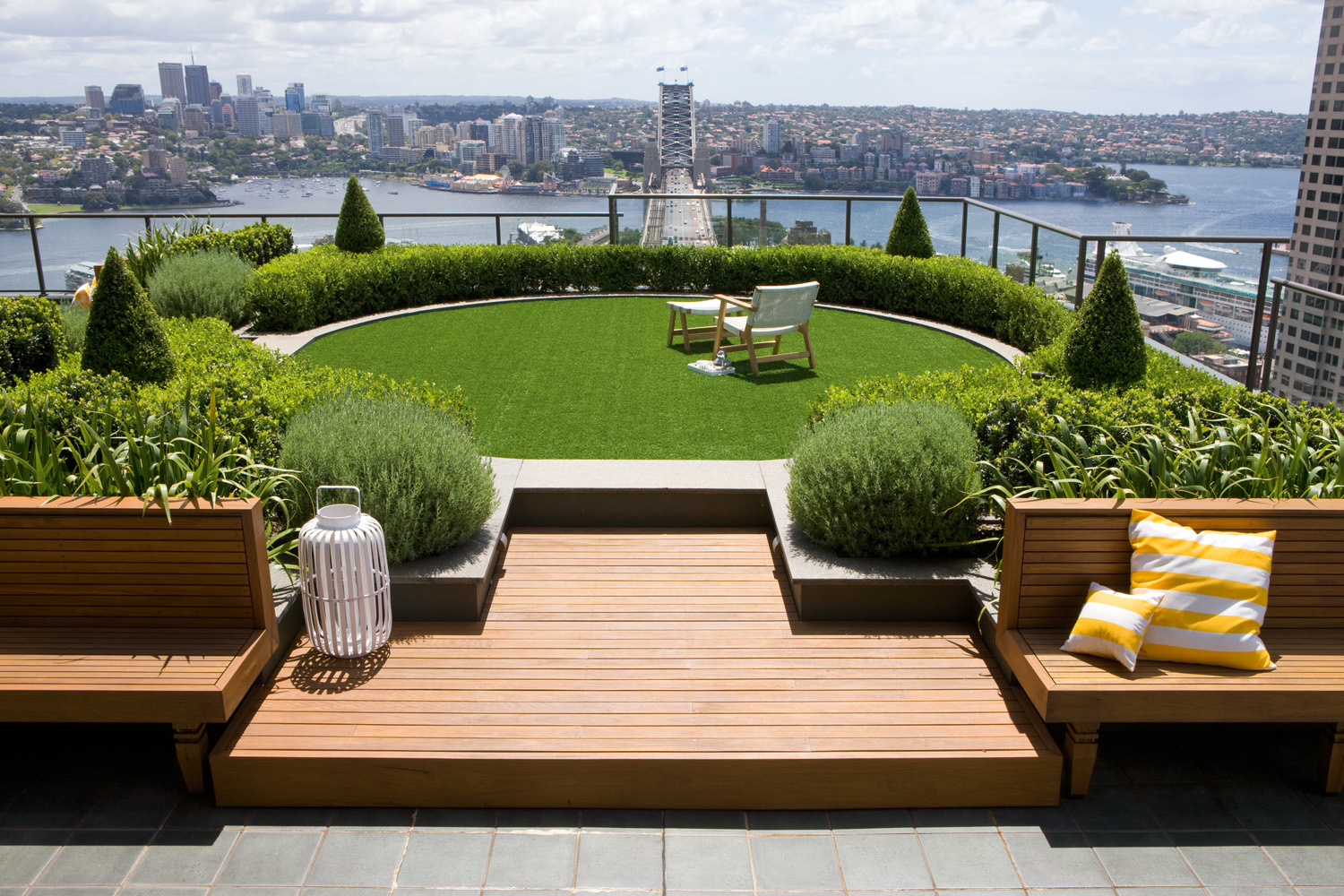 You can use a rooftop to create  much needed additional outdoor entertaining space. Photo courtesy of Australand. 
Clear design brief
A clear brief is essential. It costs more to do it wrong than to do it right, so before you do anything, consider the following:
How big is the area? Is it realistic to have a dining table and chairs as well as surrounding garden, or would you get more use out of a loungeroom-style layout?
What aspect does the area have? For example, is it windy, north-facing, near the sea?
When will this space get the most use? Evenings, weekends or weekdays?
How would you like to use this space? Dinner parties or casual get-togethers? Or would you like this garden to be productive?
Where is the access to the space and does this have an impact on where things need to be?
Are there air-conditioners or utility areas that need screening?
What views are there? Just as importantly, what would you like to screen out?
How much maintenance can you do each week and how much do you want to spend?
Once you have an understanding of these issues, you can embark on an exciting challenge to create a personal space where you can relax, unwind, and entertain in comfort.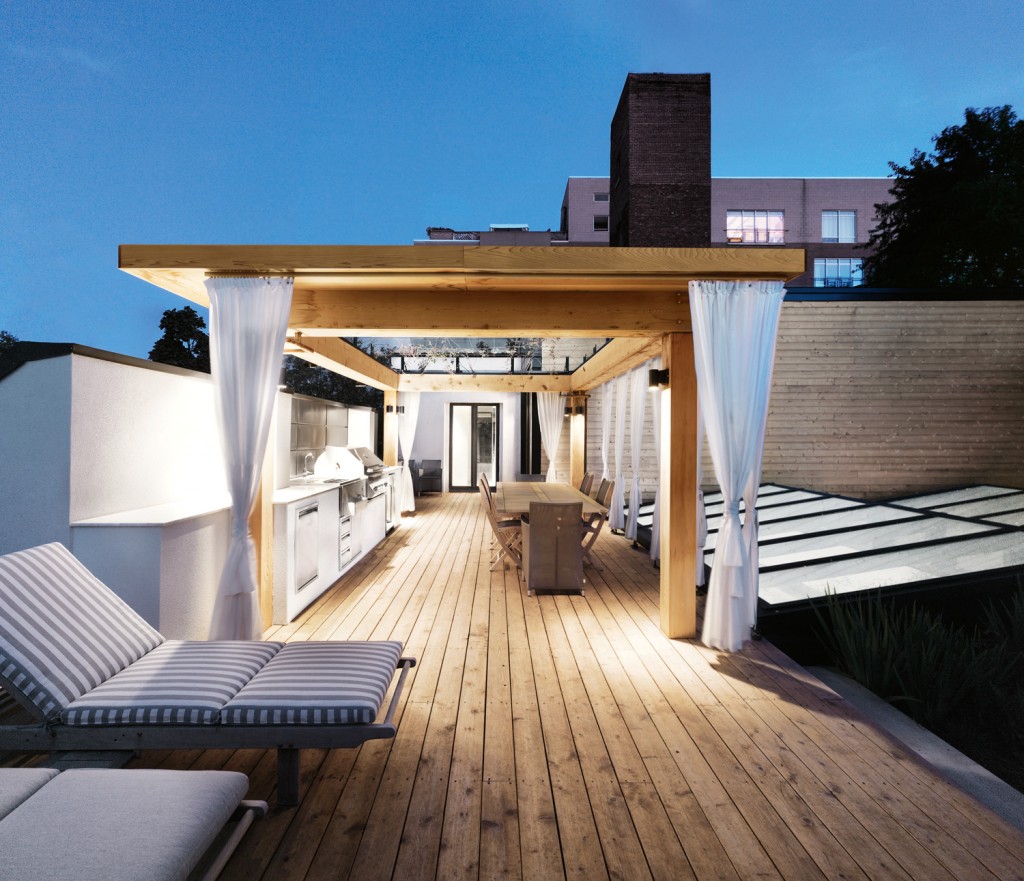 This roof garden, designed by Martine Brisson, won the Terrace category in Canada's Grands Prix Du Design in 2012. Photography by Marc Cramer.
Planting in style
In general, roof terraces are tough environments for plants. Accordingly, selection of plants should be limited to suitable types. The best guide is to look at the natural environment.
If your site is windy and hot, consider desert and dry inland plants, or seaside plants where conditions are similar. Look for plants with fine leaves or white/grey/green foliage to get you started. As a general rule, go for smaller plant varieties and hardy species that don't need a lot of watering, such as succulents, agaves and lomandras.
If you have a lower rooftop (such as the top of a garage) and it's a sheltered, shady area, consider semi-tropical plant types. Look for wide, dark leaves and go for smaller plant varieties. There are also plants to complement a more modern design that will suit these conditions, including backhousia, murraya, clivea and liriope.
An Asian-inspired roof garden in Melbourne designed by the owner and built by Ferlacon in conjunction with PJ Designer Homes.
Choosing pots
Pots can also be features and there are as many types as there are plants. Select pots that are good quality and the appropriate size and weight as they may need to be moved for cleaning etc. Also choose pot styles that are compatible with the style of garden and plants you have chosen; think about what will complement the foliage of the plant inside and the other elements in the vicinity, for example, furniture.
For non-glazed clay pots, apply a sealant to stop water from leeching into the clay. For steel pots or planters, line them with polystyrene to insulate root systems from heat buildup.
Building raised planters is an alternative to pots. Before going down this path, you need to be sure this is okay with the Body Corporate if you live in an apartment, and you also need to carefully consider issues such as weight, drainage and irrigation. There are lightweight modular planters you can buy, or you can have custom-designed ones made for you. Also consider modular vertical planter systems which can be attached to walls that get sun, but are not assailed by winds.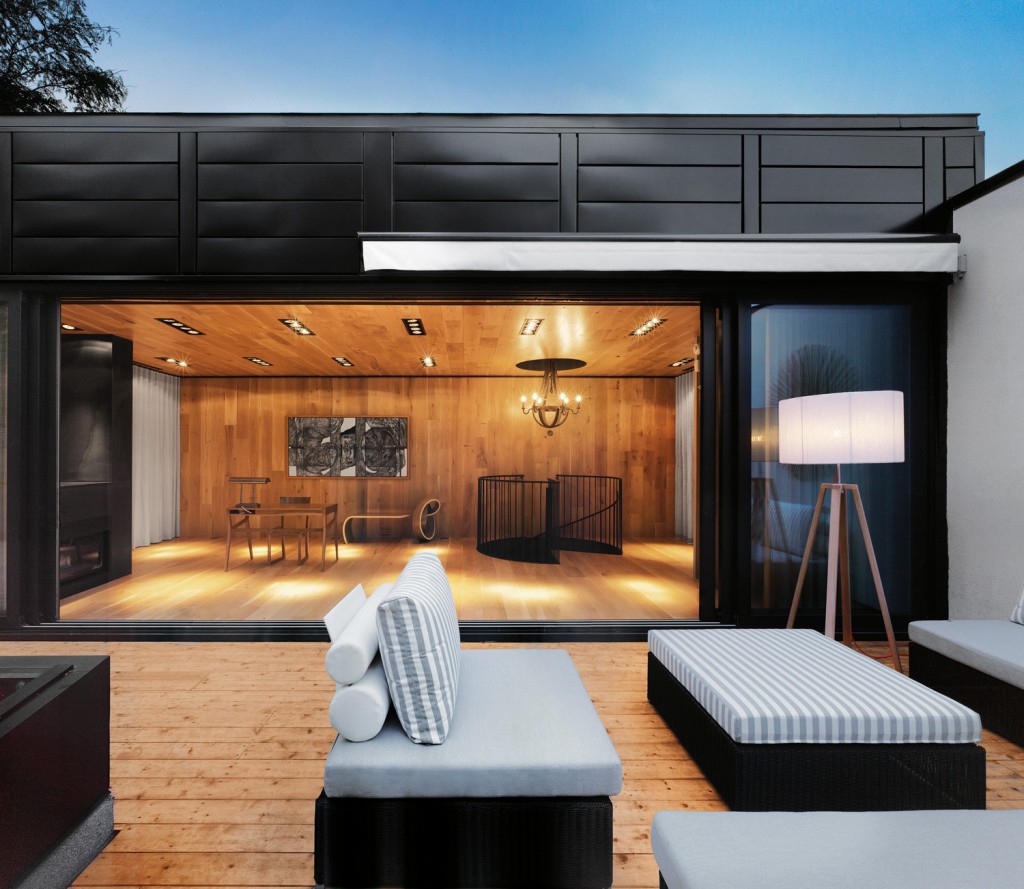 Forging an easy indoor-outdoor flow, this modern roof garden, designed by Canada's Martine Brisson, shows what is possible. Photography by Marc Cramer.
Furniture and decor
Furniture should be chosen for comfort as well as style. Remember, you want to get the most use you can out of the space, so make sure it's comfortable, easy to move around, and in high wind areas able to be anchored using sandbags underneath.
A great way to create a feature in limited space is by using sculpture or other features. The type you choose will depend on the shape of the area and the feeling you wish to create. There are countless varieties available and most local manufacturers will custom-make to your measurements for a reasonable cost.
If you have a long, narrow area, you might consider steel or aluminium patterned screens to break up the linear walls, perhaps incorporating low, small grasses underneath in little troughs. Sculptural lightboxes create interest at night too, emitting a soft glow to add atmosphere. Water features are a great way to cut through city noise and create a peaceful calm.
Roof terraces have enormous potential to add significant value to your property, as well as to your lifestyle. Take the time to think about the benefits you'll receive by investing in a space just for you.
Green roofs
If you don't want to use your roof as an outdoor living space, a green roof is a great alternative. Green roofs are created using a system of manufactured layers deliberately placed over roofs to support growing medium and plant life. This creates a blanket of vegetation that provides a pleasant vista and increases the energy efficiency of your home, helping to cool it in summer and insulate it in winter.
More importantly, it plays a number of essential environmental roles: helping to clean the air, manage storm water, sequester carbon, promote biodiversity preservation and create habitat. Creating a green roof requires the help of experts, but it's an investment that will pay off in the long run.