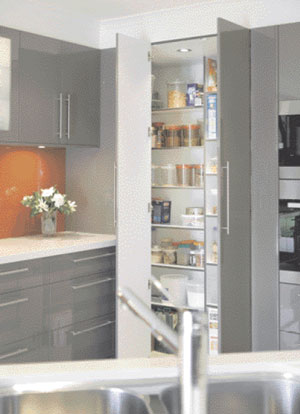 Limited space doesn't mean this kitchen scrimps on style. 
The owners wanted a kitchen that had more storage space and a contemporary design, so they approached Top Calibre Kitchens and Bathrooms to bring their vision to life. Top Calibre had already designed and built kitchens for several of their family and friends, so they were confident their kitchen would be of superior workmanship and impeccable finishes. The previous kitchen was constructed from timber and plasterboard and had few cabinets. The pantry had more of a wardrobe feel, there was no internal backing and the shelves weren't adjustable.
The owners wanted the entrance to the dining room blocked off, dividing the area so the kitchen was separated, and requested the addition of a semiformal round table. Combining the round dining table and the kitchen in limited space was a major design consideration. The kitchen needed to flow and feel uncluttered, with plenty of room to move. It was essential that more drawers were added to the kitchen — altogether there are 31 Blum Tandembox drawer systems fitted with Orga-Line storage for utensils, cutlery, bottles and knives. The kitchen also features two pullout bins, a wine rack, Blum Aventos aluminium door lift system, four-leaf bi-fold cabinet, an appliance cabinet and a functional walk-in pantry. The kitchen now boasts an inverted hex-shaped island with two waterfalls, includes plenty of organised storage and it suits the owners' needs perfectly as it fits in with the overall theme in their open-living house.