A house filled with natural light will always be attractive and uplifting to the spirit, while at the same time creating a greater sense of valuable living space.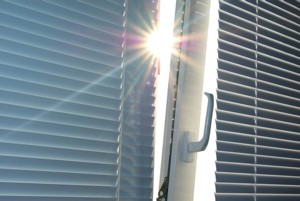 Daylight is the crucial element that transforms conventional rooms into beautiful spaces, adding value and quality to your home life. To fill your home with natural light is, in essence, to fill your home with life.
There is abundant evidence to show that natural light is a mood enhancer, with countries deprived of sunlight hours showing populations affected by Seasonal Affected Disorder (SAD). Natural light also regulates the body's internal clock, and there is evidence pointing to students performing significantly better in environments that are lit with natural, rather than artificial, light.
One of the most requested renovation items is a skylight to the bathroom, with the outcome of more natural light flooding the room. Showering and bathing under a stream of natural sunlight is an attractive proposition, particularly as many bathrooms tend to be internal rooms with little to sometimes no windows.
Planning a light-filled home:
The best way to create a light-filled home is from the planning stage. If you are building or undertaking a major renovation, you need to consider how the sun will move across your house through the seasons. This will determine the design for your floorplan. 
Carefully selecting the site, shading, as well as construction strategies can let an abundance of natural light in and save you money on lighting and heating. In essence, a house with plenty of sunlight is always going to be more economical and pleasant to spend time in, and the best way to ensure that is from the planning stage.
Windows:
Good window planning will result in daylight evenly distributed across the entire room, rather than having dark corners and overwhelmingly bright areas. Some of the major factors that will affect daylight within a room include the direction the room faces; the shape and position of the windows; the type of glass used on windows; and the type of shading used inside and outside the house.
In the ideal room design, the glass areas should be in excess of 20 per cent of the total floor space of each room. Most building codes recommend the glass area should not be less than 10 per cent, but much more is preferable to meet daylight requirements on cloudy days. It is better to have too much natural light — remember, you can always control excess light with shading. 
It is important to select the window shape that gives the most desired distribution of light within each room. Place the window as high in the wall as possible to lengthen the depth of light penetration into the room. More sky is visible through the upper parts of the window than the lower. It is also a great idea to use windows in more than one wall for greater admission and better distribution of daylight throughout the interior. 
Wall finishes and furnishings, especially curtains, should be light in colour, as this will reflect light throughout the room. Mount curtains, shades and other window hangings above the top of the window and to the side of the window frame in order to free the entire glass area and admit the greatest amount of light. 
There are myriad quality made-to-measure window designers and suppliers such as Architectural Window Systems and Vantage Aluminium that supply architectural window systems. Other reputable window suppliers include Ullrich Aluminium. 
When you do use a lot of glass in your design to allow light in, there are some important considerations. According to Krister Sandvoss from Miglas, "Double glazing should be mandatory as window and door areas are usually responsible for a great amount of heat loss and heat gain. Letting in the light means allowing bigger window areas, which means double-glazing becomes even more important. However, wherever direct summer sun meets big areas of glass, external shading is recommended; it's still glass." 
Louvre windows are also a great alternative to let light and fresh air into the home. Louvre windows allow air to flow through the entire window area. Opened, it's like free air-conditioning in your home, but better, as you control the strength of the breeze allowed through. When closed, louvre seals can keep water and wind out. Again, there are many quality suppliers of louvre windows, one being Breezway Altair Louvre windows that offers fully customised windows which will maximise light in any room. 
Bi-fold doors:
Unlike some doors, bi-fold sliding doors can offer natural light while fully opened, partially opened or completely closed; an open wall of light is the essence of a modern outdoor room. Even when the doors are closed, your room will be flooded with natural light while keeping the house secure. 
Skylights:
Not every room in a house can have generous-sized windows or doors that will admit sufficient natural light. The most popular and common solution to dark interiors is to bring natural light into a home with skylights. Rooms at the interior of a house as well as those facing south sometimes get little natural light and this is where skylights work best. 
There are various types available, including fixed, which is any type of skylight that doesn't open. Operable skylights do open and are intended solely to allow light to pass into the house. 
Tubular skylights are also very popular; they are essentially a very small skylight, intended mainly for small rooms where a traditional skylight wouldn't easily fit, such as over a staircase. It can bring welcome light into the centre of a house. As long as there is good roof access, a tubular skylight can be easily installed in most existing homes. They're also a particularly good option for dark interior spaces such as bathrooms. Some tubular skylights are even simple enough for DIYs to install. 
Today there are even designer skylights, such as those from the latest product range from Skydome. The skylight's glazing can be clear, tinted or sandblasted to any design. The lightweight, yet extremely strong extruded aluminium framing system can also be powder-coated to match any interior and exterior colour selection. 
According to Skydome Skylight Systems managing director, Michael Bonello, the development of these new-style skylights give designers and architects a greater selection of natural lighting solutions. "The new segmented skylight range offers additional creative solutions for natural light use, plus they have tremendous aesthetic appeal and design flexibility, enabling greater design freedom when natural light is being used as an adjunct to the design concept," he said. 
Another great product is Velux Sun Tunnels from Stegbar. These are best suited in special situations where a skylight or roof window will not fit, and are ideal for cupboards, hallways, toilets and small areas. 
Skylighting options are constantly growing as technology now makes it possible to bring natural light into areas of the home previously left in the dark. 
For more information:
Windows and doors:
Breezway
Louvre windows, skylights
www.breezway.com.au 
Architectural Window Systems (Vantage Aluminium)
www.awsaustralia.com.au 
Miglas
High-performance windows
www.miglas.com.au  
Ullrich Aluminium
Aluminium doors and windows
www.wintecaluminium.com.au  
Skylights:
Skydome
www.skydome.com.au 
Velux
Skylights, roof windows, light tunnels
www.velux.com.au 
Solatube
Innovative daylighting
www.solatube.com.au 
DayRay
Flexible daylighting
www.dayray.com