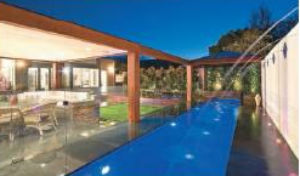 A luxury alfresco living room and lap pool designed for trans-seasonal entertaining
An outdoor room with a view… what more could you ask for? A custom-made daybed? Perhaps a cosy fireplace? Well, the fully functional outdoor room which forms the hub of this garden, designed and built by Exquisite Gardens Australia, offers all of this and more.
Perfect for entertaining, this cool retreat incorporates an outdoor kitchen complete with granite benchtops and sink, vinyl-wrapped white cabinetry and refrigerator, as well as outdoor music speakers and stack stone walling.
The goal of the garden design was to integrate the outdoor living areas with the home's indoor living area, placing a strong emphasis on year-round entertaining.
Towards this aim, there is a glass-roofed spa, an inviting lap pool and a large wharf-style timber deck from which to survey the modern landscape.
To tie in with the deck, recycled ironbark timbers sourced from an old sheep station on the Brisbane River were used for both spa and outdoor room pavilions.
Water is a recurring motif, which is no more evident than in the six wall-mounted jets that send arcs of water spilling into the pool. This feature is visible from all areas of the home and garden.
One of the key elements of the landscape is the stone work. Exquisite Gardens chose Granite Works to fulfil their requirement for customised natural stone paving sizes to give a seamless integration between the indoor and outdoor areas.
For all the hard landscape areas, they drew upon Granite Works' expertise to supply the stone. Granite Works also supplied the Sienna Stratastone and polished black benchtops in the kitchen area. Granite Works has more than 50 colours in 10 different finishes and can supply customised sizing of stone to meet any requirements.
To be considered successful, any outdoor living or recreational space must be tailored to meet the needs of those using it. This means all the elements have been carefully considered — from the paving and shading to the lighting and planting — and thought has been given to both functionality and flexibility. This urban Melbourne backyard ticks each of these boxes and more to give the owners a comfortable, contemporary setting for relaxation or outdoor entertaining.
Exquisite Gardens provides a complete landscape service that runs the gamut from garden design and construction to project management and garden maintenance. Supported by a passionate, experienced and highly motivated team, Exquisite Gardens offers the highest level of workmanship and customer service as well as extensive knowledge of the latest products from around Australia and abroad. While Exquisite Gardens has its own design studio, the company also regularly works with leading landscape architects and pool designers.
Project details
Landscape design and construction by Exquisite Gardens Australia Unit 3, 646 Burwood Road, Hawthorn East Vic 3123 Phone (03) 9882 2722 Fax (03) 9882 9322
Mobile 0404 099 175 (John Woollard) Email info@exquisitegardens.com.au Website www.exquisitegardens.com.au Photography by Patrick Redmond