The Block's Shaynna Blaze shares her advice on sustainable interior design and how to get started.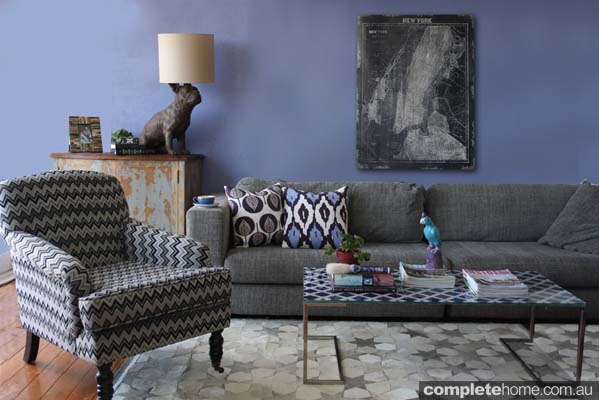 Image courtesy of Eco Chic, ecochic.com.au
Building from scratch is always a great place to start when considering the layout and positioning of your home in relation to sun, wind and land size, but we aren't always in that position. You don't have to be a hippy with a mud-brick home to be sustainable and you can go further than changing all your lighting to fluoro and LED and putting your appliances on a timer. Consideration is the key — each time you go to redecorate or purchase a new item for the home, take a moment to think of the sustainable option. Over time, as you 'layer' your interior with sustainable products and solutions, you are not only getting a home with a conscience but leaving a better world behind you.
Bathrooms have become our luxury corner of the world and a large percentage of renovation budgets go into this area. The bathroom does become expensive but you can find sustainable options that will add to your 'star rating' for the building and for each individual appliance. Look at the water star rating when purchasing each individual item. We all are used to seeing the dual-flush toilet in our homes but did you know it was invented in Australia by Caroma? This company was the innovator of saving water in our toilets and has remained true to this since inventing the dual-flush system in the 1980s.
Roca LR — sustainable products in the bathroom are designed to not only help with water consumption and recycling but to create a sleek designer look for the interior.
Another company leading in the use of water recycling and flushing systems, while not undermining the comfort, is Roca.  It started the We Are Water Foundation to help encourage better water usage. The flow on your tapware is also a consideration, just as much as is turning it off while you are brushing your teeth. Even the materials in our cabinets can make a difference. Reece has the Cibo Eco range, made completely from bamboo. Its compact density makes it water-resistant, which helps inhibit the growth of mould, an important factor in a steamy environment.
Furnishing and decorating our homes is possibly our biggest challenge when recycling what we no longer are happy with and bringing in new items to update the look.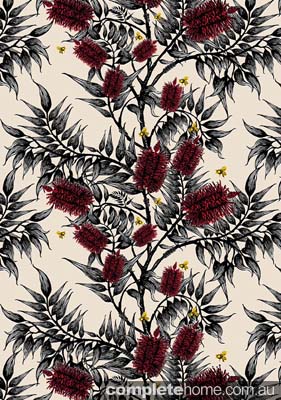 Bottlebrush Yellow wallpaper, funkywombattextiles.com
Wallpaper is a big trend now, and the papers, inks and glues used in their manufacture are all very important. Tamara, from Funky Wombat Textiles, is a local boutique wallpaper manufacturer who takes all these elements very seriously. She says, "Our paper is FSC certified and manufactured with non-woven wallpapers that are breathable, which eliminates vapour lock that can contribute to mould and mildew. They are also scratch-resistant and shower-proof which makes them suitable for bathrooms and kitchens. They also have a fire rating as the papers don't expand or contract like in the old days. We use a digital process which means less waste, with all pigments water-based with no water used in the printing process." Then it is a simple process of using a starch-based adhesive, not a chemical one, and you have the latest look while adding another sustainable layer in your home.
Buying second-hand furniture and reupholstering is a simple way of not creating landfill, but what about when purchasing a new piece, as you still will want to upgrade it later on? Jardan is a Melbourne firm that looks at its sustainable footprint from every stage of product manufacture, from using CFC or biodegradable materials through to the water-based stains on its timbers. Its policy is about waste and energy minimisation and it offers reupholstery and rejuvenation of products to extend their life to save them from landfill. Have a look at all manufacturers' policies on their websites and, if they don't have one, ask during the purchasing stage.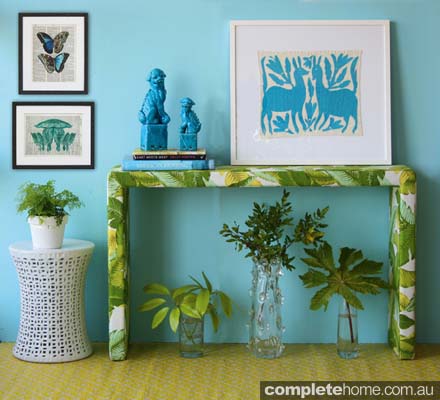 Portofino console. Image courtesy of Eco Chic, ecochic.com.au
Even buying online can become a sustainable task. Eco Chic — ecochic.com.au — based in Queensland, has products that look at the life-cycle of each piece as well as being economically sustainable. To help with any carbon footprint, Eco Chic donates 15 per cent of all sales to the organisation '1 Per Cent For The Planet', which helps approved environmental organisations around the world.
Starting your sustainable interior can be as simple as researching the companies you purchase from, as more often than not they have done all the hard work for you in creating products that are not only sustainable but make your interior functional and stunning.
Star ratings
Star ratings are for building and appliances — see the sources below for further information.
Green Star rating – Green Star is a comprehensive, national, voluntary environmental rating system that evaluates the environmental design and construction of buildings and communities. With more than four million square metres of Green Star-certified space around Australia, and a further eight million square metres of Green Star-registered space, Green Star is transforming Australia's built environment. gbca.org.au
Star rating calculations – Star ratings have been developed to provide consumers with an easy way of comparing the energy-efficiency of different models. In this context, energy-efficiency is defined as the 'energy service per unit of energy consumption'. It is a simple and fair way of comparing the energy consumption of products that perform a similar task. energyrating.gov.au
WELS rating – WELS is Australia's water-efficiency labelling scheme that requires certain products to be registered and labelled with their water-efficiency in accordance with the standard set under the national Water Efficiency Labelling and Standards Act. waterrating.gov.au
By Shaynna Blaze
From Grand Designs Australia magazine Vol. 2 No. 3