This water feature is illuminated by Aqua-Quip's stylish Evo2 pool lighting system, adding a splash of glamour to a new shopping centre.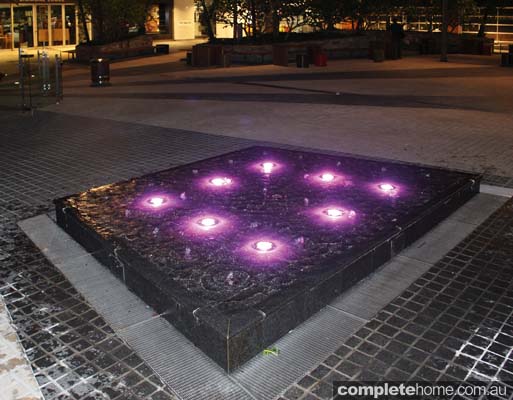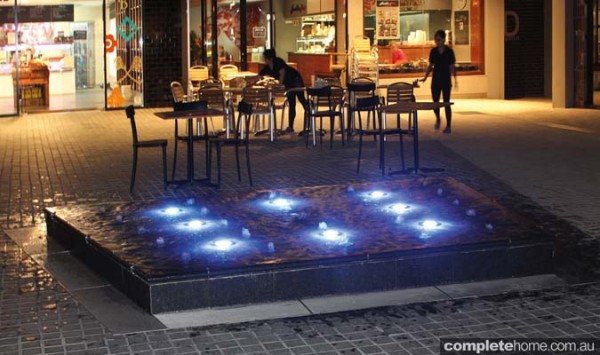 Crystal Pools chose Aqua-Quip's Evo2 pool lighting system for installation in the common areas of the new Stocklands Cammeray Shopping Centre. Evo2 LED pool lights utilise the latest advancements in pool lighting technology and combine many unique features, resulting in a spectacular, ultra-reliable lighting system that's user-friendly and easy to install.
These LED lights are available in fixed colours of white, blue, green and multi-colour with multiple colour-changing programs. The beauty of the Evo2 is that the lights sit flush with the pool wall, making them completely unobtrusive. They are stylish and modern, ideal for all types of water features, spas, fountains, waterfalls, beach areas, ponds and catch tanks.
The elegance of the lighting system can be enhanced with the addition of the optional stainless-steel trim ring, creating some spectacular visual effects. The Evo2 system is supplied with the latest-generation LED technology and an industrial-strength transformer to ensure maximum light output. In addition, Evo2 lights are energy-efficient and have a rated life of up to 50,000 hours. The entire system is extra-low voltage, ensuring safety at all times.
The site of the illuminated water feature at the new shopping and residential centre, within paved alfresco dining areas, enhances the night ambience. Centre management has the ability to program and control the colour-changing modes of the lights to suit the time of day or each passing season. The water feature has become a focal point in the shopping centre, attracting many children who like to splash around.
This super-bright, next-generation LED technology, made in Australia to all relevant Australian standards and regulations, is suitable for concrete, vinyl, fibreglass and modular vinyl pools and spas and has a detachable cable for easy installation.
Aqua-Quip's Evo2 lighting system is suitable for a variety of commercial situations and can be found in aquatic centres, hotel pools, shopping malls and even Parliament House in Canberra.
Project details
AQUA-QUIP
40 Percy Street, Auburn NSW 2144
Phone 02 9643 8338
Fax 02 9643 8448
Email aqua@aquaquip.com.au
Website www.aquaquip.com.au
ABN 75 052 850 156
Design and construction Crystal Pools
1 Central Avenue, Thornleigh NSW 2120
Phone 02 9875 4555
Website www.crystalpools.com.au
"Alfresco ambience" from Poolside magazine 40