Step into this luxurious Noosa penthouse apartment and admire the sleek and sophisticated interior design.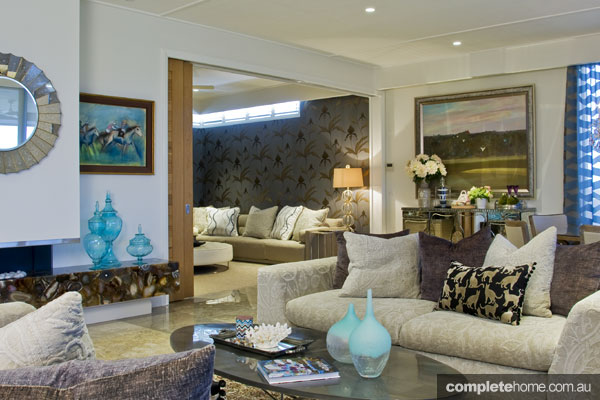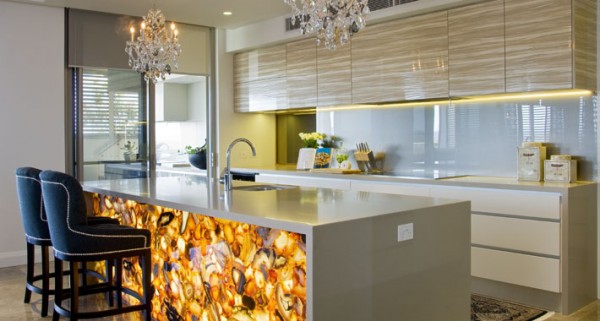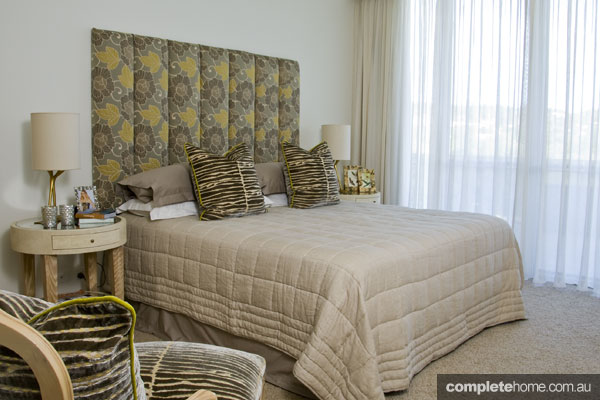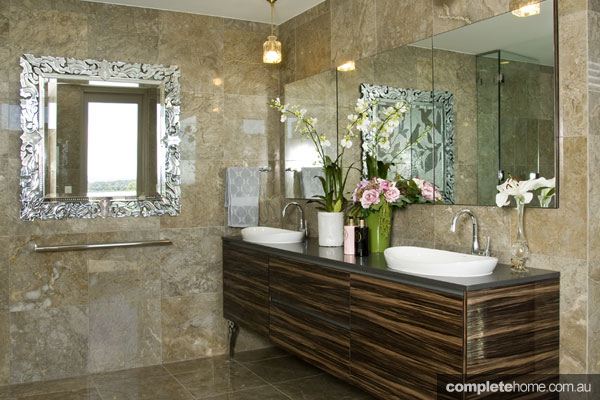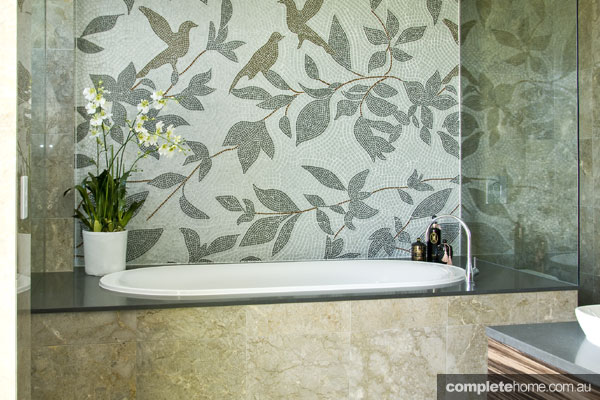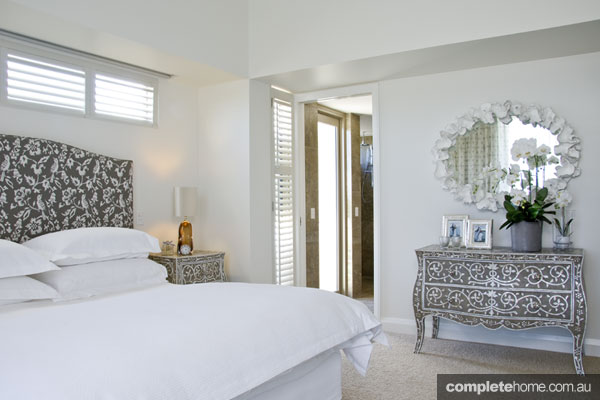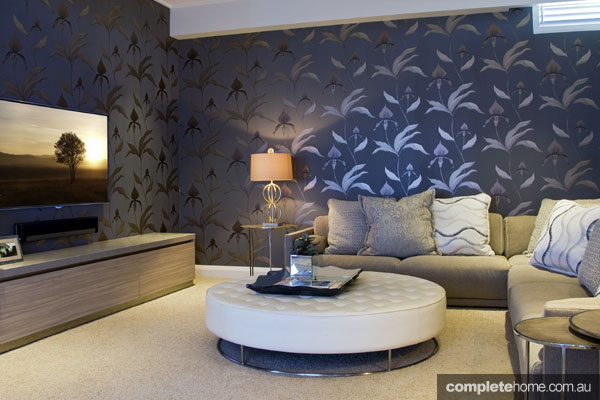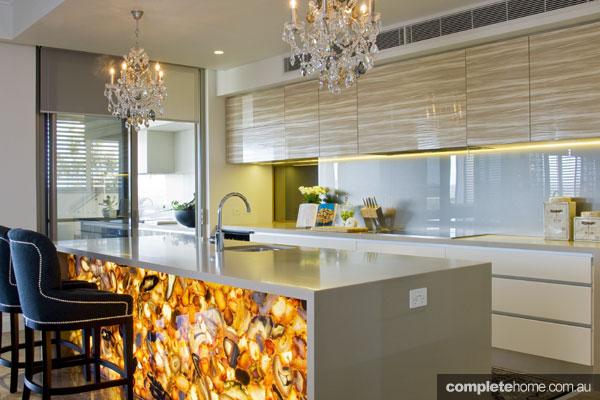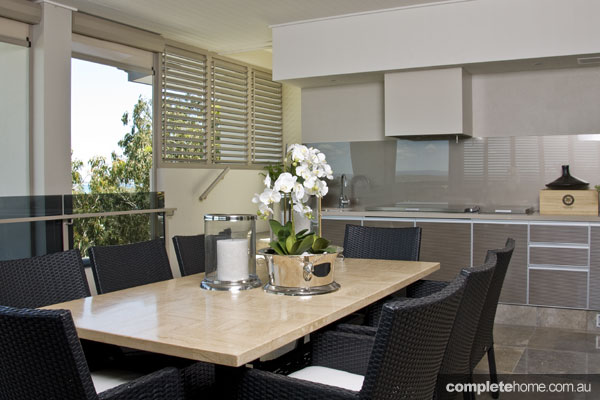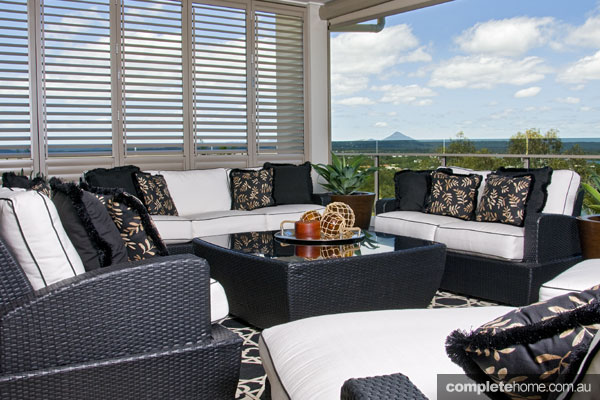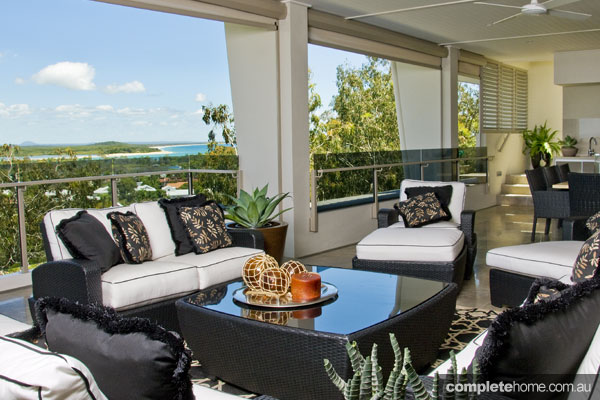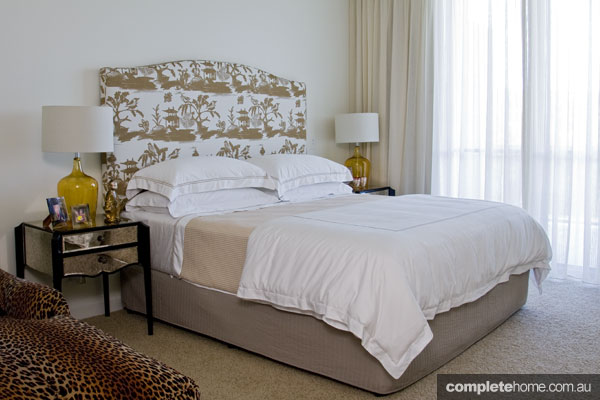 With a stylish interior design and sweeping views that stretch from the Sunshine Coast and beyond, this elegant penthouse looks like something out of a modern-day fairytale. It is a marriage of timeless elegance and contemporary charm. And homeowner Suki, who hails from Darling Point, Sydney, is quietly relishing her luxurious happily ever after.
"I absolutely love it," she says. "I wanted a comfortable home that reflected quality, elegance and sophistication. What Toni has created is beyond what I imagined."
Suki recently moved to the Sunshine State and was ready to embrace the comfortable laidback lifestyle that Noosa Heads has to offer. "My husband passed away 10 years ago and I felt ready for a change. I wanted to be closer to my family and to live somewhere I could go on walks and enjoy more outdoor living," she says.
The penthouse apartment was designed by Gold Coast interior designer Toni Packer from Toni Packer Design, who describes its style as "relaxed glamour."
"Suki was a delight to work with," says Toni. "In getting to know Suki, I could appreciate her needs and the style of finishes and inclusions that suited her taste and lifestyle."
Toni collaborated with Suki on some style points but, for the most part, Suki was happy to let Toni lead the way. The final result is a rich fusion of charming finishes and beautiful textures that create a unique urban haven, vastly different to the beachy feel of many Noosa apartments.
There are so many gorgeous features in this sumptuous penthouse, it's easy to see why Suki feels right at home. "It suits my lifestyle," she says. "I love relaxing at home, cooking and entertaining, and often have weekend guests."
For Suki, opting for quality finishes was essential, from both an aesthetic and functional perspective. "I think quality is important. Yes, it's more expensive but it's better than choosing something you'll have to fix or replace later," she says.
The quality features throughout are numerous. Luxurious Caesarstone Concetto Brown Agate, made using semi-precious stone from Israel, features in the kitchen island panel, the fireplace and the powder room vanity. With the simple flick of a switch, Suki can change the mood of the space. When backlit, the agate on these elements adds a frisson of glamour.
In the media room, a comfortable curved couch hugs the wall and an oversized ottoman takes centre stage, inviting you to put your feet up. The stunning wallpaper has a charcoal-grey background with a metallic orchid: it changes in the light, reflecting shimmering copper, silver or gold.
The colour palette throughout is neutral with warm undertones and delicate blues. The twist-pile carpet in taupe complements the space, and there are beautiful marble taupe Gregorio Impala tiles throughout.
The dining sideboard is constructed from Venetian mirrored glass and above the dining setting, a beautiful chandelier allows slivers of light to dance around the room. The blue curtains blend with the tones of the Persian silk rug and an exquisite Arthur Boyd painting that hangs above the sideboard.
One of the challenges of the project was positioning the ornate 180kg Christopher Guy mirror. It had to be craned up the balcony and moved in place by six men. "It's the first thing you see as you enter the unit. It's beautiful and opulent, it sets the tone for the interior," says Toni.
Suki is an animal lover and her two gorgeous felines, Saffi and Taj, have made themselves right at home. "They even tone with the colour scheme," says Toni.
Like much of Toni's design work, there were no stark focal points in the project. Her design philosophy is about the viewer wholly immersing themselves in the space.
"I like to walk into a room and see it all flow together. Once you've sat down, you start to take in all the pieces. There are no major focal points that hit you right away," explains Toni.
On a weekend, you'll find Suki whipping up a delicious meal for guests in the open-plan dining, lounging and kitchen areas, which are perfect for entertaining. Tucked out of view is a scullery with double sink and dishwasher so the main areas can be kept clutter free. It is also a thoroughfare to the well-stocked wine cellar.
The elegant office has an oriental feel, paying proud homage to Suki's ancestry. "My mother is a Japanese war bride and my father, Irish Australian," she says. Leather doors open up to reveal ornate antique Japanese Satsuma vases showcased in a purpose-built cabinet by Projects Queensland. On the rear wall, tasteful Japanese screens form a complementary backdrop.
Suki's bedroom is a glamorous delight. The wardrobe has custom-designed pearlised vinyl-padded doors, "and, of course, a bit of bling on the handles," adds Suki. An additional wardrobe finished in metallic pearlescent paint houses a recessed TV unit.
A comfortable chair complete with a faux-fur rug in snow leopard adds a touch of old-word glamour. The bird-mosaic bedhead complements the painted timber and pearl inlay bedside table and drawers.
The two comfortable guest bedrooms both have beautiful ensuites. In one of the roomy, modern ensuites, there's a sizable bathtub and a separate shower. The hand-cut mosaic Trend tiles from India are a bathroom feature.
Outside is the generously proportioned exterior entertaining space: the perfect place for Suki to fire up the Teppanyaki bar and spend time with family and friends. A hand-picked selection of cosy furniture from Dune Outdoor Luxuries means guests will be just as comfortable outdoors as they are in.
"I like to surround myself with comfortable living spaces and lots of greenery," says Suki. "I'm enjoying my new home and loving my new lifestyle. I only wish my husband was here to share it with me."
Words Carrol Baker
Photography Clive Buxton
Originally from Home Design Magazine volume 17 Issue 2