Explore a unique take on classic interior design in these incredible spaces.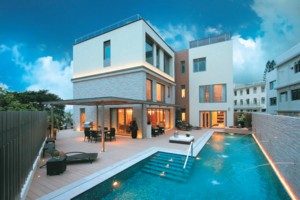 Cypress Group of Companies has created an indulgent design for two duplexes and a top level simplex in Hong Kong that recreate the feeling of being in five-star opulence. Contained in one large block, both duplexes include a large decking area and pool feature, while the simplex takes advantage of a rooftop garden with jacuzzi, overlooking breathtaking views of nearby mountains and Stanley Bay. It was essential for each flat to encompass its own theme, giving each one an essence of individuality. A new-century modern design was bestowed upon duplex one. Using a mixture of neutral shades, the living room simply melts into the divine dining room. Adding a splash of colour to the palette, the tan-print chairs are embellished with an assortment of coloured cushions.
Cypress Group successfully carries out the 'new verses old' theme in the form of an antique wall unit and a contemporary-style glass coffee table. Spectacular dinners can be enjoyed within the established colour scheme, which includes pink velvet chairs and a dark wooden table with gold trimming. A beautiful marble staircase leads to the upstairs family room. Decorated in homely reds and pinks and a gold lamp add interest and grant the room an authentic old-century touch. Just a sleepy step down the hall is the luxurious master bedroom with ensuite. Beautiful salmon wallpaper is softened by the subtle grey carpeting and bed linen. Guests have the luxury of choosing a bedroom to suit their mood, with each one possessing its own colour design and theme. From pink and deep red, lush tones to rusty gold, all with sleek interiors, each room boasting energising vistas of the decking and pool. The magic continues in duplex two's interior, with a grand, modern design. Induction into duplex two begins with the elaborate foyer. White marble flooring greets guests and residents and leads to huge fl oor-to-ceiling glass windows which connect to the living and dining rooms. Adorned in similar neutrals as duplex one, the living room is more subdued, correlating well with the retro-patterned dining room chairs. The large white-toned kitchen with dark wood trimming cements the colour scheme that radiates through the bottom level and provides ample room for culinary enthusiasts. Demonstrating the transition between the lower and top level living areas, red print wallpaper adorns the staircase walls.
Stepping away from the styling of the floor below, the family room's comforts come in the form of floral-patterned sofas, gold wallpaper and a lighter-coloured wood floor. Again the guest bedrooms all have their own unique décor, ranging from pretty pinks and creams to dusty browns and golden yellows; the latter bedroom enjoying gorgeous views through the door window and providing guests with easy access to the decking and pool. The master bedroom dweller can escape and unwind in the folds of the deluxe red duvet, co-ordinated well with peach-coloured walls and an assortment of artwork, or curl up with a good book by the window on a spotted blue sofa. Making great use of space, owner and chief designer Robert Shum has styled the top-level simplex with a metropolitan classic design in mind and furnished with the Ralph Lauren Home Collection. Boasting a large wine rack in its reception, it is in perfect reach of the dining room, which can be hidden behind sliding glass-panel doors. Adorned with lavish black walls and matched with a dark hardwood circular dining table and chic linear-textured chairs, it is the ideal setting for a classy home dining experience. 
For the living room, the designers wanted to keep with the sophisticated classic theme and have done so by selecting elegant furnishings and antique pieces. A main feature of the room is the metal-studded chest serving as a coffee table and a large black-marble fireplace. It is definitely a room dedicated to decadence. The space possesses two generous guest bedrooms, each one individually designed. Black-and-white-plaid furnishing and wallpaper sets the tone in the first, punctuated with deep crimson curtains and bright white flooring, giving the room definite feminine touch. For the boys the next bedroom is subtle, boasting rich-brown walls and plain beige carpeting. The master bedroom leaves no possibility of questioning grandeur; this majestic, spacious room makes use of rich, reds with black and white linen. 
Residents can take pleasure in a lush roof garden with plenty of space for entertaining friends. A jacuzzi overlooks mountains and Stanley Bay, and is the perfect place to unwind with a bottle of bubbly and empty schedule. All homes are fitted with Bticino's "My Home" Home Automation integrated by Cypress Systems Limited. It features video displays, indoor camera monitoring, intercom and door entry control, assuring residents that their homes are guarded by the utmost safety standards. All three homes take luxury to the next level, providing experiences that are only afforded to the absolute elite. They wonderfully furnished and elegantly designed, making them homes that one would be very lucky to live in.