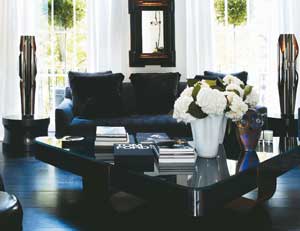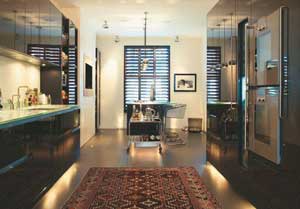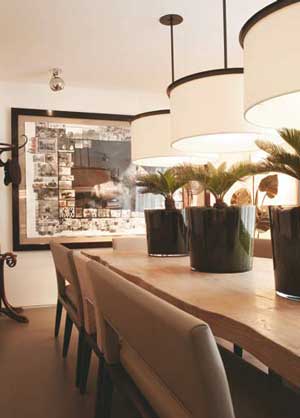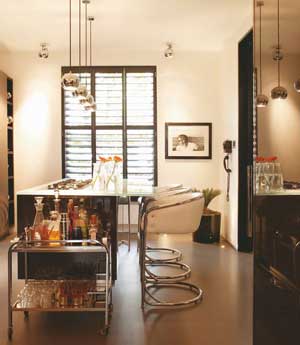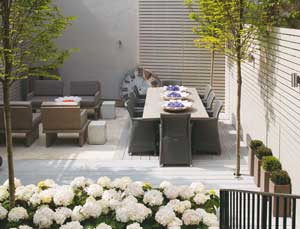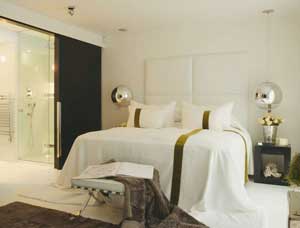 Elegant aesthetics and brilliant design concepts have reinforced Kelly Hoppen's reputation as one of the world's most celebrated interior designers
Photography: Mel Yates
Kelly Hoppen's London home pays homage to her talents as a designer and reflects her trademark neutral colour scheme throughout: white walls, black wooden sliding doors and grey-poured resin flooring. The renovation of this classic Georgian townhouse took just five months from conception to completion, a truly ambitious project.
Kelly has complemented the abundance of natural light throughout the house with concealed lighting behind the walls. With its eclectic mix of furnishings and designs by Kelly, the house is enriched with textural aspects such as sofas covered in black couture fabric, velvet cushions and lingerie-satin curtains.
Kelly has installed two luxurious bedrooms with white ensuite bathrooms and separate walk-in wardrobes. The house also boasts a gym, laundry and gorgeous garden. The entrance features two large antique mirrors and is tastefully accessorised with flowers and photographs. An outstanding art piece of Mohammed Ali from the Michael Hoppen Gallery hangs in the entrance hall at the bottom of the silk-carpeted staircase.
The bespoke kitchen by Boffi was designed as a functional space where family and friends can sit, talk and eat. It contains a bar area with vintage Talisman stools. Beautiful pendant lights hang over the bar and a fantastic fireplace by BD Designs — its surrounding designed by Kelly — faces the bar. Large sash windows allow natural light into the space.
As you walk through the kitchen towards the dining room, custom-made cupboards line the walls and an antique Caucasian rug by Gallery Yacu fills the kitchen with colour.
The dining room is often used for special occasions and evening meals. A beautiful oak table sits in the centre and large white and black lights by Kevin Reilly are elegantly suspended above. One of Kelly's favourite items in the house is the Peter Beard photograph, which is hung on the wall opposite the dining table. Naturally lit during the day, the dining room overlooks the rear garden, which was designed by Chris Moss and beautifully accessorised by Kelly Hoppen. Tables and wooden armchairs by Nik Skinner and dining chairs by Vincent Sheppard make for a comfortable and cosy outdoor setting.
The living room is seductively designed and features dark wooden floors with a large fireplace and black-glass chimney breast, lingerie-satin curtains, black and grey sofas covered in loose couture fabric, black and grey velvet cushions, vintage taupe damask armchairs, and a coffee table and Kelly Hoppen mirrors. Floor lamps and crystal light chains designed by SPINA dramatically and softly light up the room to suit all moods. Kelly is a fan of Marilyn Monroe and has a large photograph of her in the living room, with additional artwork from the Michael Hoppen Gallery. This room leads to a terrace and staircase which sweeps up to the master bedroom, designed around everything that, for Kelly, is sensual, luxurious and breathtakingly beautiful.
In the centre of the room is a bed by Duxiana covered in Sirocco fabric with throws and cushions by Kelly Hoppen. A vintage chair sits next to a dressing table with photographs of Kelly's family and a second image of Marilyn Monroe. The Japanese-inspired wardrobe, made from black wood, was designed by Kelly and conceals a television unit and her clothes.
The master ensuite bathroom, with its pristine white walls, is a tranquil haven. The bath takes centre stage and is raised on a platform. The basin, by Marble City, is designed by Kelly Hoppen. A beautiful India Mahdavi table sits near the bath; the taps and shower are Kelly Hoppen's award-winning designs for Waterfront Ltd.
A guest bedroom, located in the basement of the house, is as classically decorated as the master room. The two hanging lights by Tom Dixon on either side of the bed and sheepskin rugs add a relaxed feeling. Two chairs by Century French Bergere are placed on either side of the black wooden wardrobe.
Kelly Hoppen, who was recently awarded an MBE for services to design, started her business at the age of 16 and over the years established herself as one of the world's top designers. Her studio and staff manage projects internationally, working on houses, apartments, yachts, ski chalets, hotels, numerous corporate spaces, private jets, as well as the interior of British Airways' first-class cabins.
Kelly's latest book, Kelly Hoppen IDEAS, provides readers with a clear picture of her design approach at every stage — from conception, planning and decision making to implementing the work and achieving reality. She shares her insider secrets, revealing how to obtain the most from your living space.