It's time to give the neglected laundry room a well-deserved makeover
There's no denying functionality is of utmost importance when it comes to the laundry room. However, that doesn't mean this space needs to be bland and boring. The laundry can be designed to be beautiful as well as practical — and so it should be, to make the routine tasks and chores in this working space as enjoyable as possible.There are a multitude of things which need to be taken into consideration when building a new laundry or renovating an existing one. With this in mind, we spoke to Felicity Page at Freedom Kitchens. Here are three of her top tips for those looking to take on a laundry renovation.
Design cues from the kitchen
"A recent trend in laundry design is coordinating the style and finishes of your laundry to match other 'wet' areas of your home, such as the kitchen. This provides a seamless transition from these other spaces into this essential working spot. Additionally, a stylish, well-designed laundry with coordinated kitchen cabinetry will complement your home, adding to its value."
Control the clutter!
"Overhead cabinets can be installed to utilise empty walls, while floor-to-ceiling cupboards are an ideal storage solution for items such as mops, brooms and ironing boards. There's also no shortage of internal baskets, hampers and shelving solutions to keep everything in its place. Open shelving is an on-trend design solution for keeping useful items close at hand, while adding a stylish edge to the room."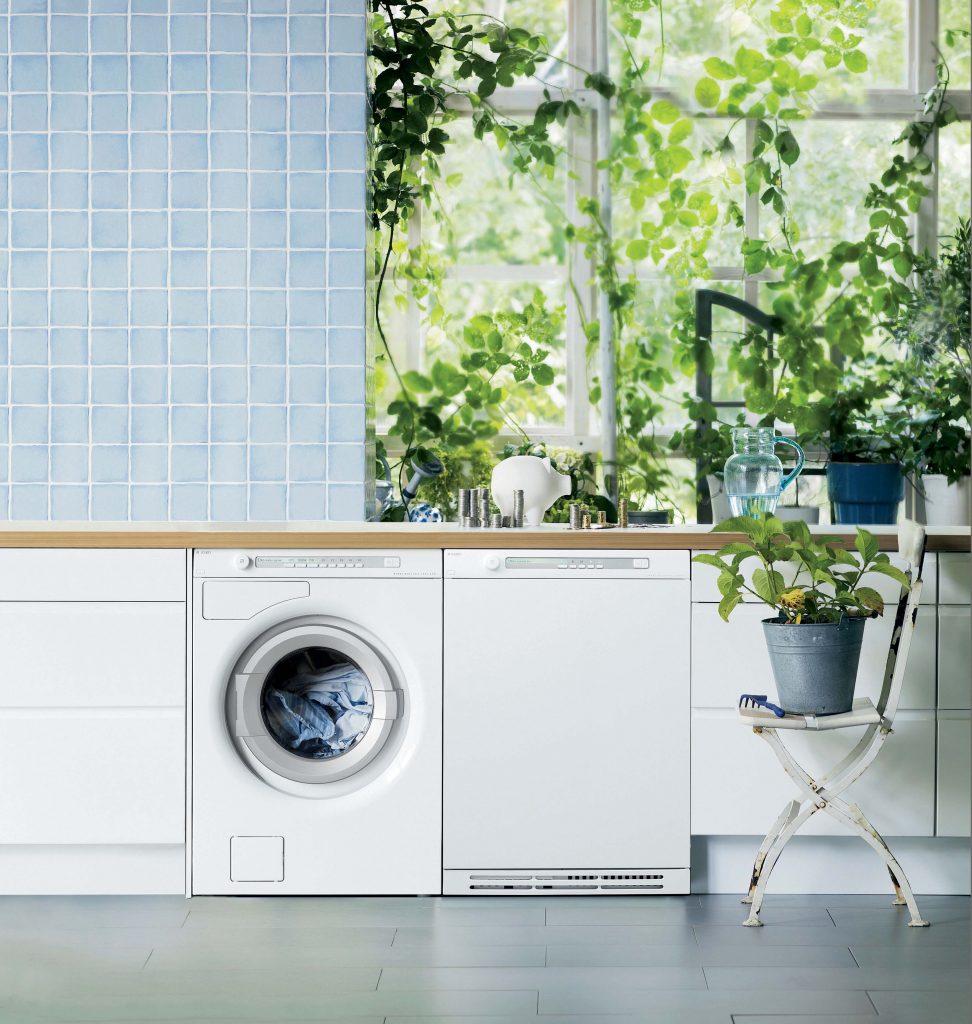 Good work surfaces
"Caesarstone or laminate benchtops are an excellent choice for the laundry; they not only provide a moisture-resistant work surface, they also look brilliant and are available in endless colours and finishes. Choosing one to complement your home will be a breeze."
Space matters
If you've got it, flaunt it! Spacious laundry rooms have become a rare luxury with the rise of compact living solutions, so if you're one of the lucky ones who have access to abundant space in your home, use it to your advantage.
Sweeping cabinets and ample folding space are on-trend right now, as are pot plants and organisational items to give the space a little life. Consider a built-in ironing board, shelves and drying racks for convenience. The expansive laundry room is also an ideal space to allocate a corner for house-trained pets, as well as their toys and supplies.
Tip: Consider allocating storage space for boots and heavy winter coats to create a mudroom of sorts.
European solutions
If a spacious laundry room is not a viable option in your home, consider sourcing some inspiration from Europe. A European laundry is a hidden laundry, one that is tucked into a cupboard or wall cavity or hidden away behind bifold or pocket doors — ideal for city living. The biggest advantage of this style of laundry is that it can be built into unused space from virtually any part of the home. Also, as it is hidden away, there is no risk of the laundry space cluttering the rest of the home. The European laundry works best with a stacked washer/dryer combo to leave space for shelving and other storage solutions.
Tip: Build your European laundry close to the bathroom or kitchen to minimise plumbing requirements.
Lighting solutions
As with every other space in the home in which daily duties are completed, good lighting solutions are a necessity for the laundry space, especially to ensure all spots and stains are discovered in order to pre-treat prior to washing. While natural lighting is highly desirable, this is often not a possibility in compact living spaces. If this is your situation, look into lighting solutions such as under-cabinet lighting and task lamps, as well as standard ceiling lights. Lights which turn on automatically when doors are opened are a popular option for European laundries, while statement lighting is an effective way to create an element of interest in a larger laundry space.
Tip: Lighting with warm white tones will be ideal for your laundry space.
Bringing the splashback back
The kitchen is not the only space that can have an interesting splashback. Laundry splashbacks are currently on-trend as they are effective in introducing a little style and creativity to the space.
Matching your laundry splashback to the one in your bathroom or kitchen is an effective way to create an element of stylistic flow in your home. Alternatively, a glass splashback could be installed if you're one of the lucky few with a gorgeous view. If you only have a small space to work with and are after a touch of quirkiness, mosaic tiles or a splashback with a bold statement print could also be a good option.
Originally published in Kitchens & Bathrooms Quarterly Volume 23 Issue 4