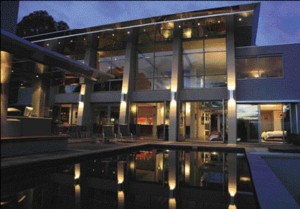 Like her artworks, the home Jane Gray shares with husband Jeff , on the slopes of Te Mata Peak in Havelock North, makes a dramatic creative statement. The house enjoys its seclusion on a ridge that was once an avocado orchard. In a semi-rural area, it perches between two gullies spilling over with gum trees with views north-west over the Heretaunga Plains. Spatially extravagant, it has a stately, glamorous presence. Raking columns soar up towards the roofl ine, where generous soffi ts, clad in polished stainless steel, pick up the movement of trees and activity below.
The mono-pitch roof salutes the distant plains and rises over the entry in a "spoiler" to the rear — rather appropriate given Jeff is passionate about cars. When lights come on at night and refl ections from the gas flares dance around the pool, they create a magical mood. The stage is set for partying. Entertaining on a lavish scale is always a distinct possibility in this house. But this is more than just a party home.Its architect, Steve McGavock, has catered for aspects of Jane and Jeff 's busy lives, ensuring work, play and passions intertwine with ease. Just as comfortable for two or 200, the home expands to accommodate adult family and friends who often come to stay. Spacious bedrooms set on various levels are far enough from one another not to feel intruded upon.
Jane owns the popular Wine Country Gallery in Havelock North but the house was also designed with dedicated gallery space. Jeff 's favourite vehicles — an old BMW racing car and a new Harley Davidson — take pride of place the gallery right now. However, with the growing effi cacy of the Internet, Jane is contemplating switching the business back here. Spilling out through large glass doors to a sheltered rear courtyard, the gallery is ideal for exhibitions, with room for large outdoor sculptures. Expansive wall space in the main living area a showcase for Jane's personal art collection. visitors make their way through the light-fi lled, double-height entry atrium they encounter an assemblage of work by some of New Zealand and Australia's foremost artists. There are ceramics by Christine Bosjwick; a painterly panel by Reuben Friend; works by Denis Baker; a bold lattice abstract by Ian Scott andnumerous others. Against a matte black wall, a glass light cube painted by Jane provides a dazzling focus at night. Overlooking the Le Corbusier dining table where a Paul Dibble bronze perches, a substantial Grant Dibley artwork of a mysterious white bird won the prestigious Norsewear Award 2007. Reclining in a corner, an Anima chair by Valentine Tinc, splashed with colour by Christina Popovici, makes a welcoming place to sit and contemplate arrivals.
Jane explains the ground fl oor is like a separate apartment for the couple, with a grand, open-plan living area and the master suite concealed behind white sliders. Being gregarious folk, Jane and Jeff deliberately eschewed a formal room — that's simply not how they live. Centre stage between a sitting area and the bedroom suite, a fi ve-metrelong jarrah island benchtop is a drawcard for crowds. Behind the bench, the kitchen features a stunning glass splashback, with three layers of glass lit from behind, which Jane has painted eff usively in vivid acrylics. "When the family comes over, we like to cook, eat and play together in this grand space. There's enough room for everyone. We've catered for all occasions," says Jane. "If we're having a big lunch or dinner, we go out to the loggia." All doors open and link to the loggia across a massive deck, forming one big, fl owing space beside the pool. Enclosed in glass bifolds, the loggia can open up or close down, depending on the weather. Comfy chairs are a favourite place to gather around an open fi re. Nobody needs come inside to cook as a barbecue and cooking gear are concealed in a handy island bench. At either end of a mezzanine space, Jane and Jeff 's separate workspaces overlook the living area. Jeff 's is defi ned by a neat, masculine checked carpet.
Jane's is a light-filled art studio with a relaxing sitting area and kitchenette opening to a balcony, where large canvases can be brought up via outside stairs. A multi-purpose hideaway, this urban home in the bush succeeds on many levels, so it's not surprising it won a New Zealand Institute of Architecture award last year.