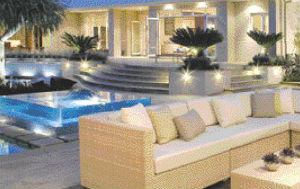 Lighting can play an integral role in creating a mood and providing your outdoor room with ambience
Words: Rachel Belshaw
At night, lighting serves the practical purpose of safety. Without it, we'd most likely trip over the family dog or injure ourselves on a step or obstacle. However, lighting can also give life to your outdoor area while catering for functional requirements.
"Appropriate lighting gives you the ability to highlight beautiful features around your home, such as a sculpture, water feature or magnificent tree," says Petra Kleegraefe, design director of Architectural Lighting Design Pty Ltd.
Grant Clement, landscape designer of Designed Gardens, agrees and says that the way lighting is incorporated into a layout can also lead people around the garden — up stairs, along pathways and from area to area. "Even during the day, lights can guide you in the right direction," he says.
S oft and subtle
If you're looking to create a quiet, romantic ambience, low-voltage lights are the way to go. As Petra explains, the most important consideration here is to reduce the amount of discomforting glare from the lights themselves, which includes avoiding fittings that are very bright, such as bright bollards, or where you can see the actual lamp, such as floodlights. Petra suggests using accessories on luminaries that help to reduce any glare, such as snoots and honeycomb louvres, which help hide the light source.
"It's also a great idea to light surfaces such as walls or the underside of canopies and use them to reflect light," says Petra.
R emember that a soft lighting scheme doesn't require a lot of lighting to create a great effect. "Just think how little light a single candle produces, but it creates a great mood and often also enough light so that one can move around safely," says Petra.
"It's important to focus on delivering the right amount of light in the required locations and try not to flood an entire area with one light that's just too bright or your garden will feel more like a council car park. If you want to create a subtle effect, light sources that are easily dimmed, such as halogen or LED, are best."
Grant also suggests using subtle lighting effects on plants, such as under-lighting trees or shrubs. However, in these instances the adage "less is more" comes into play. "Lighting companies want to sell their product, so be careful not to overdo it," he warns.
Bright and practical
If you have an area that needs brighter lighting because it serves a practical purpose, such as an outdoor kitchen or barbecue area, Petra suggests opting for a directional light source such as a halogen lamp with a reflector and ensure the light is aimed at the required surfaces and away from the direct view of the users of the space.
"It's also important to have more than one light source and ensure they are not located behind the user in order to avoid hard shadowing on the work surface," says Petra.
S ome areas will be used for more than one purpose. For example, many outdoor kitchen and barbecue areas are located close to a dining table. In these cases, Grant suggests a dimmable light source be installed so it can be bright when preparing and cooking but dimmed for eating and entertaining.
T o LED or not to LED
At the moment, LED lighting is all the rage, as the technology is being recognised for its environmentally friendly properties — it uses very little energy to run. "The main benefit, apart from energy saving, is their long lamp lives, so they are great for applications where it's hard to access and replace lamps," says Petra.
However, the technology is expensive when compared with alternate light sources such as compact fluorescents and halogen. "I find with LEDs that you get what you pay for, and good-quality outdoor-rated LEDs with the colour characteristic needed to create the desired outdoor mood can be expensive," explains Petra.
Getting creative
When creating your outdoor lighting scheme, Petra suggests looking at the different scenarios the area will be used for. Each scene will require a different mood and have a different purpose. "Think about having a scene for parties, romantic dinners and a brighter one for cleaning up. And don't forget to have a low-energy, everyday setting that provides for general safety and perhaps highlights one or two features," she says.
Incorporate the elements of your backyard into your lighting scheme. If you have an interesting focal point, such as a plant, wall or water feature, consider lighting it to be admired at night. "Consider the sight lines viewed from frequently used locations and perhaps place a lit element at the far end of these views," says Petra. "Also think about whether your house or landscaping has architectural or lighting elements that are worth highlighting."
Grant says one of the most effective and beautiful lighting elements is installation under water. "The murmuring effect is quite mesmerising," he says.
When using a light in water, it is of utmost importance that you choose a high-quality product that's safe to install and maintain. Other than this, to get a good result, the usual rules of good lighting come into play, such as consideration of the viewing angles, identification of the surfaces you want to highlight, avoiding uncomfortable glare and selecting the best luminaries and lamp combination.
"Most importantly," says Petra, "switch it off when it's not needed."
On a budget
According to Grant, you don't need to spend a fortune to create an effective outdoor lighting scheme.
"When it comes to using up-lighting in the garden, you can often go with a cheaper option because you won't need fancy housing and fittings — you won't see it," he says. "Save this part of your budget for lighting that you will see, such as wall lights and stair lighting."