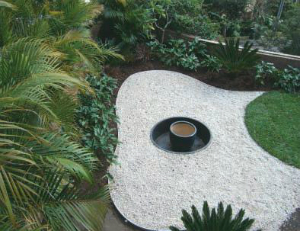 A unique garden edging product that gives you unlimited design flexibility
Unless you want to be limited to endless straight lines when installing a new area of lawn, mulch, pebbles or paving, you need a flexible edging system. LINK edge, an innovative aluminium garden edging product from Link Plus, uses a patented system of slots to enable the creation of all kinds of curves and sinuous shapes.
Since its market launch, LINKedge has become a firm favourite with architects, designers, contractors and the DIYDIYDIY brigade, all of whom have been equally impressed by the product's versatility. LINKedge aluminium edging can be used to border your lawn, as a paving edge, to separate various garden sections, to lay natural turf and synthetic grass, to retain mulch or to form an edge along a garden path or driveway.
But the design possibilities are only part of the reason why so many people prefer this unique edging system to the alternatives. LINKedge has the strength of cement but without the time-consuming laying process, inevitable cracking and associated cost; the usability of steel without the unsightly rust and potential for injury from sharp edges; and the flexibility of plastic but with superior strength and no possibility of degrading after prolonged UV exposure.
User-friendly LINKedge is made from the highest quality aluminium and is available in two lengths (2m and 3m) and four heights (40mm, 50mm, 75mm and 100mm). The 2m length, which is new to the market and available from garden centres as well as landscape supply companies, makes it easier for homeowners to transport.
A breeze to install, LINK edge comes with connecting joiners and edge spikes that are pinned to the ground to maintain the edging's shape. One of the major benefits of using LINKINKINKedge is that you can landscape your entire garden by only half hammering the edge spikes into the ground before laying a single blade of grass. If you are not satisfied with the positioning you can reposition with no fuss.
For more demanding projects where compaction is needed, such as driveways, there is LINK edge Heavy Duty (available only in 3m lengths) and if you need a specific colour, all LINK edge sizes can be powder-coated to suit your requirements.