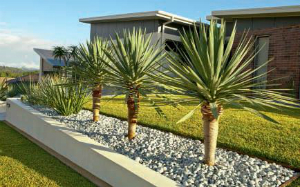 The ultimate in architectural planting and modern landscape design
Dragon Trees Australia is a specialist wholesale nursery growing premium architectural plants from around the world. It specialises in plants with unique shapes, colour, form and structure and their specimens are highly sought after by landscape designers, architects and homeowners seeking high quality and exclusivity.

True to its name, Dragon Trees Australia is the largest wholesale grower and supplier of Dragon Trees (Dracaena draco) in Australia, giving clients the assurance they are dealing with industry specialists. The company's management team comprises qualified horticulturalists who have more than 40 years' experience in the nursery industry.
As you might expect, the Dragon Tree is the most popular tree in stock, with the Tree Aloe (Aloe barberae) coming a very close second. These two trees are fast becoming must-haves in modern landscapes. There are also new plants being introduced all the time, with some of the latest being Blue Nolina (Nolina nelsonii), Desert Spoon (Dasylirion wheeleri) and Red Hesperaloe (Hesperaloe parviflora).
Dragon Trees Australia doesn't just focus on plants of eye-catching form. Its emphasis is on plants that require little maintenance and make a strong and striking visual impact. With the rise in popularity of the outdoor room, the need for plants that will provide a focal point and complement the colours, style and décor has escalated, which is where Dragon Trees Australia steps in.
The Dragon Trees Australia range of plants is aimed at time-poor homeowners who don't have the spare hours to devote to garden maintenance yet still want a garden that looks great all year round. With this in mind, Dragon Trees Australia has a plant suited to whatever your growing conditions may be. You can find frost-hardy plants, drought-tolerant plants, plants that will thrive in windy, coastal conditions, and plants that are suited to life in a pot. 
Of unrivalled quality and offering a degree of uniqueness, Dragon Trees Australia has established itself as one of Australia's premier plant growers. In fact, Dragon Trees Australia continues to set the benchmark within the landscape industry as the supplier of high-quality architectural designer plants to both the residential and commercial markets.
To take the hard work out of organising your garden project, Dragon Trees Australia provides clients with a door-to-door delivery service and a promise that its quality plants will arrive in excellent condition. Dragon Trees Australia takes the time and effort to carefully tape and shrink-wrap stock onto pallets, so you can be assured that plants will leave and arrive in the same condition.