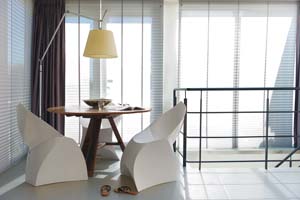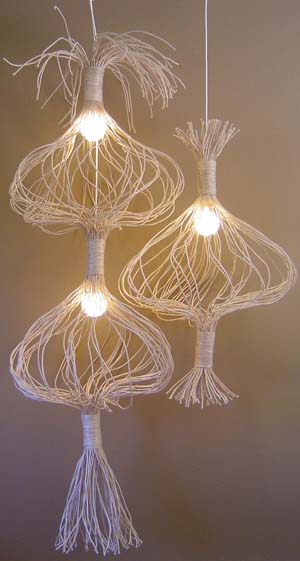 Sustainable options for indoor lighting schemes.
Whether you've just bought a brand new home or you're renovating an existing one, choosing a lighting scheme is one of the most important decisions you'll have to make. And with some many things to consider – style, colours, fabrics, bulbs, space and fixtures – it is hardly surprising that finding one that is also eco-friendly is not a priority for most people. But there are serious repercussions for failing to factor the environment into your decision.
"It is quite simple," says New Zealand-based designer, David Trubridge, "We are living beyond the means of the planet's ability to support us. Either you care or you don't. If you care about the lives of our children and grandchildren, you will do what you can to reduce your impact…"
So where do you start? 
One way is to invest in compact fluorescent lights (CF lights), but as Fabio Fanuli of Fanuli Furniture, points out, these aren't entirely eco-friendly. "The drawback is that they still contain mercury, which is toxic and therefore harmful to people, animals and the earth," he explains. So while they might be energy efficient, they are not exactly good for the environment.
Lighting that ticks all the boxes is LED. They have an incredibly long life, have less impact on the environment and reduce costs for the consumer in the long run.
But choosing the right bulb is only part of the equation. You also need eco-friendly fixtures. The material you choose is very important.  Metals such as copper, aluminium and steel are good choices because they are 100 per cent recyclable, incredibly long lasting and durable.
Lastly, you can opt for shades that are made of environmentally friendly materials and/or produced sustainably. As Nikki Lisle of Sala Verde, a design company that specialises in sustainable homewares and lighting, explains, "More and more people are designing their homes with a focus on sustainability and want to take it further than the water tank and CF globes. They want their furnishings to be sustainably-made too. Customers want to know the story behind the product, what it is made of, who made it and where they made it. They want to feel good about what they are buying." There is a growing number of design companies who offer stunning shades that are produced by locally based artisans using materials such as abaca fibre (a material that comes from the trunk of banana trees native to the Philippines), rattan or hand-made paper.