150 Clarendon Street joins Paris, London and New York as the home of luxury apartment living.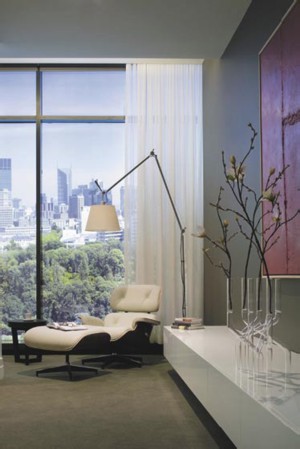 This step forward in contemporary metropolitan design draws its inspiration from the grand apartments in London's Belgravia, between Hyde Park and Buckingham Palace Gardens, those that overlook Central Park in New York or the ones found adjacent to the Bois de Boulogne in Paris's 16th arrondissement. However, few could compete with the level of luxury and technical innovation that East Melbourne's 150 Clarendon Street development has to offer.
With an average price of AU$4 million, the apartments situated on the historic Mercy Hospital site have created a new barometer for luxury living in the region. Almost every apartment enjoys views of the 150-year-old Fitzroy Gardens — its flame trees and Moreton Bay figs, Captain Cook's cottage and the Conservatory with flamboyant displays of tuberous begonias — plus uninterrupted views of the city and its spires.
"These views will not and cannot be built out," explains Roger Poole, chairman of Bates Smart and the architect for No. 150. "There can only ever be a handful of apartment blocks of this nature in any city. What we've strived to create here is one of Melbourne's most enduring buildings — lasting innovation." "The next generation in innovation in the classical tradition" is how Poole describes the exterior of the building, while colleague and director of interior design Jeffrey Copolov says, "Inside the public and private areas of No. 150, he has tried to achieve a balance between elegance, formality and relaxation.
From the sealed double glazing on the windows to the rich marble textures and stone finishes used inside, we've aimed for a mix of interest and neutrality. If people want to bring treasured heirloom pieces to these interiors they will work, as will very modern looks. Elegant and noble are the words I'd use to characterise the style. We've tried to create a classic yet contemporary canvas on which to paint your life."
One, two and three bedroom apartments are also on offer. Each features Miele appliances, polished chrome Rogerseller tapware, enamelled pressed-steel freestanding baths, gas fireplaces with stone and timberpanelled surrounds, natural stone floors and benchtops, luxury wool carpets and American oak timber floors.
On a scale normally offered in six-star hotels, the lobby of the building offers a 24 hour concierge service within a grand entrance foyer, complete with fireplace, lounges and a sweeping staircase. Outside, a mix of specialised retailers are proposed, including a wine bar, a patisserie and café to name a few.
The first floor boasts an in-house lounge bar, a 20-plus-seat private cinema and a conference or meeting room with state-of-the-art kitchen and multimedia facilities. There is a 25-metre swimming pool, sauna and steam room plus a gymnasium and massage room. There are even plans for a decadent wine cellar within the building.
"Everything has been considered," says Poole. "The minute you enter the building, it is working to support you." Four "smart" elevators, each servicing only about 20 apartments, wait for you as you enter the building. Every residence features a gourmet kitchen, three-metre-high ceilings in the living zones and huge sliding doors that take you out to the balconies and create seamless indoor to outdoor living.
"We've created an elegant building in Melbourne's most elegant suburb in one of the world's most liveable cities."
Photography by Shannon McGrath and Michael Downes 
Bates Smart
Tel: 03 9673 1111
Mobile: 0418 222 430
Website: www.no150.com
Developer: Salta Properties
Builder: Salta Constructions
Structural and Civil Engineer: Bonacci Group
Hydraulic, Mechanical, Electrical, Fire: Norman, Disney & Young
Acoustic Consultant: Acoustic Logic
Communications, Security, Audiovisual and ESD: Umow Lai & Associates