When you consider that young children spend 12 hours in every 24 in their bedrooms, and babies even more, why wouldn't you make your little one's room as healthy an environment as possible?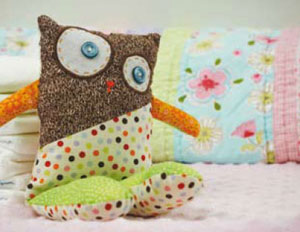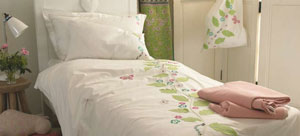 by Tahn Scoon 
When decorating children's rooms we strive to design spaces that are visually beautiful, but it's also important to create a healthy environment free from harmful pollutants. By making the right choices when we select children's furniture and finishes, we can help protect their health. Formaldehyde, for example, is one of the most common indoor pollutants. It is a chemical used widely in many building materials, paints and permanent press fabrics. Unfortunately, formaldehyde off gases and even at fairly low levels can cause eye, ear and throat irritation and breathing difficulties in some people.  
Bedding and mattresses:
With the range of options in today's bedlinen, it's easy to find healthy, kind products for your little one.
When buying bed linen, choose natural fibres as they work in harmony with the body, regulating temperature and allowing skin to breathe. The best choices are linen, wool, hemp and organic cotton (conventional cotton growers use staggering amounts of pesticides). The industry has also recently developed the use of different natural products, such as bamboo and eucalyptus. Bamboo (used predominately in sheets and blankets) is an incredibly soft and light material, which breathes through the night. It's perfect for the warmer summer evenings, and for the softest sheets. Eucalyptus is being used in quilts and mattress protectors; this material absorbs moisture, ensuring the bed remains dry and its occupant warm. 
Children under the age of ten should be given flatter thinner pillows; while their necks are developing it's important not to put their heads on anything too high or firm. Most pillow companies have junior pillows available, such as Dentons. Additionally, steer clear of feather & down products, as they can act as catalysts for hay fever and asthma. Feather products are more likely to develop issues such as mould and dust mites, and often are not washable products. It's ideal for all of the bedlinen to be machine washable, as all kids have accidents and sometimes are a little naughty; no parent wants to deal with a dry-clean-only quilt covered in chocolate sauce! 
With mattress selection, choose a mattress made with as many natural fibres as possible and avoid synthetic foam mattresses as they emit higher amounts of formaldehyde and other chemicals, which is not ideal for a sleeping child to be breathing in.  
When picking bedlinen it's important to consider products that are natural and breathe; polyester and artificial products trap moisture and heat, and can lead to the development and growth of dust mites and mould within the bedding and mattress itself. To ensure the bedlinen and mattress remain clean and dust mite-free, let the sun on the open bed every morning before making it. The sun is your natural protector, and will kill anything growing inside of the bed. Additionally, washing sheets and pillowcases as often as possible will ensure your child's skin will stay clean and healthy. 
If you need to invest in an electric blanket, check the safety features of it and never let your child sleep with it on. Additionally, always use natural (preferably organic cotton) linen and bedding over electric blankets; if your mattress protector has polyester, it may melt.
Furniture: 
Reduce children's exposure to formaldehyde by avoiding furniture made with pressed-wood products such as fibreboard (MDF), particleboard and plywood, all of which use formaldehyde as a binding agent. Instead, opt for eco-furniture constructed from plantation or recycled timbers, or timber alternatives such as bamboo. Alternatively, try EO particleboard, which has all the practicality of other particleboards but emits much lower levels of formaldehyde. 
Avoid products that have been varnished with synthetic chemical finishes. Seal timber with shellac (a natural gum derived from the lac beetle) or beeswax instead. Existing pressed-wood products can also be sealed in this way to avoid further unhealthy emissions. 
Antique furniture is another good choice as it was often made from hardwood, sealed with natural varnishes and made with mortise and tenon joints rather than glue. However, be careful when restoring old painted furniture as the paint may contain lead. 
Try The Natural Bedding Company for eco beds and mattresses: www.naturalbedding.com.au.
Paint: 
Most commercial paints on the market contain all sorts of harmful chemicals known as VOCs (volatile organic compounds). The worst offenders are oil-based enamels, which should be avoided where possible (up to 60 per cent VOCs). Water-based paints have much lower levels of VOCs but care should still be taken. Never let a child sleep in a freshly painted room. Air it out thoroughly until all the new-paint smell has gone. 
Most mainstream paint companies are working very hard to lower the levels of VOCs in their paints, which is great but there are even healthier choices available. Natural paints (and the occasional synthetic, such as Rockcote's Ecostyle) contain even lower levels or sometimes no VOCs at all. 
Try Porter's Paints for natural paints (they have a gorgeous, soft milk paint that contains no VOCs): www.porterspaints.com.au.
Fabrics: 
Also avoid permanent-press and stain-protected fabrics for drapery and upholstery for similar reasons. If you are concerned about natural fabrics being less forgiving of spills, go with washable slipcovers for furniture and use pre-shrunk natural fabric with washable cotton lining for curtains. Seek out the growing number of children's eco-fabrics available, many of which use organic natural fabrics patterned with soy or water-based dyes.
Try Thea & Sami for gorgeous organic children's fabrics: www.thea-sami.com.au; and EcoLinen for bedding: www.ecolinen.com.
Floors:
Carpet can be wonderfully comforting in the bedroom but synthetic carpets contain all sorts of chemical nasties, so choose pure wool with natural jute backing and have it tacked into place instead of glued.
For children who have asthma and allergies it's best to avoid carpet altogether as it harbours dust mites, which can trigger attacks. Timber, bamboo or linoleum (made from linseed) floors are the healthiest and most environmental, but be mindful of what glues and finishes are used. To play it safe, limit the number of electrical appliances in your child's room and unplug anything that is not in use. 

Try Style Plantation for bamboo flooring: www.styleplantation.com; and International Floor Coverings for natural fibre carpets in wool, sisal, seagrass and jute: www.interfloors.com.au
Electromagnetic pollution (EMF fields)
A flowing electrical current creates a small magnetic field around it, which interferes with the human body's own magnetic field. The main concern is centred on high-voltage powerlines and the like, but there is some worry about how constant low-level exposure from computers, TVs and other household appliances may affect us.
To play it safe, limit the number of electrical appliances in your child's room and unplug anything that is not in use. The closer you are to the EMF field, the more detrimental, so have appliances as far away from the bed as possible.
Plants
It's well known that plants convert carbon dioxide to oxygen but less well known that they also absorb and store pollutants, so adding plants to the bedroom is a simple, natural way to instantly improve air quality.
The best plants are those with broad leaves and strong root systems as they are better able to absorb more pollutants. Studies carried out at NASA named the peace lily and tropical palms as the most effective. The University of Technology in Sydney backed this up when they discovered that if you placed kentia palms in an enclosed room, benzene, a known carcinogen, was eliminated by 90 per cent after only 24 hours.
Cleaning: 
Sometimes, the harsh products we clean with are perhaps worse for our children's health than the dirt we're trying to remove. The reality is bedrooms need only regular tidying and dusting and the odd mop with warm, soapy water. The only time you need to use anything more powerful is after an infectious illness or infestation, in which case use hot rather than warm water and add a good measure of vinegar or tea-tree oil. (As a rule of thumb, if the water's too hot for you to touch, it's too hot for nasties to survive).
When it comes to the bed linen, keep in mind they will be wrapped in them for 12 hours a night, so avoid bleaches and other chemical-laden products. To whiten and sanitise bedding, allow to dry naturally in full sun. You can also add a sprinkle of peppermint oil to the wash. For new bedlinen, such as sheets, always wash them first in water and white vinegar; this will set the dye (as unfortunately sometimes the dyes run), and remove any nasty substances the sheets might have picked up from a factory or travelling through customs.