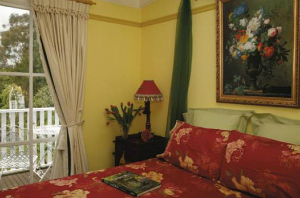 Turn your bedroom into a sophisticated and sumptuous retreat.
"Nowhere can man find a quieter or more untroubled retreat than in his own soul." – Marcus Aurelius Antonius, Roman Emperor, 121-180.
Light and airy, warm and cozy, chic and sophisticated — no matter what else can be said of it, first and foremost our bedrooms should be private, tranquil and comfortable. There are many ways to instil these characteristics in your bedroom beginning with the colours you choose. Creamy whites, pale blues, soft pinks, subtle greens or buttery yellows are all perfect starting points for creating sophisticated and sumptuous retreats.
By layering with lashings of fresh bed linen, curtaining and cushions you can create a sanctuary that is at once private and protected and incredibly inviting. You should use the softest most beautiful linens you can afford, be they antique white marcella quilts or good old-fashioned feather doonas. They should be piled layer upon layer like filo pastry; the more layers, the more decadent and delicious the result.
Teaming subtle patterns and textures will give your bedroom character and comfort. There's nothing like climbing into bed amid luxurious linens, feeling snuggled and cocooned from the world's trials and tribulations.
As well as adding comfort to your room, textiles are also a great way to add pattern, colour and interest to your boudoir. Combining white-on-white textiles and furnishings will give a heavenly serenity to the room, while rich tapestries and warm golds and burgundies teamed with dark timbers will give a sumptuousness reminiscent of a Tuscan villa or English castle. Blues and greens teamed with whites and sea grass matting will impart a casual beachside mood.
Once you step beyond practical matters such as beds and bedding, creating the perfect private space is about mixing and matching items you love in a way that pleases you. In decorating the country way we are aiming at creating a feeling of easy and uncontrived comfort. In the bedroom this uncontrived comfort can best be achieved by combining items designed for luxurious relaxation with items that are more relaxed and worn in.
Aged or antique items are perfect for adding a feeling of authenticity to a room and in the bedroom their worn and soft edges act to filter out some of the harshness of the outside world. By combining some vintage or well-used items you will add a casual ease to the room that brand-new shiny furniture on its own may lack. You are aiming for a simplicity that says "lay back and relax, the world can wait", but try to work old and new pieces in together to stop your bedroom from looking like granny's room. You are working towards a fresh and uncluttered look.
When it comes to adding accents you can again add in aged items, as long as they follow one simple rule. In this most intimate of spaces, you should love every element you introduce to the décor. Introduce an item or two from your favourite collection, whether or not it would normally find its way into one's bedroom.
I really love vintage enamel ware and when I spotted a cornflower blue coffee canister at a store (when I was searching for something to store make-up in), I thought outside the square. This quirky container adds a dash of colour to my dressing table, a touch of whimsy that still makes me smile whenever I look at it and it feeds my collector's soul. Had I thought, "Well, it's a canister; I can only use it in the kitchen", I would have missed all that. The great thing about decorating your bedroom is that you need impress no one but yourself so you can choose a look that is as individual and eccentric as you like.
Before you get too carried away accessorising, consider the mood of the bedroom. You might be shaking your head by now. After all, it's a bedroom; aren't you working towards creating a relaxing space? Well, yes, but not all bedrooms are created equal. There are romantic rooms, luxurious rooms, sophisticated spaces, simplistic spaces.
If you want to add an air of romance to your bedroom without going all pink and roses, "delicate" is a great word to work into your consciousness. Delicate shades of paint, delicate fabrics and even delicate accessories will add softness without overwhelming your spouse with femininity.
If you are aiming for sophisticated or luxurious, you will want to add more layers. Go over the top with layers. Try and include classic fabrics like stripes, toiles or linens, and colours like beiges and coffees. Do keep in mind that this look can eat up even a sizeable budget and perhaps opt for another feel if money is really tight.
Eclectic rooms are a mixture of elements pulled together by plenty of neutrals such as dark timber or white walls. An eclectic room can be very, very busy so you will need to create areas that are uncluttered and relatively bare; areas where the eyes can rest.
Take advantage of your private space to include a few special pieces that you don't want to share with the world. This could be a great place to utilise delicate glass, sentimental photographs and a personal diary — anything that is very personal.
You will know you've got it right when you have a room you can't wait to escape to; one you long to spend more time in.
Victorian Elegance
During the Victorian era no lady's retreat or bed chamber would have been complete without the small luxury items of the period — hand-beaded comb cases, fancywork doileys, intricately crafted scent bottles, trinket boxes, dressing table sets and the like. The Victorians loved adding layer upon layer of non-essential items to their décor, as a show of wealth.