Far from being overly kitschy, Tamara Schneider's Australian-inspired fabric and wallpaper designs are stunningly sophisticated.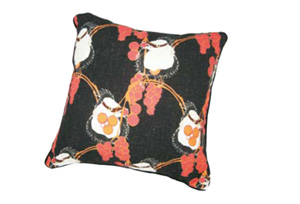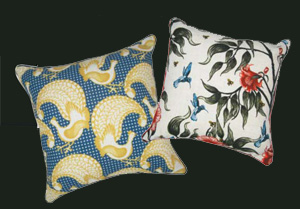 Funky Wombat Textiles was born in 2010 when Tamara returned to Australia after completing an internship at renowned Scottish design studio Timorous Beasties, as part of her studies in textile design at RMIT. Tamara's digitally printed designs can be used for a wide variety of applications including upholstery, drapery and wallpaper. Her fabrics are incredibly durable, which means they're great to use in high traffic areas of the home such as the living or dinning room. I love Funky Wombat Textile's collection of soft furnishings which includes luxe cushions, lampshades, placemats and tea towels. Tamara's cushions in her signature 'Lyrebird' print are a particular favourite – they are just subtle enough to work in a busy room, but beautiful enough to warrant a closer look.
One of Funky Wombat Textiles' real strengths though, is its ability to provide a custom design service, from concept development through to colour separations and productions. Most of their wallpapers and fabrics can be custom coloured and either hand- or digitally-printed onto a number of different fabrics including linen/cotton canvas, organic cotton or silk.
Click here to check out the Funky Wombat Textile range or here to contact Tamara about a custom design.