Albany Venice presents a stunning collection of deeply textured Italian style wallcoverings in a range of traditional and contemporary patterns. Many have co-ordinating designs and all make a beautiful statement on their own.
This large scale Italian vinyl has a textured silk fabric effect overlaid with an embroidery style fern leaf pattern. Amara Texture is a useful coordinating wallpaper which is the background design without the leaves, perfect for adjacent walls and hallways.
This classic beige and cream plaid design has a gorgeous woven fabric effect texture, ideal for accessorising with natural textures such as these pillows and blanket. A matching plain wallpaper, Giorgio Texture, is available for coordinating walls.
This contemporary Italian vinyl wallpaper has a classic embroidery style damask pattern with glitter detail, which catches the light prettily. Place lamps against the wall to illuminate this effect in the evenings. This design coordinates with the other San Remo wallpapers.
A beautiful vinyl wallcovering with a deeply textured curving trellis pattern and a faux grit effect, this wallpaper is ideal for making a statement. Reminsicent of balmy Moroccan nights. Coordinating Massima wallpapers will complete the look.
Have you ever thought of hanging striped wallpaper horizontally across the wall? Seen here is the same wallpaper hung traditionally vertically, on the right, and with a more contemporary approach, horizontally on the left. Which do you prefer?!
The prettiest of wallpapers, this large scale rose vinyl would be lovely to accessorise in any room, shown here in a lovely dining setting. Again, the coordinating wallpapers are perfect for using on nearby walls.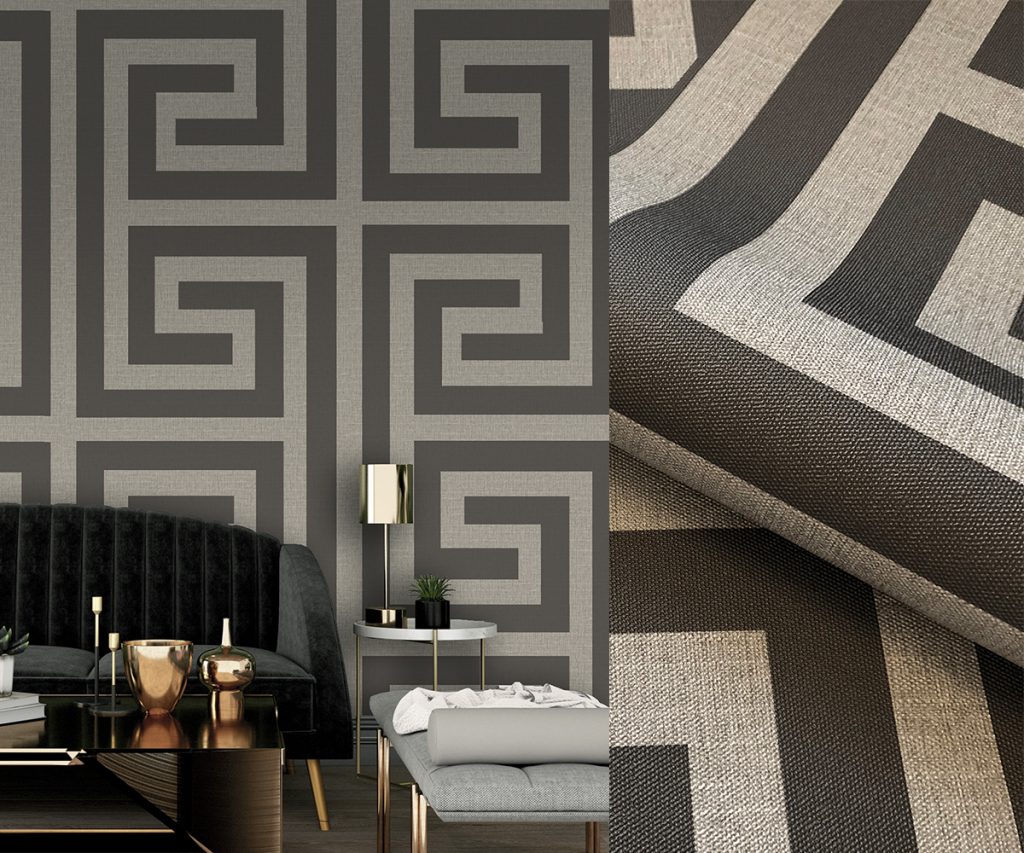 High design, high impact wallpaper, this large scale Greek Key wallpaper updates the traditional classic motif. With a textural and shimmering finish, it will coordinate with other Giorgio wallpapers.
A linen- look textured wallpaper. A use-anywhere, timeless back-drop and easy coordinate with the leaf patterned Organica Leaf.
Create a relaxing space with these cool textured vinyls. Available in three neutral colourways, they complement the other Amara wallpapers.
Swaying palms adorn the walls, tapping into the tropical trend. Matching plain available with Luciano Texture.
We hope you enjoy discovering Albany Venice through our wallpaper book club. Be sure to explore more wallpaper books as we add them and let us know what you think of this one  – and what you'd like to see more of!
For more information