2014 is calling for a change in the way we use colour in the bathroom. Say goodbye to a minimal palette and hello to bright, vibrant accents
Recently, Australian homes have seen a dramatic increase in minimal styling for interiors, hence a lack of colour. Colour forecasters are predicting this is going to change in 2014 and colour will be injected into the home in new and interesting ways.
Bathrooms in particular are known for utilising minimal, neutral palettes to achieve a calm and relaxing environment. However, there is no need to use beige, white and wood alone to have an ideal bathroom; pastels are a good alternative or even copper, gold and brass, which offer a rich, luxurious aesthetic.
One thing is certain — colour is back — and according to Dulux colour expert, Andrea Lucena-Orr, "Anything goes! Be as individual as you want when considering colours and combinations of colour, design, finish and textures." There are just a few things to remember: "If you are thinking about using colour in an existing space, be mindful of other colours already in use, but don't let it limit your choice. Don't be bogged down with the conventional views of what colours should or shouldn't be schemed together. Explore insights and play with combinations of colour families, shades, tones, textures and finishes," says Andrea.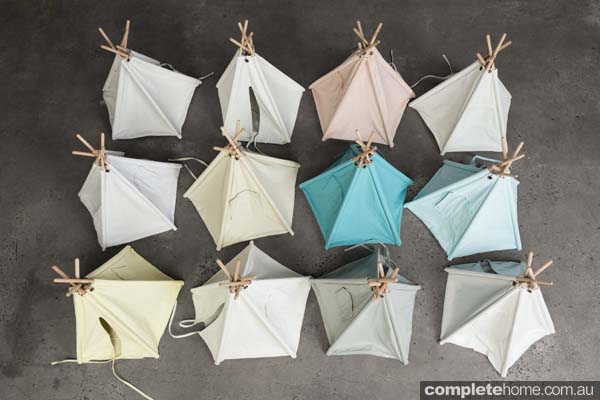 The Head Space palette from Haymes Paints is a great alternative for bathrooms, with soft, nurturing, calming colours present. The pop of sky blue will also lift the space without hindering the tranquillity created by the other pastels. haymespaints.com.au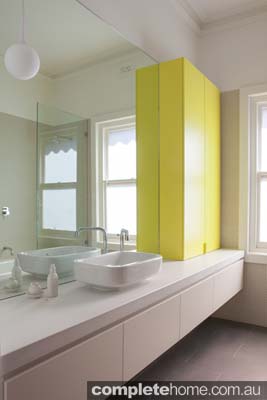 This Hawthorn residence by Doherty Lynch Pty Ltd was a finalist in the 2013 Dulux Colour Awards. The effect the one coloured cabinet has on the space is amazing, yet it's not over-the-top or detracting from the sensual aura. dulux.com.au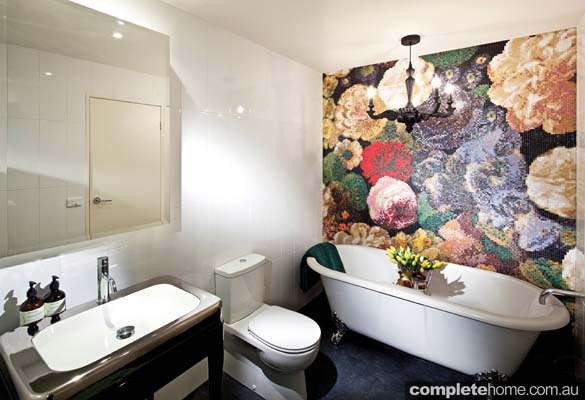 This bathroom designed by Perini features Bisazza mosaic tiles that are absolutely exquisite and these two designs are certainly no exception. Displaying contrasting ways of introducing colour into your bathroom, these Bisazza designs evoke different moods: the bouquet design appears more luxe yet still relaxing, and the windows design utilises the blue and off-white hues while maintaining texture and intrigue. perini.com.au; bisazza.com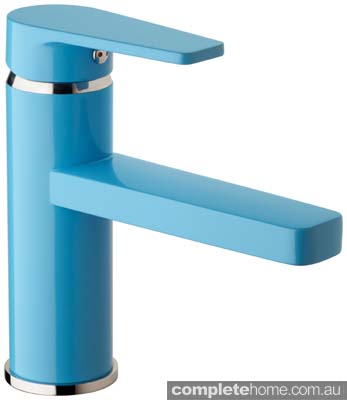 Reece has recently launched a new range of colourful mixers. Depending on your existing colour palette, the blue Ram Yeva basin mixer could be a small but effective way of adding colour to your space. Other colours available include black, yellow, green, orange, pink and red. reece.com.au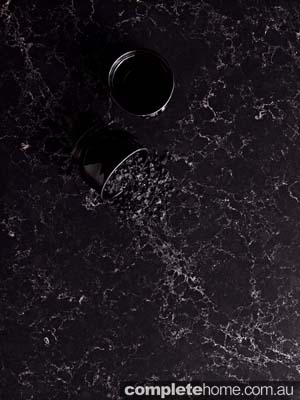 Black, although not vibrant, is another popular colour for a more dramatic bathroom atmosphere. Creating more of a luxe spa setting, Vanilla Noir from Caesarstone new Classico range of marble-inspired surfaces has a classic black base with wider, delicate natural veins.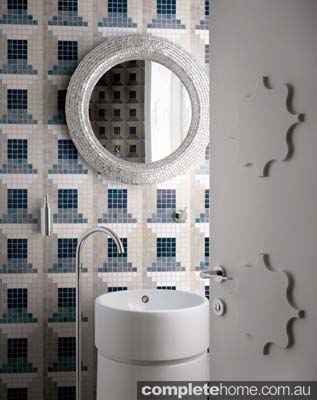 SICIS' Basic Collection has a broad range of colours and shapes available, however this green and blue combination is a great soothing palette for the bathroom. The colours are bright enough, however, to reflect light and lighten the space. sicis.it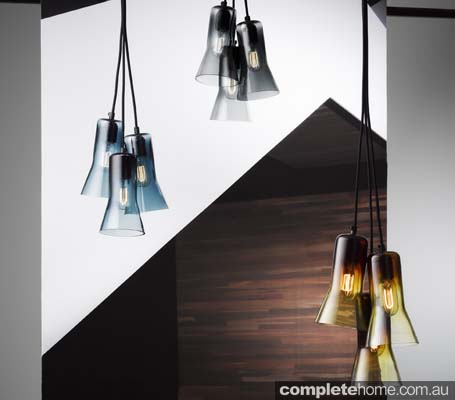 The stained-glass Touch pendant from Ross Gardam is elegant and delicate, and is available in a blue, grey or orange tint. As a feature in your bathroom, combine the tones and create your own individual colourful chandelier. rossgardam.com.au
From Home Design magazine Vol. 16 No. 6