Most people would agree the kitchen and bathroom are probably the most important rooms in the house, so it makes sense to put extra thought, planning and creativity into these two functional spaces.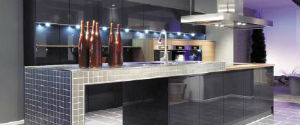 While the kitchen and bathroom in essence have opposite purposes — one a social and family gathering place, the other a personal room for grooming and luxuriating — what they have in common is an opportunity to inspire you to express yourself.
Cutting-edge kitchens:
For a kitchen to really work, you need to be able to move around it easily and access everything you need quickly and without too much thinking. Obviously, kitchens vary. Some are large family gathering areas, while others are more akin to sleek inner-city galley-style affairs.
When it comes to planning your kitchen, no matter what the size, it's a good idea to think about what you need to have within your kitchen space, how much benchtop space you need and what fridge, oven and cooktop would suit your requirements. It's also a good idea to work out what appliances you want in advance, plan where they would fit, then shop around and compare quality, price, suitability and value.
Vagn Madsen from Dan Kitchens notes that, "Most kitchens now have a strong focus on an island, set in a large open-plan room and often have a sink set into the island facing towards the room, making cooking a lot more socially interactive. Door fronts now feature a lot of neutral colours, such as cappuccino and latte, mainly in a satin finish. Rangehoods are either stainless steel or totally integrated, invisible and built in. Most people opt for splashbacks in glass or matching stone and flooring is usually timber or tiles."
Kitchens a–z:
Benchtop finishes can be in natural stone, laminates including eco-friendly varieties, manmade or reconstructed stone, stainless steel, timber, glass and marble.
Cabinets and cupboards can now come in all shapes, but ensure you check the quality of the finish inside as well as out.
Cooktops include gas, which offers the best control, though the latest electric options have ceramic surfaces for better cooking control than their predecessors. Induction cooktops are gaining in popularity and use electro-magnetic energy.
Dishwashers can now be installed as two smaller units, which operate independently of each other.
Flooring options include popular easy-to-clean stone or stylish wood.
Islands are increasingly chosen for seating or preparing food and as a design and social focus of the kitchen.
Ovens — gas ovens are faster and cheaper to run though electric are the most popular. Steam ovens retain more flavour, and combi-ovens (gas/ electric or steam/electric) offer flexibility.
Rangehoods — you can choose from canopy, retractable, fixed or concealed.
Refrigerators, televisions and Internet connect are the latest add-ons, as well as new innovations claiming to extend life of the food within.
Sinks — new varieties include rectangular, circular and square shapes, as well as antique-inspired bowls.
Splashbacks protect your walls from grease and water, with stainless steel or glass the most popular finishes.
Tapware: new advances can give you instant boiling water or allow you to detach the hose and direct the spray. Be sure to go for a four- or fivestar product.
Beautiful bathrooms:
It seems the faster our lives and the busier we are, the more popular the household bathroom becomes. The bathroom has always been an indulgent private retreat where we can shut out the world and luxuriate our cares away, emerging refreshed and energised.
Where there was once a lot of hard-edged material in the bathroom such as glass and stainless steel, an emerging trend is the use of softer materials which are more functional and with attractive finishes, such as engineered stone. According to designer of the year, Melbourne-based Royston Wilson, "Minimalism is still fashionable, with less timber used in designs and more stone and large tiles incorporated.
Colour is no longer restricted to white, with bone and sand popular choices. Nearly every bathroom we design now has a bath, as the room becomes increasingly important in the home. People spend more time in the bathroom and as a consequence, spend more on fixtures as well as opting to get their bathroom professionally designed."
Bathrooms a–z:
 Basins come in all finishes, shapes and sizes and can be wall-mounted, pedestal-mounted or part of a vanity.
Baths are the definitive focus, with tubs becoming more luxurious than ever.
Taps can be a design focus, but should co-ordinate with the sink. Make sure you look for the four or five A-ratings.
Toilets with water-saving features are increasingly more common, with some systems designed to flush with rainwater and some even eliminating smells.
Showers include more than a spray of water and can now come with televisions. Some are also self-cleaning.
Vanity is a design focal point so it is important to consider the style you want, as well as features such as lighting and storage.