Industry experts share their advice on how to make the most of lighting in your home + noteworthy lighting trends.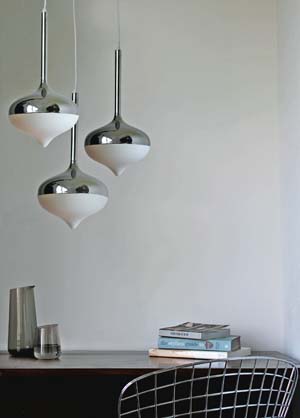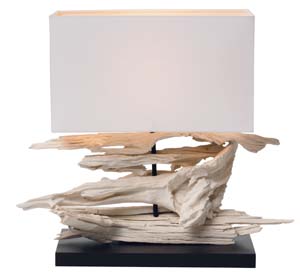 Interior design isn't just about designer furniture and homewares: good lighting will give your home a sense of atmosphere and ambience. We caught up with a couple of industry experts to find out how to use lighting to infuse your living space with mood and personality:
Damon Torsten Nash, Display Design, on how to begin planning home lighting solutions: "When designing different parts of a home, the first thing to consider is how you are going to use the space and what important features will need to be presented in order to best facilitate the projected usage. When it comes to lighting, you have to ask yourself if it's going to be a specific task area – say a kitchen or a study – in which case you might want to look at something more practical that will create a lot of ambience as well as directional illumination. If you're looking at a leisure zone – a lounge or bedroom – look at softer, more atmospheric lighting."
Siohan McNabb, Euroluce, on making the most of your lighting system: "The actual essence of light is integral to interior design. Instead of saturating spaces, people are moving towards a better understanding of light and shade. People are becoming more aware of the use of light and how to harness it to their advantage. Rather than installing a whole row of downlights, we can use lighting to highlight, articulate and emphasise objects within a space."
Damon on choosing the right balance between light and shade: "Gone are the days when a light fitting had to completely shield the light source. Interior statements have been getting bolder, with some designers taking the opposite approach to the "big is best" philosophy, opting instead for naked bulbs, either solo or in groups."
Damon's tips for illuminating different sized rooms: "For a smaller room, why not be a bit daring and see how far you can go to avoid harsh overhead lighting? A small room doesn't have to survive on a single, central ceiling fitting alone. Think about how you can accent walls and alcoves, and breathe some ambience into the place using cleverly planned wall, floor and table lighting. You'll be glad you did.

"For a larger room, set out to make a statement with a eye catching pendant light – as large as the space can handle. Alternately, try a series of two or three lights and make your home truly memorable to all who visit. Be brave!"
Siobhan on achieving control: "Today, good lighting is all about controlling your environment and the lifestyle you lead. We've moved on from an on-off switch to more complex dimming control systems. The home environment is one space where there are multiple activities occurring in the same space: cooking, entertaining, relaxing, working, and studying. It's important to make sure your environment is compatible with its usages. Home automation systems are gaining popularity for this reason."
Siobhan and Damon on noteworthy trends for lighting in 2012
LED: "The use of LEDs in lighting is ubiquitous. Most lighting products are now available in LED, whether decorative pendants, wall lights or downlights. Lots of existing products that were made years ago are being relaunched in LED versions for better technical performance and, importantly, energy efficiency. On the whole, people are searching for more sustainable products," says Siobhan.

Natural finishes: "Consumers are certainly embracing natural materials. Timber has been extremely popular this year, adding natural and inviting warmth to lighting," says Siobhan.

Cluster lights: "It's not just about taking a light and putting it in, it's about installing it in a way that expresses something about the home," explains Siobhan. Cluster lights work well in big spaces, creating a true focal point in the room.

Splashes of colour: Bold use of colour is a dominant trend in decorative lighting. According to Siobhan, vibrant pops of magenta and other bright hues are making a statement, "Curved, moulded plastics with a high-gloss white and black finish and a splash of vibrant colour are on trend right now."

Big is back: "Throughout the '80s and '90s, interior lighting was hidden away from public view, almost as if it was an embarrassing afterthought," says Damon. "The ubiquitous recessed downlight swamped everything from public buildings to private homes." Now, as a result of the resurgence of retro fashions, interior design is embracing "big and bold" when it comes to lights. "The distinctive shape, light and shadow created by a well-chosen pendant can literally transform the mood of a space with the flick of a switch. It can act as a focal point or conversation piece in any space," adds Damon.

Down to the wire: shades constructed of thin wire in various shapes and styles are a new take on tradition. "Instead of trying to reduce the glare, these lights actually exploit it through their distinctive silhouettes, which cast interesting shadows around your space," says Damon, "They can be used almost anywhere with spectacular effect. And if fitted with a low wattage bulb, these soothing shadows could work wonders in a child's bedroom."

Sustaining style: The days of short-lived fads are over and consumers are searching for iconic designs that will stand the test of time "People don't want things that will go out of fashion," says Siobhan, "They don't want to be changing their environment every few years. People want to shop for the long term, to invest their money wisely." 

Damon agrees that although energy saving designs would prevail, when it came to trends, lighting was like any piece of designer furniture: if it's well considered, it can last for decades. "Don't rely too much on the fashions of the day. It's a never-ending cycle of minimalism versus flamboyance and the two often prevail simultaneously. The aesthetics and function of quality design are truly timeless," he says.
Get inspired by these lovely lights