Top 12 white kitchen designs. From sleek, gloss-white modernism to classic Provincial charm — there are endless ways with white in the kitchen.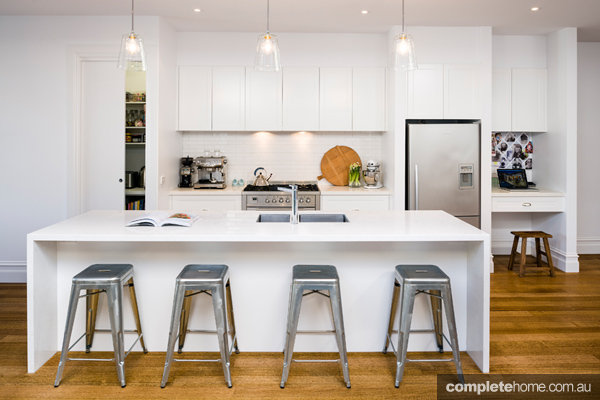 1. Victorian
This Victorian-style kitchen incorporates a modern island bench, handleless cabinetry and contemporary appliances. Contrasting white cabinets and stainless steel appliances with the rustic floorboards allows this home to retain its old-world charm whilst giving it a modern facelift.  Designer: Rosemount Kitchens, rosemountkitchens.com.au
WE LOVE: The cute study nook.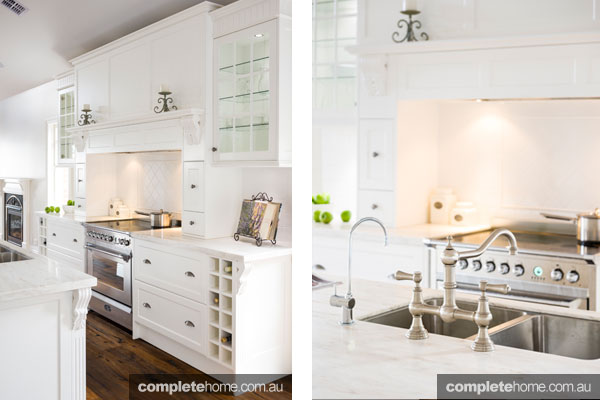 2. Provincial
This Provincial-style kitchen incorporates the latest fittings with functional and spacious design. With a large island in the centre of the kitchen providing ample storage and a food preparation space, this kitchen integrates elegant provincial design with contemporary fixtures and appliances. Designer: Markus Sawatzki for Let's Talk Kitchens, letstalkkitchens.com.au
WE LOVE: The elegant Perrin & Rowe Provence taps which complete the provincial theme.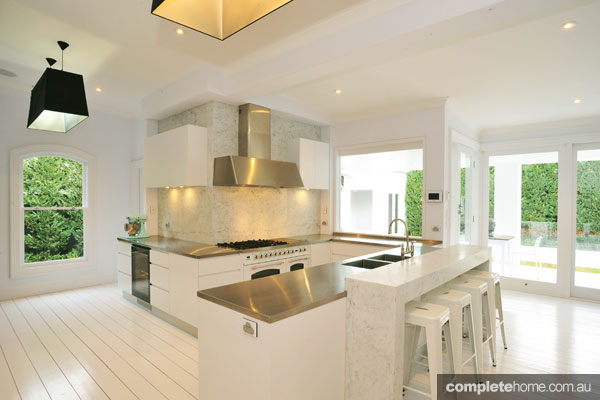 3. The Modern Entertainer
Originally small and unusually shaped, this kitchen was re-designed with food preparation and entertaining in mind. It incorporates a cocktail bar-styled serving area and funky stainless steel benchtop. Designer: Cristina Puglia for JAG Kitchens, jagkitchens.com.au
WE LOVE: The raised cocktail bar-styled serving area.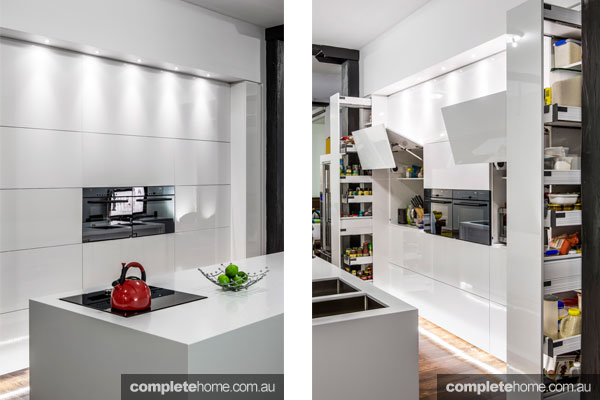 4. Minimalist Contemporary
With minimalist design in mind, this kitchen provides dozens of hidden storage spaces which disappear seamlessly into this simple, gloss-panelled wall. With a central island reserved for cooking, preparation and washing up, this kitchen brings together discreet design and practicality. Designer: Phil O'Brien for Designer Kitchens, designerkitchens.com.au
See more from Designer Kitchens 
WE LOVE: The framing effect the large panelled pantry doors have on the rest of the kitchen.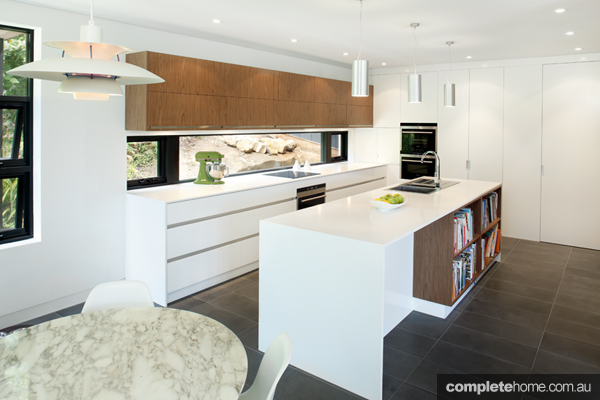 5. The Naturalist
This kitchen was built around the focal point of a window behind the benchtop, providing a striking view during food preparation, as well as stylish functionality. Featuring floor-to-ceiling panel doors over two walls, storage space is of no issue. Designer: Andrew Dee for Wonderful Kitchens, wonderfulkitchens.com.au
See more from Wonderful Kitchens here 
WE LOVE:
 

Focal point created by the view from the window.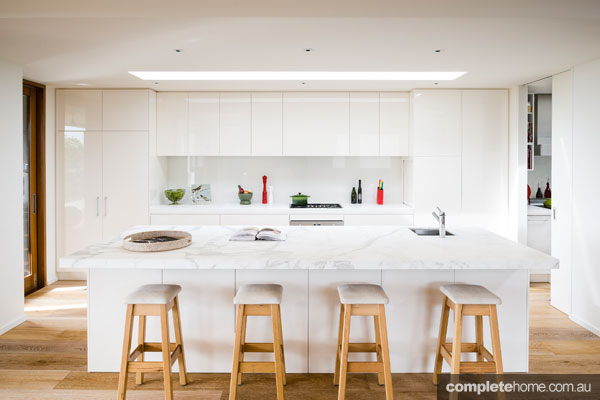 6. Beachside Luxury
This kitchen blends with the surrounding ocean environment by integrating minimalist, streamline design with natural elements such as timber and marble. Complete with a butler's pantry for food preparation, this kitchen screams beachside luxury. Designer: Mark Tonkin for Rosemount Kitchens, rosemountkitchens.com.au
WE LOVE: The discreet roller shutter and the end of the benchtop to hide the kettle and toaster.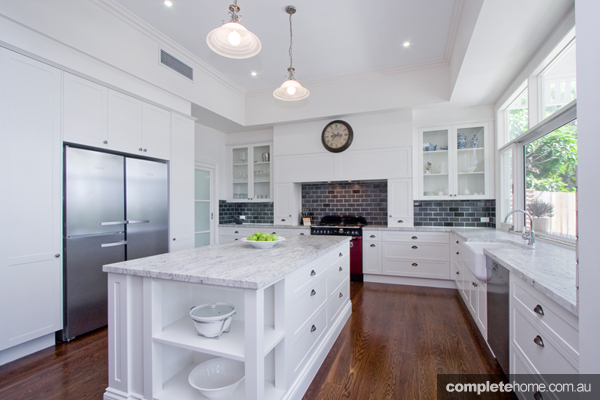 7. Heritage
This Heritage-styled kitchen features modern design with a vintage edge. By incorporating the earthy features, including the blue-grey splashback, the marble benchtop and wooden floorboards with the red Falcon Classic stove, this kitchen has been transformed into a classic yet character-filled room. Designer: Susan Garsden for Garsden & Clarke Kitchens, garsdenclarke.com.au
See more from Garsden & Clarke Kitchens
WE LOVE:
 

The red Falcon Classic stove, giving this kitchen a splash of colour and adding character.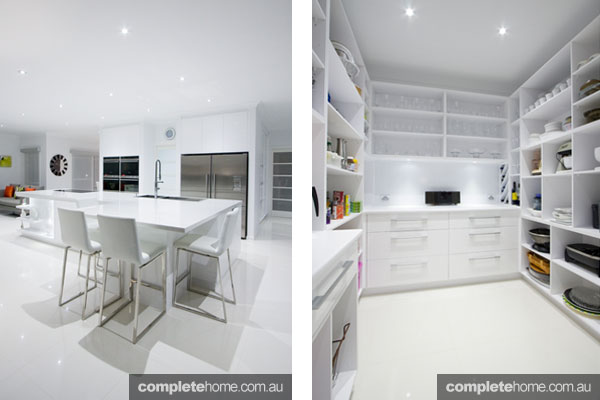 8. Bright White
With a 'bright white' theme in mind, this sleek, modern kitchen maximises natural light, keeping the kitchen bright and clean. Featuring enough storage space to hide all benchtop appliances, this kitchen has a spacious cooking and food preparation area, and chairs strategically placed at the end of the benchtop island to encourage social interaction. Designer: Susan Garsden for Garsden & Clarke Kitchens, garsdenclarke.com.au
See more from Garsden & Clarke Kitchens 
WE LOVE:
 

The central, contemporary L-shaped island.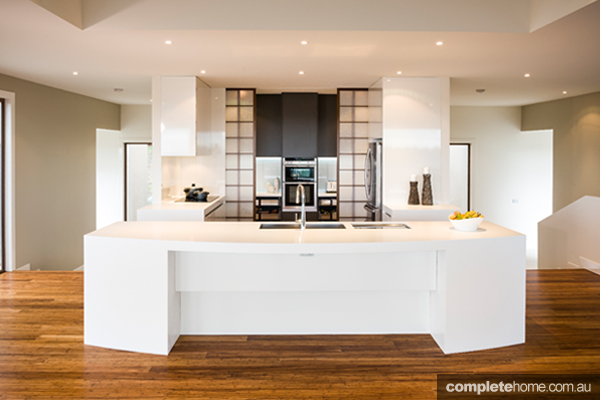 9. Japanese
With focal sliding doors evocative of those found in a traditional Japanese teahouse, and modern appliances by Sirius, Siemens and Gessi, this symmetrical kitchen modernises Japanese design by coupling it with a contemporary gloss white palette. Designer: Con Moshopoulos for Urban Kitchens, urbankitchens.com.au
WE LOVE:
 

The curved back wall hidden by the Japanese sliding doors.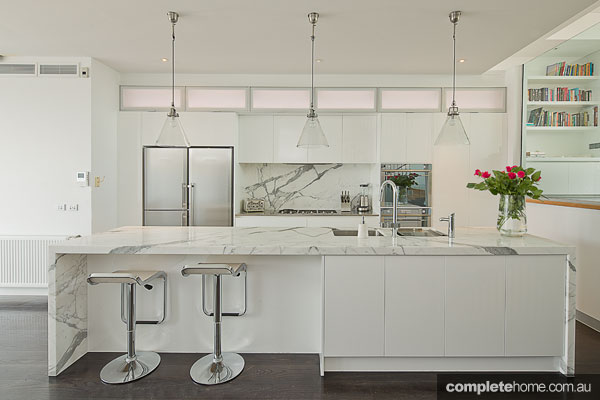 10. Marble Madness
With marble as the fundamental element in this kitchen, incorporating the appropriate fittings and fixtures was essential. By coupling the marble with white cabinetry and stainless steel appliances, a contemporary and elegant look is achieved. Both useful and functional, this kitchen adds depth to the home. Designer: Susan Wasley for The Kitchen Designer, thekitchendesigner.com.au
WE LOVE:
 

The contemporary light fixtures over the food preparation island, giving the room a sophisticated edge.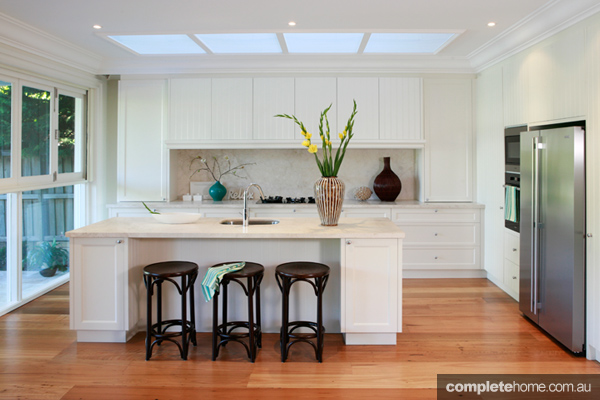 11. USA
With a huge island benchtop, gas cooktop and central sink, this kitchen exudes a luxury American home feel, whilst maintaining functionality and maximising space. Designer: Sue Terley for A-Plan Kitchens, aplan.com.au.
See more from A-Plan Kitchen here 
WE LOVE:
 

The contrast of the chocolate stools and white cabinetry.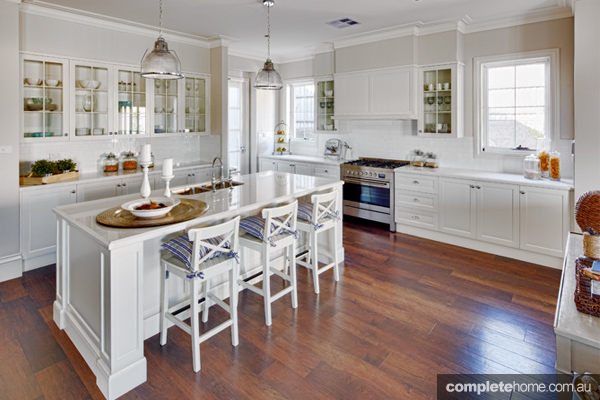 12. The Hamptons
Capturing the upmarket yet understated style of The Hamptons, this Charleston Homes kitchen oozes casual luxury with traditional white ridged panelling and cabinetry, timber fixtures and contemporary appliances. Designer: Charleston Homes, charlestonhomes.com.au
Take a peek inside the rest of this home
WE LOVE: The balance between grand scale and relaxed styling.
By Nicola Hower