Some people might even say this space exhibits all the signs of a "split" personality. Sporting an unusual combination of vinyl-wrapped alabaster gloss doors and Meltec Tulip Spruce sheen, the kitchen appeals to all audiences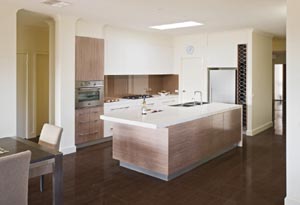 Desiring a kitchen that was not too modern but not too traditional either, the owners left their brand new kitchen in the capable hands of Con Moshopoulos from Urban Kitchens. The two very different finishes are extremely eye-catching and add interest to the space. While the stark white gloss cabinets and CaesarStone benchtops in Osprey enhance the kitchen's contemporary look and feel, the light brown striped panels wrapped around the island bench and incorporated in the oven tower provide the room with some colour and warmth. Rather than two distinct zones, through innovative design Con has successfully blended the two materials to create one cohesive space.
Provision has also been made for storage. As a kitchen in a new home, Con had the advantage of planning everything down to the very last detail, with no compromises due to existing walls or other structures. The resulting space has an abundance of deep-set drawers and a handy pull-out pantry for non-perishables and other kitchen necessities.
Urban Kitchens has worked its magic once again, taking two very different products and throwing in a variety of other unique materials to create a statement-making space that the owners and their guests can enjoy for years to come.
For more information