Choose the right set for your family and ensure the longevity of your cutlery by following our care instructions.
1.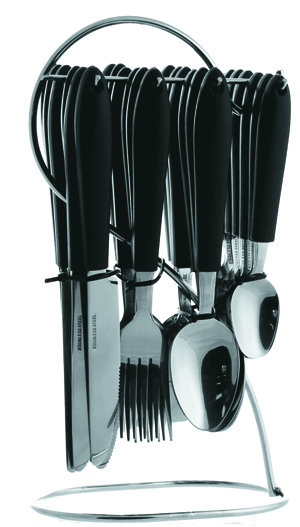 2.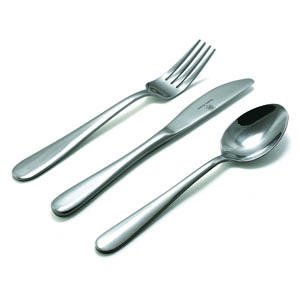 Every family is different so the type of cutlery you require will depend on the type of meals you cook, how you entertain, how many people need to be catered for and your personal preference for formality or informality. It's generally agreed that when it comes to cutlery, you get what you pay for. Cheaper sets can be good in the short term but don't expect to be passing them down to your grandchildren. Investment in a more expensive set can mean a single purchase in a lifetime, which you can supplement as your family changes.
18/10 stainless steel is a popular choice as it is a very easy-care option — be aware that not all types of cutlery will be suitable for the dishwasher. If a range is recommended as hand-wash only, ignore this at your peril.
A basic cutlery set should include dinner knives, dinner forks, desert spoons and tea spoons. Some will also include soup spoons and different sizes of knife and fork for entrée and main meals.
Unless you entertain formally on a weekly basis, look for a design that fits the style of your home and the way you dine. Many well-designed cutlery sets will look equally at home on a formal dining table as on a casual breakfast bar so find a range that can suit a variety of occasions.
Familiarise yourself with the ongoing care and maintenance required for the set you have chosen to ensure the longevity of your investment.
3.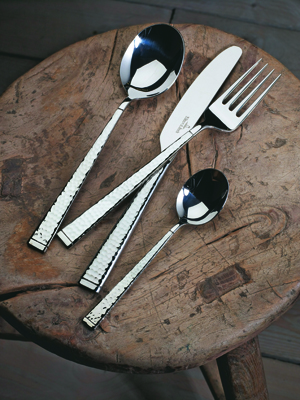 4.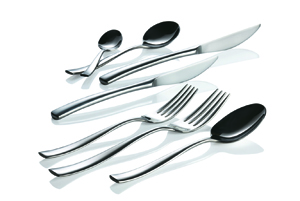 Caring for your cutlery

• Quality 18/10 stainless-steel cutlery requires minimum maintenance as the stainless steel resists staining, corrosion and rust, as long as proper care is taken.
• Before using your cutlery for the first time, wash it in warm, soapy water and dry thoroughly.
• To maintain the quality, appearance and performance of your cutlery, always wash and dry as soon as possible after use as some foods are high in acid content and could cause deterioration or discolouration.
• Refer to the specific care instructions of your cutlery brand as not all cutlery will be suitable for dishwashers.
• We recommend hand washing your cutlery where possible, as the cleansing process in dishwashers can be a very harsh environment.
• If your cutlery is dishwasher safe, cutlery pieces should be separated to avoid knife blades and fork tines scratching the surface of other pieces of cutlery and ensure that the dishwasher removes all food particles.
• Remove cutlery as soon as the washing cycle is completed and ensure it is dried thoroughly. This will avoid spot staining, which may require cleaning with a stainless-steel cleaner.
Tips courtesy of Matchbox

5.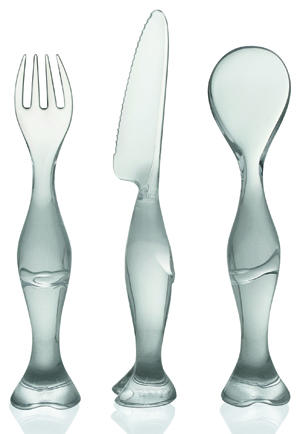 6.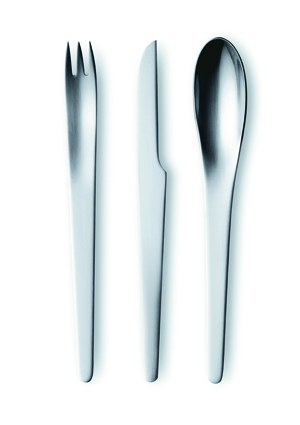 7.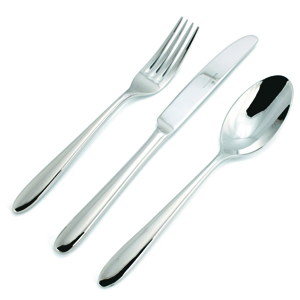 8.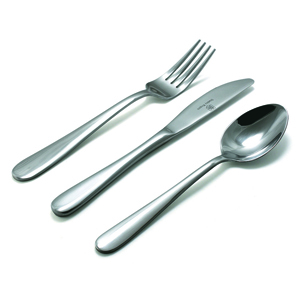 1. Ethos hanging cutlery set with 24 pieces in black. From Cambur. Visit www.cambur.com.au or phone (03) 8787 4200 for stockists.
2. One is the new award-winning cutlery range from Villeroy & Boch, with neat lines, a brushed matt finished and crafted from the finest stainless steel. Visit www.villeroy-boch.com or phone 1800 252 770 for stockists.
3. Villeroy & Boch presents Blacksmith, a cutlery range that creates a new way to experience old-world craftsmanship. The clean design and natural structures of the solid stainless-steel pieces perfectly complement the handcrafted nature of the range. Visit www.villeroy-boch.com or phone 1800 252 770 for stockists.
4. "Motion" cutlery from Maxwell and Williams — perfect for any gourmet dinner party. Visit www.matchbox.com.au/stores for store locations.
5. The Agli Ordini! Children's Cutlery Set blurs the boundaries between mealtime and playtime. Unlike other boring grown-up cutlery, this knife, fork and spoon all stand up and have their arms neatly folded behind them. They're comfortable for mini hands to hold, easy to use and so cute your children will love them! Visit www.petersofkensington.com.au
6. Looking for cutlery that's not what you've come to expect? Look no further: Georg Jensen's Arne Jacobsen collection is just what you're after. Designed way back in 1957, Arne Jacobsen cutlery manages the impossible — to look retro and futuristic at the same time. Visit www.petersofkensington.com.au
7. Truly timeless and exquisitely smooth, each piece in this beautiful Classics Cutlery set from Royal Doulton features a sleek curved handle and a lustrous polished finish. This is the kind of cutlery that looks just as good in a formal dinner setting as it does for an alfresco barbecue. Visit www.petersofkensington.com.au
8. Each light, mirror-finished piece of Stanley Rogers' Albany range is a triumph of uncomplicated design which can be as glamorous as your most formal dining occasion, and as relaxed as Sunday morning brunch; as traditional as an elegant afternoon tea — and as modern as today's stylish interiors. Visit www.petersofkensington.com.au

From Gourmet Kitchen Planner 1