Stainless-steel appliances and fixtures have been hugely popular in kitchens in recent years. And now we are seeing the resurgence of copper. Jonathon Worner, Design Director at Alloy, explains the trends Australia's world-leading metal tile manufacturer is witnessing right now.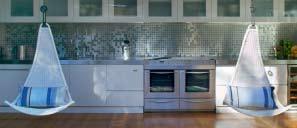 Metal benchtops and splashbacks have become very popular in contemporary kitchens and, for those seeking an individual finish, metal tiles offer an eye-catching, high-quality option. "Metal tiles provide interest where large panels of metal don't," says Jonathon Worner. "Not only that, metal tiles are hygienic, water-resistant, hard-wearing and long-lasting. This makes them an ideal selection for the kitchen."
He reports that brushed stainless-steel tiles are the perennial favourite with Alloy clients, as they provide a polished, contemporary look that matches their stainless-steel kitchen appliances while also beautifully reflecting the light.
"For smaller spaces, particularly renovations, I often recommend our unique, mirror polished stainless-steel tiles for a mirror-like reflection and a sleek, stylish look that really opens up a space while creating interest."
Jonathon also says copper tiles are becoming more popular as they add warmth and depth to a kitchen. They are also strong and durable and can patina and deepen in colour over time. The key to choosing the right metal tile for your kitchen is to assess your options, speak to an expert and use samples, within your space if possible, to ascertain exactly what you're looking for. 
With a metal tile range that includes 26 unique styles and 12 different materials and finishes, including stainless steel, copper, brass and titanium, Alloy ensures there is almost no limit to your creativity. Each tile style is carefully designed and manufactured in our Australian factory using the highest-quality metals to create an unsurpassed finish to suit the most discerning customer.
Before you buy:
Do your research. Not all metal tiles are created equal.

Opt for a quality solid metal tile for a finish that lasts. Be aware that tiles described as "metallic" are unlikely to be solid metal.

Make sure the tiles are made from the highest-quality metals. Highgrade 304 stainless steel will not corrode or rust..
Alloy,
Level 1, Artedomus Building, 46a Euston Road, Alexandria NSW 2015
02 9565 2422
info@alloydesign.com.au
www.alloydesign.com.au