Choose the most effective and efficient layout for your kitchen with Dynamic Space Zone planning by Blum.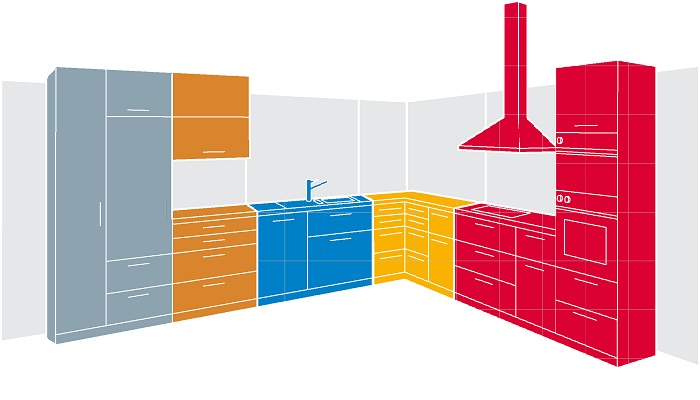 Dynamic Space Zone planning by Blum is a modernised version of the popular 1950s work triangle. It offers layouts based on five distinct storage zones which are arranged to optimise space and workflow in kitchens of any size and shape.
Did you know?
The average four-person family walks around 264m per day (or 1927km over 20 years) when moving around their kitchen. Testing by Blum showed that a kitchen planned using Dynamic Space could reduce that journey by up to 25 per cent.
KITCHEN STORAGE ZONES:
Each colour represents a different zone of the kitchen.

 Consumables
Storage for consumable goods, such as groceries, and location of refrigerator.

 Non-consumables
Storage for dishes, glasses and cutlery. This zone is always positioned close to the cleaning zone for easy workflow when emptying the dishwasher and putting away dishes.

 Cleaning
Storage for waste collection and cleaners, and location of sink and dishwasher.

 Preparation
The main preparation area of the kitchen, location of small electrical appliances and storage for chopping boards, utensils and mixing bowls. This zone should be at least 90cm wide. It is always close to the cooking zone, for easy workflow when preparing and cooking meals and the cleaning zone for easy workflow when washing and preparing food, and for clean up.

 Cooking
Storage for pots and pans, and location of oven and microwave.
ALTERNATIVE LAYOUTS:
Each layout represents the optimum zone layout in relation to kitchen shape.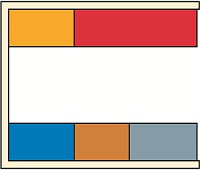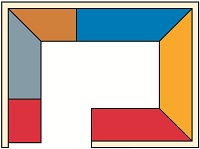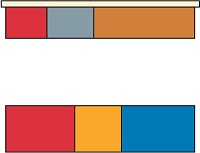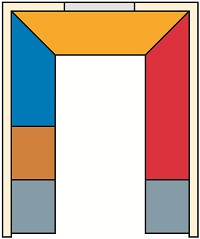 Visit www.dynamicspace.com for more information.
Click here for expert advice on planning your perfect kitchen by Blum's organisation expert, Alicia Draper.
From Kitchens & Bathrooms Quarterly  magazine Vol. 19 No.2