We've created an easy list for all the tools you need in your alfresco kitchen to get you started:
Things to consider are tongs, sharp knives, a grill brush, spatula, meat thermometre, basting brush, scissors and any other utensils you'll regularly use to both prepare and cook on your barbecue.
A wok, saucepan or griddle are handy to have in your alfresco kitchen if you use these items regularly.
Purchasing a full second set of cutlery and dinnerware is a wise investment, so that you can always have them at hand, ready to heat and serve.
Your Weber BBQ Bible or favourite cookbook
We're biased and think the Weber BBQ Bible is the best alfresco kitchen cookbook out there, but we understand that you may have your own favourite, well-thumbed cookbook. What really matters is that it gives you the confidence to create delicious food for you and your guests.
A variety of bowl sizes for marinating raw meat, resting cooked meat and preparing salads and sides make entertaining easy. When it comes time to serve dinner, serving platters add a touch of class to the table and cutting boards double as a place to slice meat or bread and then serve directly to guests.
Olive and spray oils, sauces, spices and marinades (don't forget the humble salt and pepper).     These can be used whilst cooking or easily added to the table before the main event.
Paper towel, napkins and garbage bags, plastic wrap, aluminium foil and freezer bags are the essential elements of any kitchen – inside or out.
Disinfectant spray, washing up liquid and a dishcloth make cleaning your alfresco kitchen easy and means you can get back to enjoying the bubbles and banter in no time.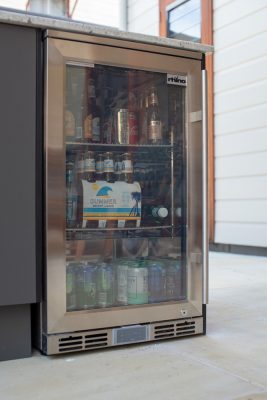 Add some or all these tools to your alfresco kitchen setup and you will be spending less and less time indoors in no time. The best bit? You can customise everything to your own space and lifestyle!
For more information