Let the industry's insiders guide you when it comes to choosing surface materials for your new splashback or benchtop.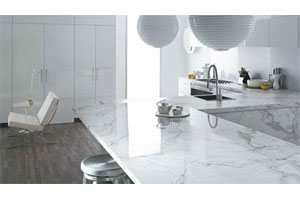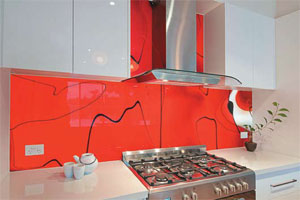 A striking splashback or benchtop can transform your kitchen. But it's crucial to get focal points such as these, right, from the start. We spoke to some of the industry's experts to get some tips on what to look for when choosing surface materials during your kitchen renovation:
What colours should I consider?
Andrew Dixon, Casearstone Sales and Marketing Manager: We've noticed a reduction in white doors and a move to subtle, warm tone and natural-finish timber veneers. However, the strength of white and off-white quartz shows no signs of slowing down. It is really interesting to note that we are also seeing new neutral colours emerging.
Lorraine Brigdale, Laminex Design Centre Manager: Intense colours that are on-trend right now include those in those in the cooler part of the spectrum. We're seeing yellows and blues playing an important role in interiors. Bright lime greens can also be seen everywhere.
Is it worth looking at premium products?
Andrew Dixon: We do see a relatively small, but growing, number of people selecting special, premium products to make a statement in their home. In some respects, this is like that special piece of jewellery or an artwork.
Lorraine Brigdale: Approval for the use of large scale stones is growing in interiors. People's love of marble is sometimes tempered in residential application by the soft porous nature of the stone, but for a luxurious visual impact, it is hard to go past natural, neutral marble.
Why don't you…
Personalise your kitchen with printed glass? It's a quirky and unique way to create a space that you can really call your own – plus it's durable and easy to clean. Glass can be printed with any image including photos, patterns, graphics, text or your own artwork, provided their resolution is high enough. Many companies also have a catalogue of existing designs to choose from. Or they can create a unique concept just for you.