Premium kitchen designer Lee Hardcastle talks with the Kitchen & Bathroom Quarterly team about his projects.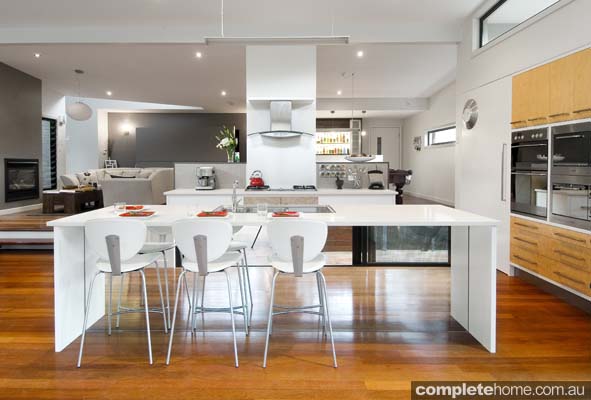 A talent for creating cutting-edge kitchen designs coupled with his natural tendency to strive for perfection has led Lee Hardcastle to become one of the most celebrated kitchen and bathroom designers in Australia.
Starting out as an apprentice cabinetmaker, Lee has won both the KBDi Australian Kitchen and Bathroom Designer of the Year awards, plus a further 70 accolades. His design company, Enigma Interiors, approaches each project with a high level of creativity and craftsmanship, which has spurred Lee's national and international reputation.
"My kitchen is about a decade old now but we used a classic palette so it would look fresh for many years. We keep it modern by accessorising with current, easily replaceable items, renewing them every few years.
The design ideas were simple — we wanted an island bench looking outdoors, a wall of appliances and a slightly hidden cooking zone. Space to house an abundance of glassware and platters was also essential. Above the fridge, pantry and appliance wall, I designed the bulkhead to be flush with the cabinetry.
The addition of a large window meant the outside needed a separate roof, but it was worth the effort. I also designed the cabinets below the cooktop to float, working with the steps on each side."
Favourite Appliances
1.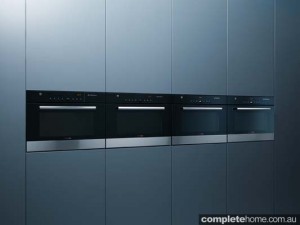 V-Zug Combi-Steam Oven: Versatile, efficient, healthy and intelligent; you can create anything from puddings to eye fillet, crusty bread to pasta bakes. Simply outstanding.
V-ZUG Combi-Steam Oven, from $5490, v-zug.com.au
French door fridge: I love the fact that you can open two doors to reveal an extra wide shelf. It's great for entertaining; an ice-maker is a must.
Fisher & Paykel, $3399, fisherpaykel.com.au
Thermomix: This small benchtop appliance can chop, beat, mix, emulsify, mill, knead, blend, cook, stir, steam, melt and even weigh. Anyone who has one will vouch for its amazing abilities.
Thermomix TM31, $1939, 1800 004 838
For more information about Lee Hardcastle's designs, see Enigma Interiors.
Originally from Kitchens and Bathrooms Quarterly Volume 20 Issue 3