Barclay Gillett, NSW State Manager of environmentally conscious and highly versatile Samsung Staron Solid Surfaces, shares his top five tips to make your kitchen eco-friendly.
1. 
By Barclay Gillett
1. Material selection
When selecting your kitchen materials, from cabinetry finishes to benchtops, try to select materials that will have a longer life span as this will reduce the need for waste. Also opt for materials with low or zero voc (volatile organic compounds). There are an increasing number of companies offering ranges that contain recycled materials; for example, Staron offers a Recycled Content Series, with a selection of colours certified to contain a certain percentage of recycled pre-consumer materials.
2. Lighting
When designing your kitchen space, consider the best layout that will maximise natural light. Most modern kitchens now have additional task lighting and mood lighting. If you maximise natural light, you will have less need for lights during the day. Consider where you place the fridge and ensure it does not compromise your natural light in any way. Maximise window space as much as possible. Low-voltage lighting systems will also contribute to a more sustainable kitchen and skylights are a great idea if your kitchen space has poor natural lighting.
3. Appliances
Consider the energy rating of each appliance in your kitchen, from the renovation stage and even for years to come, as you replace older appliances. Most appliances will be in your kitchen for a long time, so spending a little extra on an appliance with a higher rating will benefit the environment, and also your electricity bill, for the life of the appliance.
4. Tapware
Switching your kitchen tap to a low flow, high-star-rated tap can make a very big difference to your water usage. This is also something that can be done easily and quickly and does not require any major renovations.
5. Recycle bins/waste disposal
A waste disposal machine is a great way to make your own compost for the garden and reduce household waste. Create your own recycling process by purchasing a "recycle" bin with separate compartments so you can easily separate recyclables and non-recyclables. This will also make rubbish pick-up days so much easier.
2.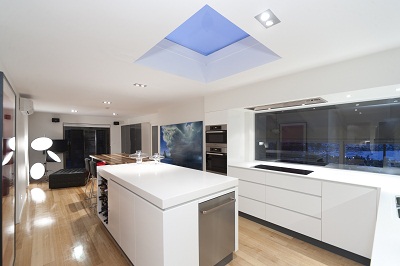 3.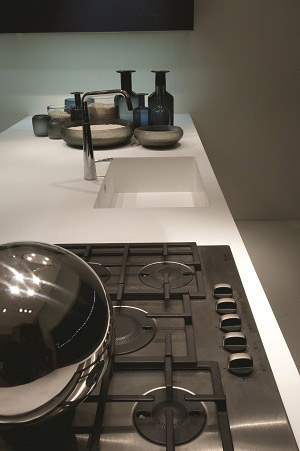 Images:
1. Kitchen with Staron Solid Surfaces in Aspen Snow from Recycled Content Series and low-voltage lighting.
2. Kitchen designed by Lenka Jankovcova of find AND design. Features Staron Solid Surfaces benchtop, a skylight and large windows as kitchen splashback
3. Staron Solid Surfaces benchtop with low flow tap.
From Kitchens & Bathrooms Quarterly 19.2