Ilve brings wine storage into the 21st century  with its Wine Cellar & Beverage celebration centre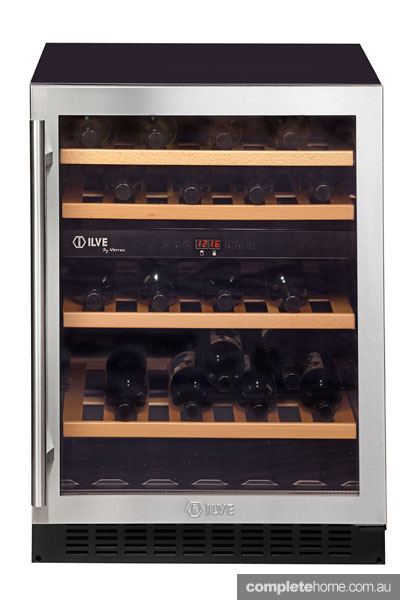 ILVE is making the good times roll this festive season, with its full Wine Cellar and Beverage Centre collection, created in collaboration with Vintec. The four-piece range, which consists of a single zone wine cellar, a dual zone wine cellar and a beverage centre to accompany the built-in wine cellar promises to bottle of wine will never spoil again. Each piece in ILVE's Wine Cellar collection is undoubtedly a perfect addition to a busy kitchen, when entertaining over the festive season.
Designed with ILVE's sleek signature aesthetic in mind, and in order to compliment all existing product ranges, the four products allow wine and beverages to be stored at an optimum temperature and humidity to ensure their finest quality is maintained. As the name suggests, the single zone wine cellar enables the storage of up to 40 Bordeaux bottles at a single temperature, between 12 and 16 degrees and a humidity of approximately 70%. The dual zone wine cellar allows for greater flexibility in the storage of wine with a temperature zone that can be set between 6 and 22 degrees, meaning you can simultaneously create the perfect storage environment for both red and white wines!
To compliment the wine storage options, ILVE has also crafted a sleek beverage centre that can house up to 100 beer cans or bottles, enough to cater the largest of parties. The beverage centre is ideal for creating space when the kitchen fridge is brimming with festive food. Summer and the festive season provides ample opportunities for entertaining, so now is the time to invest in extra wine and beverage storage for your home. With Christmas just around the corner, ILVE's cellar range presents fantastic gift ideas for budding sommeliers in the family – providing a home for an expanding wine collection.
Product details:
Beverage Centre – $1,699
Dual Zone Wine Cellar – $1,899
Single Zone Wine Cellar – $1,699
ILVE's wine cellars and beverage centre are now on display at ILVE Showrooms and selected retailers Australia-wide.