Creating a kitchen which was inviting, functional and complimentary to the curvaceous nature of this house was no easy feat – although finding the right surface to make this kitchen designer was easy.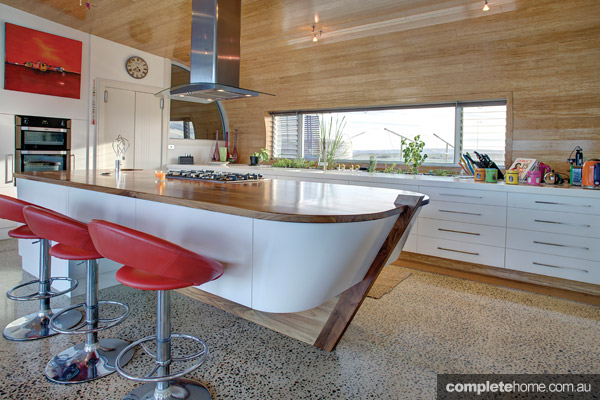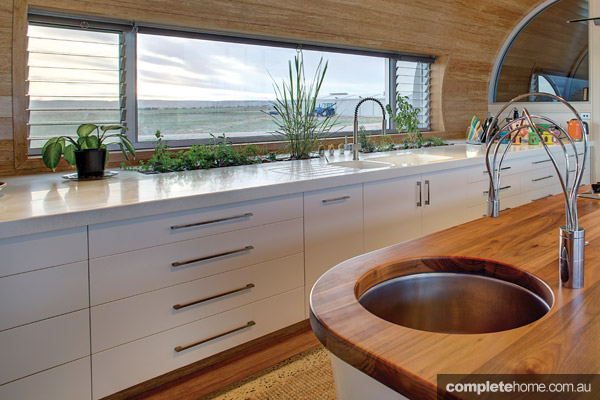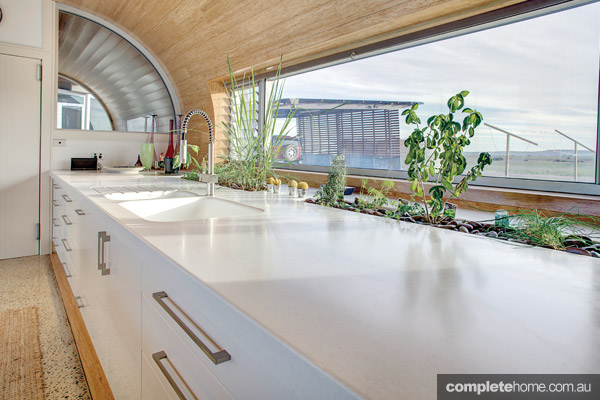 "The project, from the initial design phase through to installation, presented an incredible challenge. The passion and foresight of the owners and the architect provided an exciting canvas to begin with and, in this regard, it was an absolute pleasure to work on.
The design criteria for this space was to create a kitchen with clean lines that worked with the curved bamboo wall. A mix of finishes had to work together harmoniously to create warmth, design and function simultaneously. With the kitchen space being vast, we designed an island featuring a timber benchtop with a distinctly nautical theme.
For the benchspace that abutts the wall, we needed a benchtop surface that allowed long lines with no open joins due to the length of the space. We selected Staron® Solid Surfaces to create a 5.6m-long benchtop with a smooth continuous finish. The integrated Staron® sink and drainer board add to the clean lines with no open joins – just one monolithic piece for easy maintenance and cleaning.
The client also wanted a herb garden within the kitchen space, so we continued the Staron® to make a well and create an integrated herb garden made entirely of Staron®. The client can use their favorite herbs as they cook, directly from their kitchen bench.
The crisp colour of the Sanded Cream benchtop also complements the bamboo wall and timber island benchtop beautifully. The wide window works as a piece of artwork that brings nature into the home. The satin chrome cupboard handles and polished concrete flooring also add to the mix of finishes that work well together to create an inviting, bright kitchen space that is easy to use and maintain."
Designer: Paul Harders, PA & AM Harders Cabinetmakers


SHOP THE LOOK
Architect Damien McQuillan dmadesign.com.au
Benchtop Samsung Staron® Solid Surfaces in Sanded Cream, fabrication by PA & AM Harders
Island benchtop American black walnut two-pack satin
Back wall feature Curved bamboo
Sink Staron® A2341 double integrated sink in Bright White with integrated drainer board
Island sink Franke Lux610
Doors Two-pack satin Frosty White
Handles Artia Lata
Oven Belling
Cooktop Ariston
Rangehood Euro island canopy
Floor Polished concrete
For more info
Samsung Staron® Solid Surfaces
Phone 02 9822 7055
Website Austaron Surfaces
PA & AM Harders Cabinetmakers
Website harderscabinetmakers.com.au
Originally from Kitchens & Bathrooms Quarterly magazine, Volume 21.2