Adriano Zumbo, master of the macaron, grew up nicking lamingtons and lollies from the supermarket his parents owned. Today, this MasterChef celebrity shows Karen Miles he's still an Aussie kid in a candy store looking for his next sugar rush.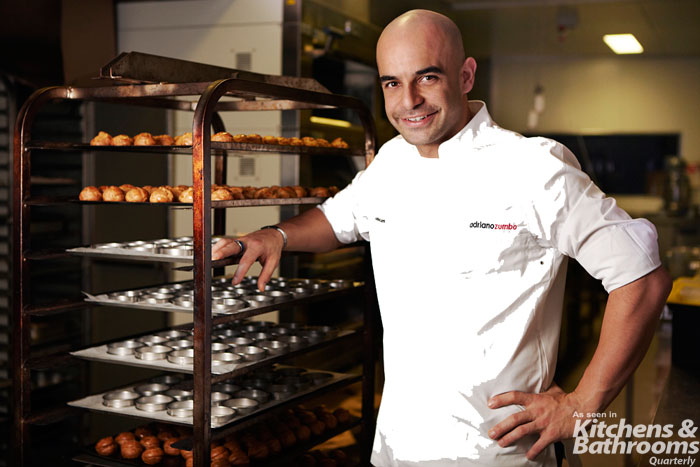 By Karen Miles, Editor of Kitchens & Bathrooms Quarterly magazine
Karen: You first started making cakes in Year nine at school — what did your teachers think?
Adriano: My school work wasn't too good but the cakes were a hit. They were nothing fancy, just marble cakes with icing, but back then that was pretty out there. I had an attention problem at school, I couldn't focus. I was always thinking of stupid, silly things to do and I'm still a bit like that. When I'm in the kitchen I feel quite calm because I'm constantly doing something or playing around with a design to make it work.
Karen: How was it stepping into the MasterChef kitchen for the first time?
Adriano: I was very nervous. I got thrown in there. I was originally just helping them out with a challenge — so I went to get the croquembouche ready, organise the recipe cards, drop it off and go. Two nights before the shoot they called and said they had this crazy idea to put me on camera — it was like, "We don't know if we're going to do it yet but bring your chef whites with you when you come in." At that stage Gary and George hadn't used any other chefs on the show; they were doing all their own challenges. I went on and it was a success, so they started bringing in more chefs. It was a good thing.
Karen: Does your work ever feel like "hard work"?
Adriano: It's all hard work! It's different "hard" work. In the early days of the business I did what I wanted, no one knew about me so there was no pressure. Now, everything that goes into the shop is critiqued by every blogger and food lover in the world. There's also a lot more staff and consistency issues. I've got to think of the next thing to be ahead of everyone else, look for ways to improve on my product, and have a vision for where the business is going.
Karen: I get to look at incredible kitchens every day working on our magazine, but what's your idea of a dream kitchen?
Adriano: Space. It would be very minimal and sleek, where everything like pots and pans and containers are hidden in cupboards. I like things to have their place. My dream would also be to have my kitchen at home open up into the backyard, to enjoy cooking outside.
Karen: What appliances can't you live without?
Adriano: My commercial Unox Combi oven — I can steam, extract heat and it even washes itself. I also like my Thermomix and a good freezer — I have a blast freezer and a three-door under-bench freezer. I've extended my normal kitchen at home to have a commercial kitchen at one end.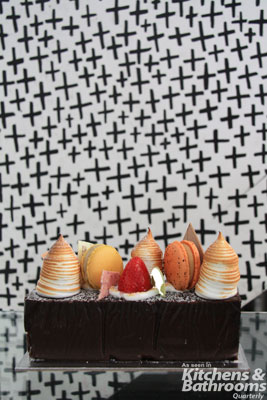 Adriano Zumbo's Chocolate Fondant Cake
– Gluten free
– Made with 60 per cent dark chocolate
– The decorations — Italian meringue, chocolate shards — are handmade in Zumbo's kitchen (minus the fresh strawberries!)
– The decorative macarons change with their seasonal menu. At the time of printing Adriano was using Peach Ice Tea and Banana.
From Kitchens & Bathrooms Quarterly magazine Vol. 19 No. 4