Take a look at our sample kitchen and find out what you can expect if your kitchen renovation budget is $15,000-$20,000.
'How much should a kitchen renovation cost?' PART 2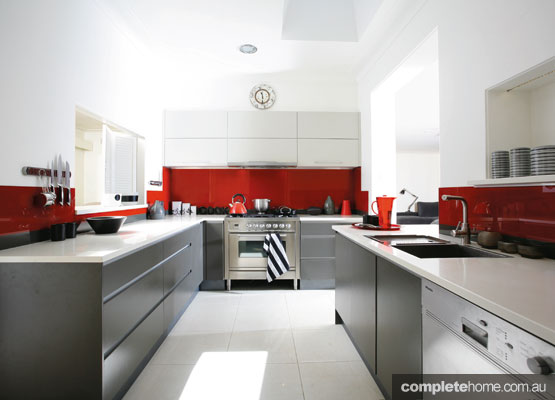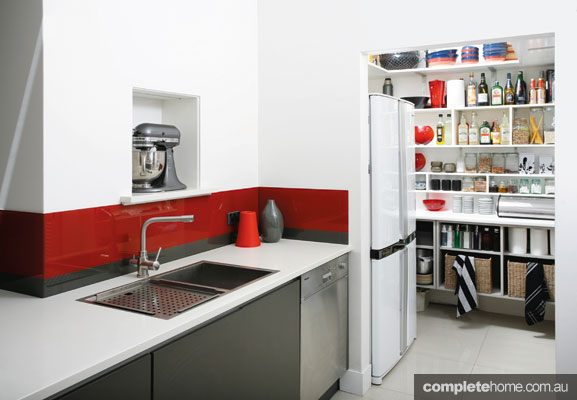 KITCHEN COST: $15,000-$20,000
The streamlined design enhances traffic flow and has eliminated all but one corner, which was equipped with a clever, slide-out storage solution. Maximum bench space was provided so more than one person could work simultaneously. Storage space was optimised through an extensive use of drawers, while the walk-in pantry was lined with floor-to-ceiling shelves.
The most striking feature is a two-tone red/grey glass splashback, which helps to elongate the room by increasing the sense of space. The grey in the splashback was chosen to match the Laminex Fossil and Paper Bark finishes on the floor, cabinet doors, drawers and panels.
An essastone Pecan Creme benchtop provides an elegant contrast to the cabinets, as well as a hard-wearing surface perfect for the rough and tumble of an active household. Shadowline handles on the drawers and doors enhance the linear design and minimise any sharp protrusions in this important thoroughfare. Design / Catherine Young of A-Plan Kitchens. aplan.com.au (See more of A-Plan's stunning kitchen designs here)
WHAT'S INCLUDED?
–          Design
–          Manufacture
–          Installation
–          Appliances
–          Plumbing
–          Electrical
KITCHEN FEATURES
Doors & Panels Laminex Fossil and Paper Bark
Handles Solu aluminium shadowline handle profile and Kethy Mainz satin chrome D-pulls
Benchtop 30mm essastone in Pecan Creme
Splashback Toughened, two-tone red/grey glass
Oven Freestanding ILVE P90
Rangehood ILVE slide-out 900
Dishwasher Miele in-built stainless steel
Sink Abey CR340D Quadrato double bowl
This is PART 2 of our 6 PART 'How much should a kitchen renovation cost?' 
series. We'll look at a variety of kitchens across many price ranges, from $5000 to $70,000+, to help you work out what you can get for your money. Stay tuned or 
sign up to our newsletter.
From Grand Designs Australia magazine Vol. 2 No. 1