Stunning natural textures provide a high screening and cladding solution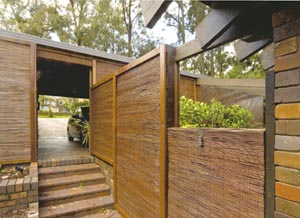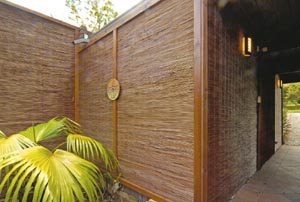 This charming split-level home was built on a steep site overlooking a natural bush gully, full of gum trees and native plants. The owners, having experienced several years in Bali, have created an aesthetic environment that is peaceful, beautiful and displays an imaginative use of natural textures and colour. Their home setting discreetly blends artifacts from Bali with stone, trees and colourful foliage.
Natureed® with timber has been used to create privacy in harmony with the natural setting. Placed on such a steep site and with neighbours who had recently extended high at the top of the hill, the home's various living areas were overlooked. As a solution, timber-framed Natureed® was used to create very high stepped privacy screens, some almost reaching 4.8m. The screens were continued down the side of the site finishing with a high deck screen, creating mutual privacy.
As the site was steep, the garage had to be at the top of the block alongside the street so by necessity the home is entered through this area. The owners created a textured entrance using Natureed® as cladding around the inner walls, leading through to the steps and path to the main entrance. As the home has a series of living areas, Natureed® was again used with timber to clad the outer wall of the garage, creating a private courtyard setting outside the kitchen and screening off the facility areas. The result is an architecturally imaginative and private home full of natural textures and beauty.
Natureed® is a quality reed cladding product available in a range of heights and lengths and is exclusive to House of Bamboo and its stockists. It is ideal to clad unsightly fences or walls, create privacy or barrier screens and to shade pergolas or decks. It brings shade and filtered light to such outdoor settings and instantly cools polycarbonate (or metal) roofing.
Natureed® is one of several quality bamboo-related products from House of Bamboo. They also have an interesting range of leisure structures, furniture and beautiful timber slat screening.
(The Natureed® in this setting was installed by Bali Style, one of House of Bamboo's stockists).