Take a look at our sample kitchen and find out what you can expect if your kitchen renovation budget is $70,000+
'How much should a kitchen renovation cost?' PART 6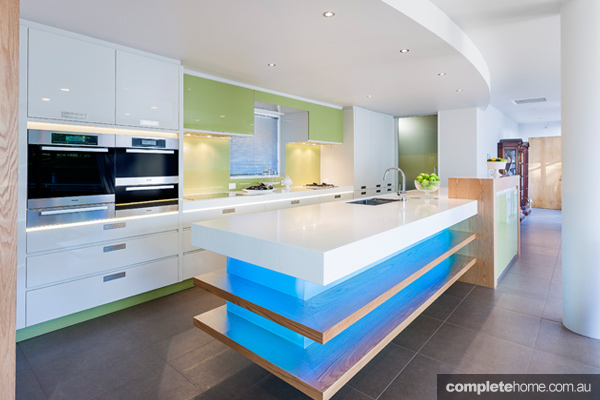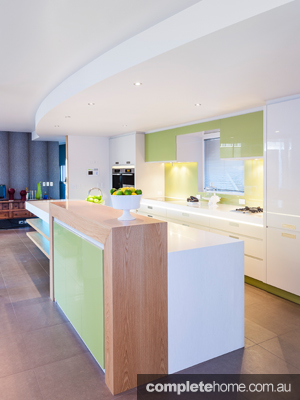 KITCHEN COST: $70,000+
The kitchen in which this home resides was originally designed in the 1990s and the architect was re-engaged to remodel and upgrade the home to suit the needs of the owners today. Designer Mal Corboy was appointed to design the new kitchen.
Aside from explaining they would like a "Scandinavian" feel to the kitchen, the owners left the design to Mal who had a free-hand to fit out the space. Working around several restrictions — including a supporting pole, a fixed window and a 45-degree angled wall — Mal knew he would need to think carefully about placement of vital work centres to ensure the new kitchen would function perfectly.
The 45-degree wall was straightened and the scullery squared-off with a frosted-glass door chosen to hide the inside of this sometimes messy room. Along the back wall sits a bank of appliances chosen to suit the owners' keen interest in cooking and entertaining. The refrigerator/freezer was integrated to continue the streamlined finish.
Visual interest is created via the inclusion of a coloured-glass and oak timber island with Corian benchtops. This cantilevered structure seems to float above the floor with a customised light box, which changes colour to reflect the mood of the clients. Floating shelves on the island house the many knick-knacks collected by the clients during their overseas travels and give the kitchen a personal feel. Design / Mal Corboy of Mal Corboy Design. malcorboy.com Photography / Kallan Macleod
WHAT'S INCLUDED?
– Design
– Manufacture
– Installation
KITCHEN FEATURES
Benchtops Corian Cirrus White
Doors & Panels Gloss lacquer
Glass Doors MC Custom coloured glass 
Internal Hardware Hettich Innotech drawers 
Handles Hettich ProDecor range 
Kickboards MC Custom coloured glass 
Lighting LED soft white and RGB
Timber Feature American oak clear lacquer
Appliances Miele 
Sink MC Custom inset stainless steel

This is PART 6 of our 6 PART 'How much should a kitchen renovation cost?' 
series. We'll look at a variety of kitchens across many price ranges, from $5000 to $70,000+, to help you work out what you can get for your money. Stay tuned or 
sign up to our newsletter.
From Grand Designs Australia magazine Vol. 2 No. 1