Peter Gill and La Maison Interiors have transformed this kitchen into a warm and homely masterpiece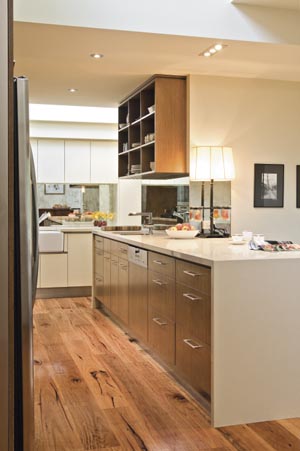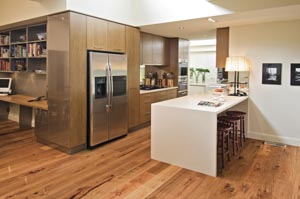 The owners of this exquisite kitchen specifically wanted space for a desk so the children could do their homework. Peter Gill designed these lucky kids the perfect place to study while still remaining involved in the hub of family life. The effortless flow of the family room into the kitchen and then into the laundry makes for a comfortable transition from one room to the next.
Peter Gill took advantage of the space by equipping this busy family with extra storage and also by making the kids' homework desk a separate piece of furniture while still remaining a part of the kitchen.
Due to the narrow width of the room, the flow from the kitchen to the laundry had to be seamless. Peter Gill achieved this by creating an accessible ease from the kitchen to the laundry and the colours were carefully picked out to add a spacious feel to the room.
A resourceful ironing board is located in the kitchen to tie in
with the theme of the space being the central meeting point
for the family.
This kitchen has a modern, yet warm and homely feeling that accompanies the rest of the inviting environment.
CABINET DOORS Stained American Oak (kitchen), two-pack Satin (laundry), two-pack metallic gloss (wall units)
MOULDINGS Stainless-steel shadowline
HANDLES Satin chrome and finger grips
BENCHTOP CaesarStone raw silk
SPLASHBACK Special effect toughened mirror
KICKBOARDS Stainless-steel laminate
FLOOR Recycled blackbutt
APPLIANCES include a Franke underslung sink (kitchen), a Belfast sink (laundry), GE refrigerator, Qasair rangehood and microwave, and Miele oven, warming oven and cooktop.
COST, approximately, for design, manufacture and installation, $45,000.