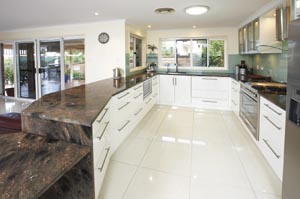 The owner was tired of his basic, 1980s builder's kitchen and desperately wanted to renovate and move into the 21st century. That is where Dana Kitchens stepped into the picture. With the help of designer Peter Barrass and his team, the space was overhauled and made into a sleek and contemporary room. Clean lines complement the expansive granite benchtops while the Miele glass feature canopy melts into the pale-green splashback. A previously cumbersome bar area was transformed into an ideal entertaining space and, to tie it to the kitchen, the same aluminium-framed frosted glass doors with internal lighting has been used. The effect is a warm ambience in the evenings, perfect for wowing friends and family.
A great talking point is the integrated hexagonal dining table that has been carefully angled to ensure it doesn't encroach on the adjoining living area. The table comfortably seats five and makes serving and clearing the dishes a breeze. The ergonomic Smeg 900mm dishwasher mounted directly underneath the bench and perched up higher than usual eliminates bending. And, with most of the kitchen's storage comprising accessible drawers, putting the dishes away is an easy task. As practicality was a major focus of the design, everything now has a place; appliances such as the microwave now have their very own home keeping the bench clear of clutter and allowing the space to always look its best.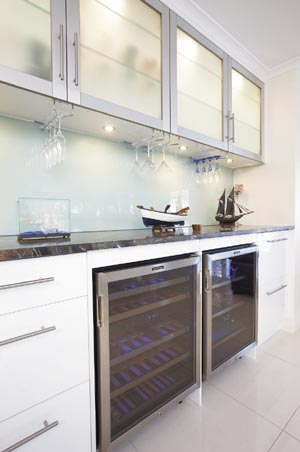 The goal for Dana Kitchens was to emulate the look of furniture in order for the kitchen to complement the home and appear at one with its surrounds. The result is a stylish kitchen that is both a delight to work in and a striking centrepiece of the home.
Fact File
DOORS High-gloss hand laminate in Crystal White with frosted glass feature panels on overhead cupboards Handles Satin chrome rail handles
BENCHTOP 30mm Marron Bois granite
SPLASHBACK Glass Floor Marble
APPLIANCES include an Ilve 900mm upright oven, Miele glass canopy, Smeg dishwasher and side-by-side stainless steel refrigerator, Abey Quadrato sink and Gessi Quadrato taps
Taylor Made Photography