If you love your food, it's essential to create a kitchen space that loves food, too! Here's how.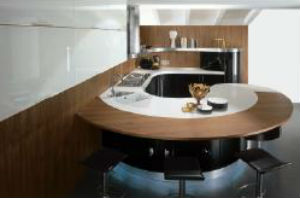 The latest kitchen trend from Europe is "The Food Room", so-called because of its focus on food — from storage of and access to produce to preparation, serving and entertaining. To create the perfect food room, there are a few essential ingredients. Design and layout, of course, play their part, but careful placement of items within the kitchen actively assists when working within the space.
Clever choice of co-ordinated surfaces makes the workspace more user-friendly while special nooks for regularly used items keeps these essential pieces close to hand. Streamlined design is the key to making these spaces work for the foodie but modernism can never compromise the warmth and welcome we want our guests to feel when they enter our kitchen.
In all these examples, while the design of the kitchen is integral to its success, the kitchen is always allowed to be the backdrop to the main event, allowing our guests to concentrate on what we produce in the kitchen. If you love your food, and are inspired by gourmet spaces, strap on your seatbelts and join us as we journey through a selection of European designs that are right on trend.