This unique kitchen by Smith & Smith embraces natural elements and functionality to create a striking yet relaxed look.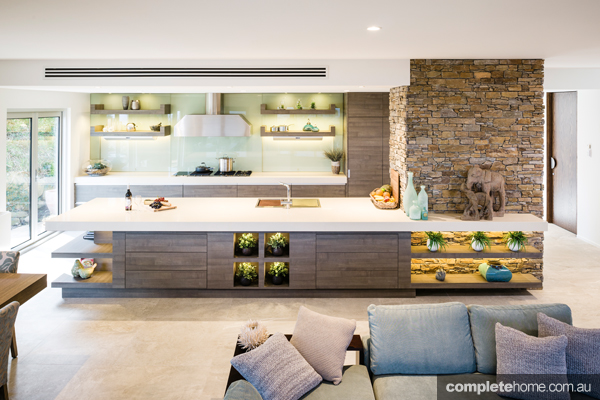 "These clients, Paul and Gina, were extending their home, and Paul, an engineer, came up with the plans for the kitchen. However, it was thanks to a collaborative effort, using my interior design background and Paul's engineering, that such an impressive result was achieved.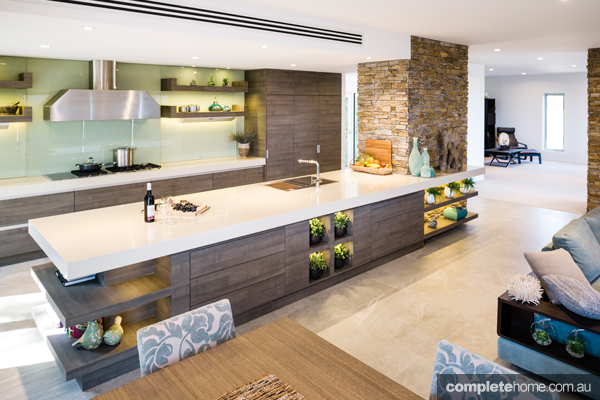 They wanted the kitchen to be the main feature of the lower level of the home. The interior was developed along horizontal lines and the kitchen needed to accentuate that. Although the space is large and open plan, Paul and Gina wanted privacy as well.
They came up with the idea of having the oven tower at the end of the island, creating a visual barrier between the living room and kitchen. When it came to colour, everything was measured on a tonal scale, taking inspiration from the views of the sky and the bush, as well as from elements within the home such as the timber.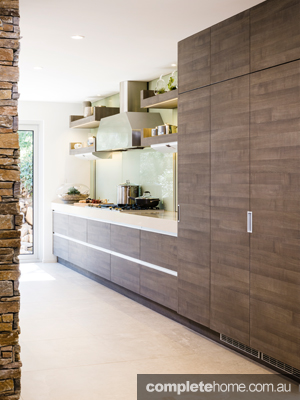 The result is a striking yet relaxed look. Finishing touches include quality internal hardware as well as impressive design features such as Vertico, a lift-up mechanism from Hettich, which is incorporated into the glass splashback to hide small appliances."
Designer: Valentin Tinc for Smith & Smith Kitchens
SHOP THE LOOK
Cabinet doors & panels Amerind laminate in Driftwood and Cresto with matching 1mm ABS edging
Benchtop Natural Stone in Desert Pearl with 100mm mitred edge profile
Handles Hettich ProDecor, Lutetia, Häfele, Castella
Kickboards Brushed aluminium laminate
Internal Hardware Blum antaro full-extension drawers and soft-closing door hinges, Hettich Vertico Mono vertical sliding/lift mechanism, Hettich Cosario 1000, Blum surround sink drawer, Blum knife block and stainless-steel inserts, Blum bin system
Rangehood Custom made by Smith & Smith/Schweigen UM12UMSP
Splashback Starfire glass painted in Dulux White Cabbage
Oven Miele H 5681 BP
Dishwasher Fisher & Paykel DD90SDFTX2
Cooktop/hotplate Miele CS1028 G and CS 1322 BG
Refrigerator Liebherr SIGN2566LHH
Sink Epure Zone
SHOP THEIR SHOWROOM
889 Wellington Rd, Rowville Vic
(03) 9755 4888
860 Doncaster Road, Doncaster East Vic
(03) 9840 7771
1430 Dandenong Road, Oakleigh Vic
(03) 9530 4777
Originally from Kitchens & Bathrooms Quarterly magazine, Volume 21.4