A multi-featured ceramic barbecue designed to offer outdoor cooks maximum versatility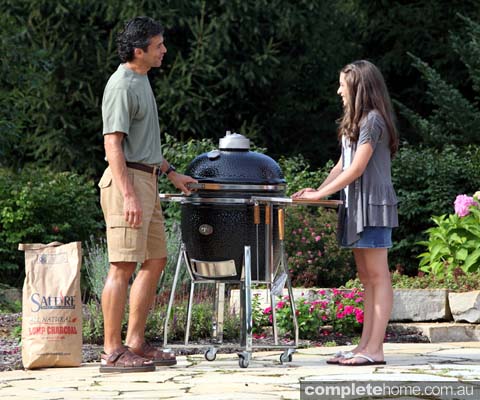 Keverton Outdoor, a leading supplier of specialist outdoor heating, is now the exclusive Australian distributor for Saffire Grills, manufacturer of the US's best-selling Kamado-style ceramic barbecue.
"The extraordinary feature about this style of cooking is the variety of foods that can be presented from one unit," says Kevin Smith, managing director of Keverton Outdoor.
"The heavy-duty ceramic construction allows perfectly controlled cooking. From high-heat seared steaks to slow-cooked roasts and smoked fish or ribs, the Saffire Grill will handle it all. No longer do you require a separate pizza oven, smoker unit and barbecue. It is all here in one unit."
Due to the ceramic construction and tight gasket seal, the Saffire will slow cook for up to 12 hours on one load of charcoal. With less airflow than an average barbecue, moisture is maintained in your food with minimal shrinkage of meats.
The internal temperature can be controlled from 200-700°C simply by adjusting the airflow from the stainless-steel top and bottom dampers. Once the charcoal has been preheated, close the lid and reach 700°C in just 20 seconds.
The Saffire Grill comes with many features. The high-quality stainless-steel grill has a hinged door built in, which allows access to the fire without removing the cooking grill. The cart, band and springs are all made from the highest-grade stainless steel.
Unique to the Saffire Grill is the Smoking Chip Feeder. This allows you to add your favourite smoking wood chips to the charcoal fire without having to remove the cooking grill or open the lid.
With the Saffire Grill, you get three cookers in one — a grill, a smoker and a pizza oven — at a fraction of the cost of buying three separate appliances. You also have a choice of two colours: Onyx Black and Jasper Red.
For more information
Keverton Outdoor
Phone (03) 9889 6542
Website kevertonoutdoor.com.au
Originally from Backyard and Garden Design Ideas magazine, Volume 12.5