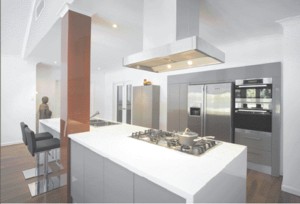 An ultra-modern design, sleek appliances and a splash of vibrant red make this space a sight to behold. 
When the owners of this stunning kitchen decided that their old, outdated and poorly designed cooking area would just not cut it any more, they turned to the talented team from Dean Kitchens to work their magic. And, as you can imagine, the owners are ecstatic with the result. Armed with an open brief and a never-ending list of ideas, Jason Levin from Dean Kitchens quickly set to work to create an ultra-modern design that's simple, extremely functional and oh-so stylish. As part of the masterful makeover, Jason decided to do away with the previous cramped L-shape layout of the kitchen and instead incorporate an island bench into the new design. Providing more floor space is not the only thing the sleek island has to offer. The stylish centrepiece also conveniently comes equipped with a hot plate, sink, dishwasher, loads of storage and seating space for two.
Converting a chimney hearth, which had been previously used as the cooking area in the old kitchen, was also on Jason's must-do list. To complement the minimalist design of the kitchen, the designer transformed the opening into a tall wall with boxed-out architrave, creating a hub for the refrigerator, high-end appliances and storage space. Suspended cabinets along the furthest wall provide extra room to store kitchen necessities while the added benchtop space comes in handy when preparing feasts for family mealtimes. Splashes of vibrant red have been used as an accent throughout the kitchen, adding a touch of colour and liveliness to the sleek, contemporary space. A striking red, glass-clad column takes centre stage and is a definite conversation starter while a gleaming red splashback adds another burst of colour and complements the otherwise neutral colour scheme. If you want a kitchen that's the perfect combination of form and function and is sure to impress, look no further than the team from Dean Kitchens.