Whether in kit form or custom designed, a water feature is a must-have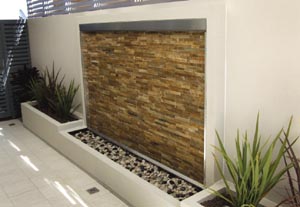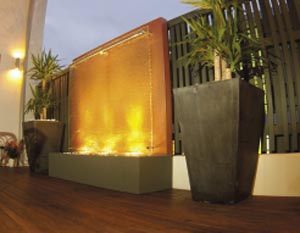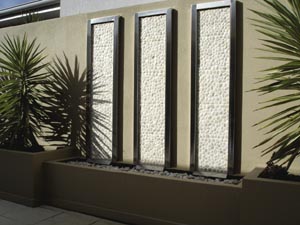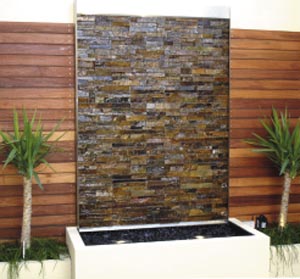 With a kit form water feature from Water Motion Energy (WME), having a stunning water feature in your home or garden couldn't be easier.
Available in a wide range of styles and sizes, these features arrive on site ready to be assembled — a job that can easily be handled by the home handyperson or a tradesperson. In fact, they couldn't be simpler to put together, with a full installation and care manual sent out with each order.
A multitude of different looks can be achieved by cladding the frames in stacked stone, mosaic or decorative tiles, pebbles or pebble mesh sheets. This means the possibilities are endless because the frames can be tailored to suit virtually any style of home and garden.
New products are constantly being added to the kit feature range, providing customers with an amazing array of designs and sizes to choose between. At present, standard Water Wall sizes (including ponds) are 600 model (maximum 780mm wide x 1800mm high), 1200 model (maximum 1380mm wide x 2000mm high), 1800 model (maximum 1980mm wide x 2000mm high) and 2400 model (maximum 2400mm wide x 2200mm high).
The standard Water Panel frames are all 405mm wide but come in three different heights: 1200mm, 1500mm and 1800mm. The ponds are 1800mm wide and either 400mm or 500mm deep and 400mm or 500mm high.
The kit form features are perfectly suited to a huge variety of projects and are used by the many builders, landscapers, garden designers and pool companies WME has established relationships with. Whether used in commercial premises to give a foyer a sleek, contemporary look or installed in a home garden, a WME kit form feature allows you to have a stunning water feature in next to no time.
As well as the residential market, WME builds and designs features for restaurants, hotels, display homes and office buildings. WME's stunning features use only the highest-quality components and are designed to make maintenance a breeze, which is why they are so popular with commercial clients.
To achieve a look that is distinctive and will set your business apart, you can utilise a huge range of materials to decorate your water feature: stacked stone, handmade textured glass, textured metals, decorative tiles, pebble mesh sheets or moulded fibreglass — the list is virtually endless. And with a full-time design engineer on staff, WME can design something exclusively for you, or alternatively, build a water feature to your own design or to specifications provided by your builder.
For Adelaide customers, the WME showroom and workshop in Forestville is a great place to visit if you're looking for ideas. If you're not in Adelaide, or you're not within easy driving distance of one of WME's interstate distributors, a visit to their amazing website is recommended.
During its seven years in business, WME has proven it is an expert in the field, offering sound advice, creative ideas and great service. WME water features can be seen in homes and businesses around Australia as well as in such far-flung locations as Namibia, proving its reputation for design excellence knows no bounds.